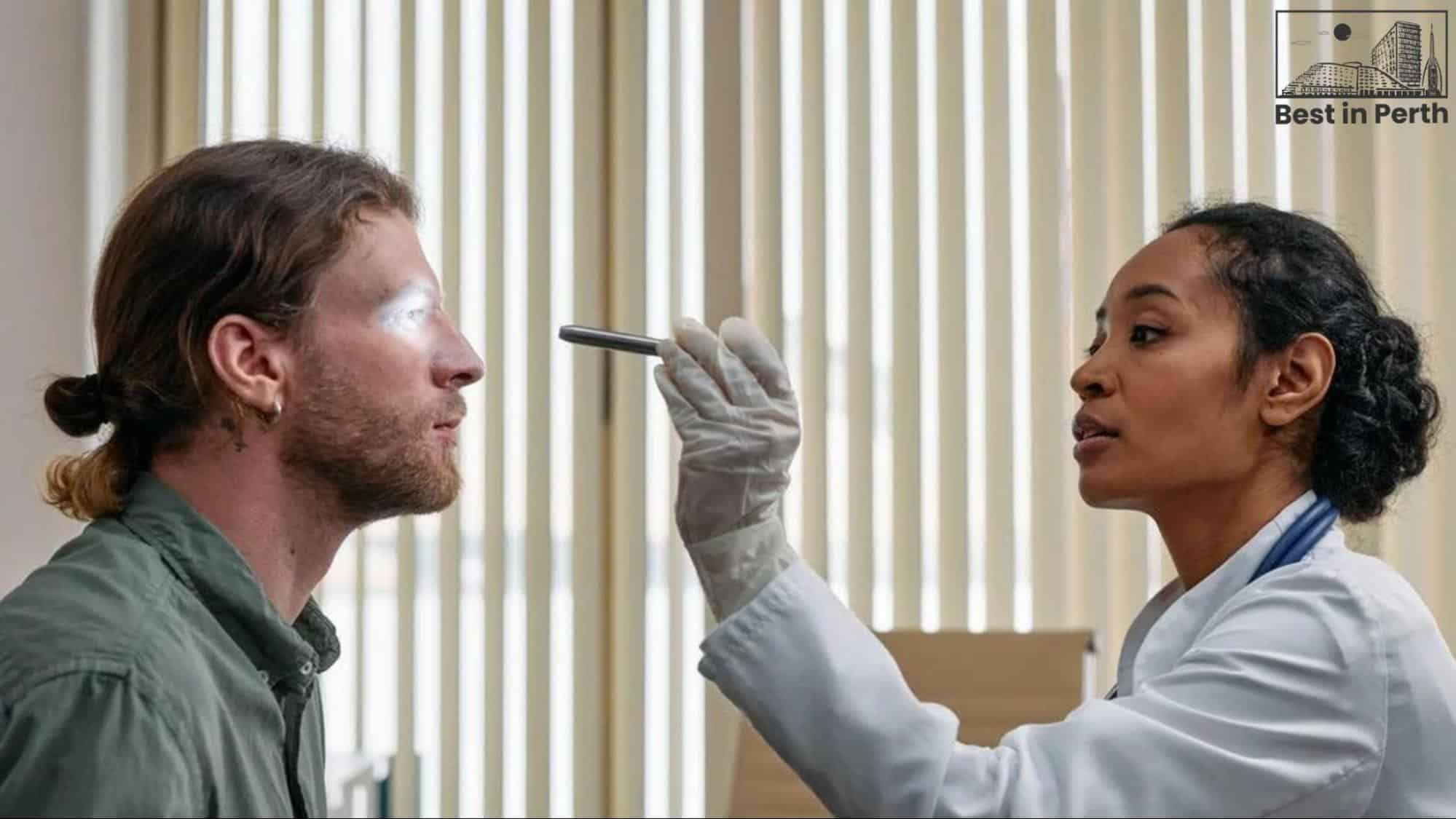 The 5 Best Eye Clinics in Perth
How We Picked The Best Eye Clinics In Perth
Services
If you're going to visit an eye clinic in Perth, you want a place that has a good selection of treatments and services. We made sure that each clinic here has the expertise for a variety of cases. 
Availability
We checked clinics that had appointments and operating hours that would be convenient for different schedules. Whether you are looking for a consult or a follow-up, you should have no trouble finding an available clinic in Perth.
Facilities
It's important for a clinic to have the proper facilities and sanitary environment to treat patients. We picked spaces that have the resources to conduct their services with ease.
1. Aculase Laser Eye Surgery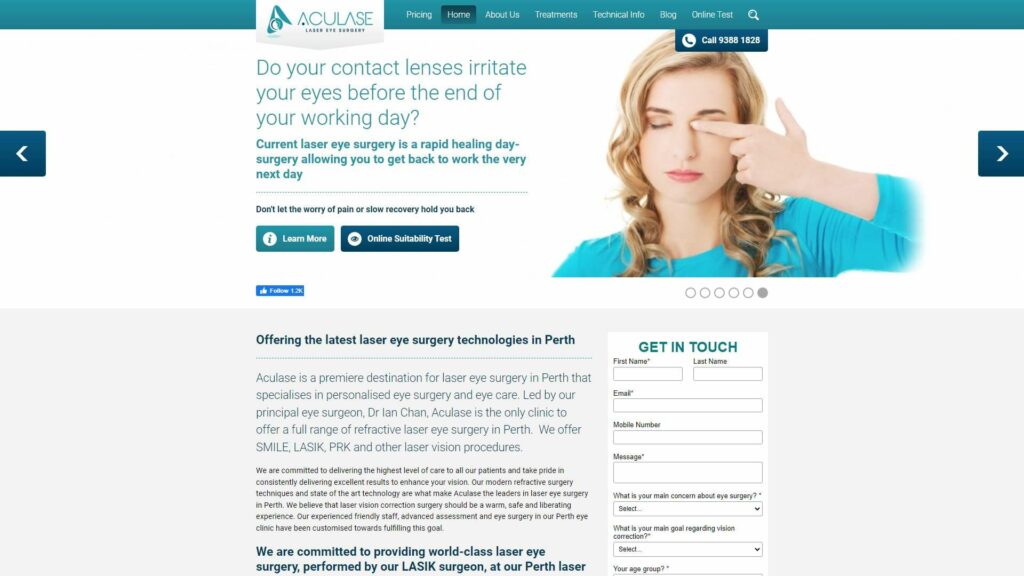 Website: http://www.aculase.com.au/
Address: 33 Stirling Highway, Nedlands WA 6009
Services: Laser vision correction, SMILE laser eye surgery, LASIK, PRK LASEK ASLA TEMLA, refractive lens exchange, implantable contact lens, laser cataract surgery, medical laser treatment, keratoconus treatments
Contact Information: 8 9388 1828 / 6389 1138
info@aculase.com.au
Clinic Hours: Monday, Thursday: 8:30 AM - 5:00 PM; Tuesday, Wednesday, Friday: 8:30 AM - 6:00 PM
| | |
| --- | --- |
| Google reviews score | 4.8 / 5 |
| Facebook reviews score | 5 / 5 |
| Nicelocal reviews score | 4.8 / 5 |
| Total reviews | 5 / 5 |
| Score consistency | 4 / 5 |
| | |
| --- | --- |
| Availability | 5 / 5 |
| Responsiveness | 4 / 5 |
| Environment | 5 / 5 |
| Treatments | 5 / 5 |
Great interiors with clean space
Very consistent and efficient through the entire process
Street parking is far
Less adept with accommodating unexpected cases in their schedule
Aculase is arguably most known for their SMILE surgery. The Small Incision Lenticule Extraction stands out as a minimally invasive, low-risk procedure that we find is the highlight for the clinic.
Of course, they are also very well-versed in other procedures. Led by Dr Ian Chan, they have a well-rounded staff that can effectively carry out different treatments and surgeries.
Because they often deal with more serious cases, it may be easy to feel nervous. Thankfully, we find that their staff is very friendly and professional.
Their demeanour is really helpful in making you feel comfortable right off the bat. We also appreciate that they are very on point and efficient with follow-ups.
From post-op to ongoing care, they are quick and responsive. Even the way they conduct their procedures keeps time at a minimum without sacrificing safety and accuracy.
They do accommodate emergency issues, but we find that they are not always as effective with urgency because of their rigid schedule. They are very effective with their bookings, so there is some difficulty squeezing in sudden cases between existing appointments.
If you have a set booking or procedure, you'll be glad to know that they run on time. The only real downside is if you try to come in last minute on a packed day, since that ends up having more wait time and delays.
Despite being a great space, we also should note that it is at a corner spot in the street. So, any parking will require a bit of a walk from your vehicle to the clinic.
Overall, they are a great and reliable eye clinic in Perth that is even credited for pioneering SMILE in the city. They also take the time to answer various questions, so any concerns are cleared up easily.
2. Future Vision Optometrists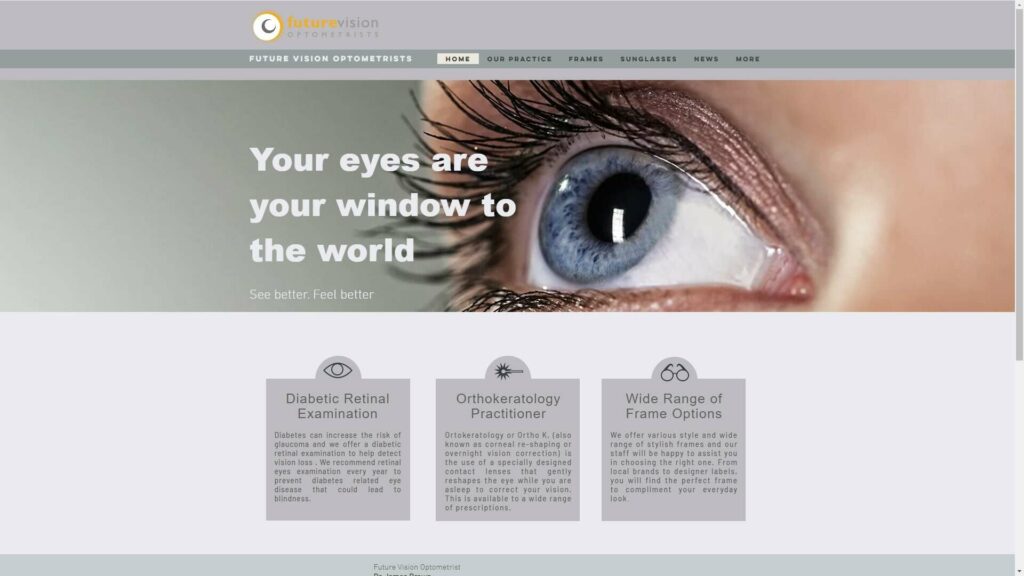 Website: https://www.futurevision.net.au/
Address: 145 Canning Hwy, South Perth, WA 6151
Services: eye examination, diabetes retinal screen, orthokeratology, aviation eye test, contact lens fitting, keratoconus
Contact Information: 8 9367 4726
futurevision@iinet.net.au
Clinic Hours: Monday - Friday: 9:00 AM - 5:00 PM; Saturday: 9:00 AM - 12:00 PM
| | |
| --- | --- |
| Google reviews score | 5 / 5 |
| Facebook reviews score | 3.7 / 5 |
| Total reviews | 4 / 5 |
| Score consistency | 3 / 5 |
| | |
| --- | --- |
| Availability | 5 / 5 |
| Responsiveness | 5 / 5 |
| Environment | 4 / 5 |
| Treatments | 4 / 5 |
Very efficient and accessible
Welcoming environment great for kids and seniors
Less extensive services than other options
Smaller examination space
Future Vision is a great eye clinic for general needs, but we really recommend them for kids and the elderly. Their patience, warmth, and professionalism make eye tests and consultations much easier on the very young and significantly older demographics.
The way they conduct their tests is simply more accessible, which is something we really appreciate. On top of that, they have the most operating days among other options.
Their clean-cut interiors somehow feel welcoming the moment you enter because of how attentive and warm the staff is. At no point do you feel like you are being neglected or simply shuffled along to get the job done.
We noted that they will really take their time with testing and checking to ensure that you get the right fit for both your needs and budget. Even when you get a prescription, they don't force you to make a purchase from them.
It's really the efficient treatment and great customer service that stands out for us. You get what you need and you're not imposed upon.
Of course, their services are less extensive and they don't cover more intensive treatments themselves. However, they work well with surgeons and will likely be able to accommodate referrals and the like.
The space is not that large, but it is very clean, updated, and easy to spot. With their genuine care about each client's health and their decent variety of glasses, they are definitely a standout eye clinic in Perth for general purposes.
3. Joondalup Eye Clinic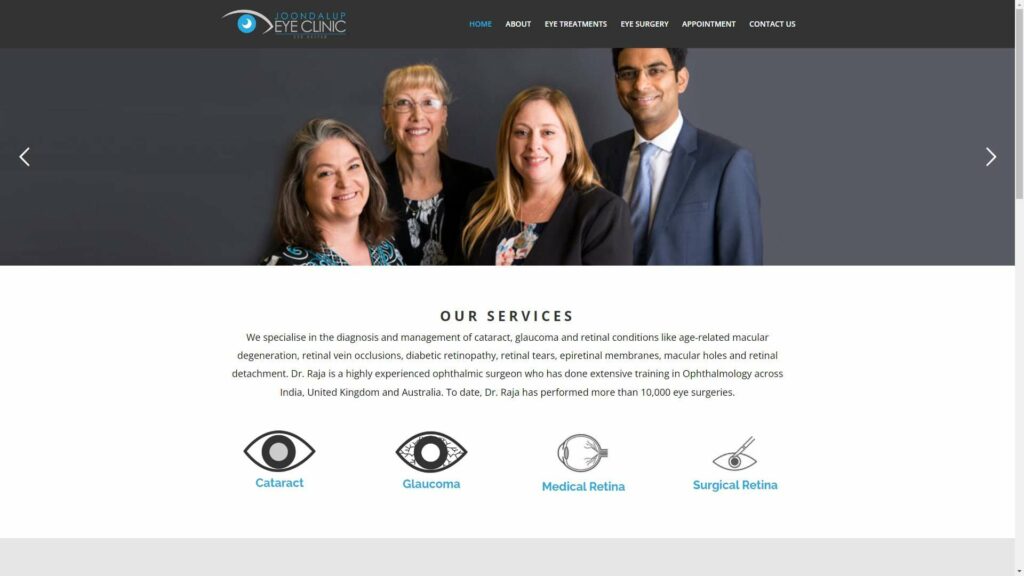 Website: https://joondalupeyeclinic.com.au/
Address: Suite 14 & 15, 10 Reid Promenade, Joondalup WA 6027
Services: cataract surgery with IOL implantation, retinal surgery, optical biometry, corneal pachymetry, topography, aberrometry, keratometry, visual field analysis, autofluorescence imaging, YAG laser iridotomy, capsulotomy, retinopexy, intravitreal drug therapy
Contact Information: 8 9300 9600
joondalupeyeclinic@bigpond.com
Clinic Hours: Monday - Friday: 8:30 AM - 5:00 PM
| | |
| --- | --- |
| Google reviews score | 4.8 / 5 |
| Nicelocal reviews score | 4.7 / 5 |
| Total reviews | 2 / 5 |
| Score consistency | 5 / 5 |
| | |
| --- | --- |
| Availability | 5 / 5 |
| Responsiveness | 4 / 5 |
| Environment | 4 / 5 |
| Treatments | 5 / 5 |
Experienced with complicated cases
Very modern equipment
Parking options aren't free
Near a busy shopping centre
The Joondalup Eye Clinic is a great choice for complicated issues that may be plaguing you. If you have a referral letter from a GP or specialist, you can get a consultation here.
What we really like about the medical staff here is that they are very thorough with their process. They ask you questions, check for medical history and medication, and will conduct the necessary tests with care to know exactly what needs to be done.
Everyone is very professional and helpful, so you shouldn't have much trouble whether you are dealing with reception staff or one of the practitioners.
Led by Dr Raja, the team here is very experienced. Despite that high calibre of knowledge and skill, we appreciate that they take the time to explain everything.
The way they walk you through whatever procedure or treatment you will be getting is very comforting. From your consultation alone, you already feel like you're in good hands.
Thankfully, their actions match their promises quite consistently. They have a lot of success in surgeries and rectifying damage that others may have deemed unmanageable.
We also really like their environment, which is regularly and thoroughly cleaned. It is just spacious enough to feel comfortable without feeling too liminal.
If you have chronic issues or a more complicated condition, then we recommend reaching out to Joondalup. Their ability and approach make otherwise overwhelming issues more palatable.
4. Perth Eye Hospital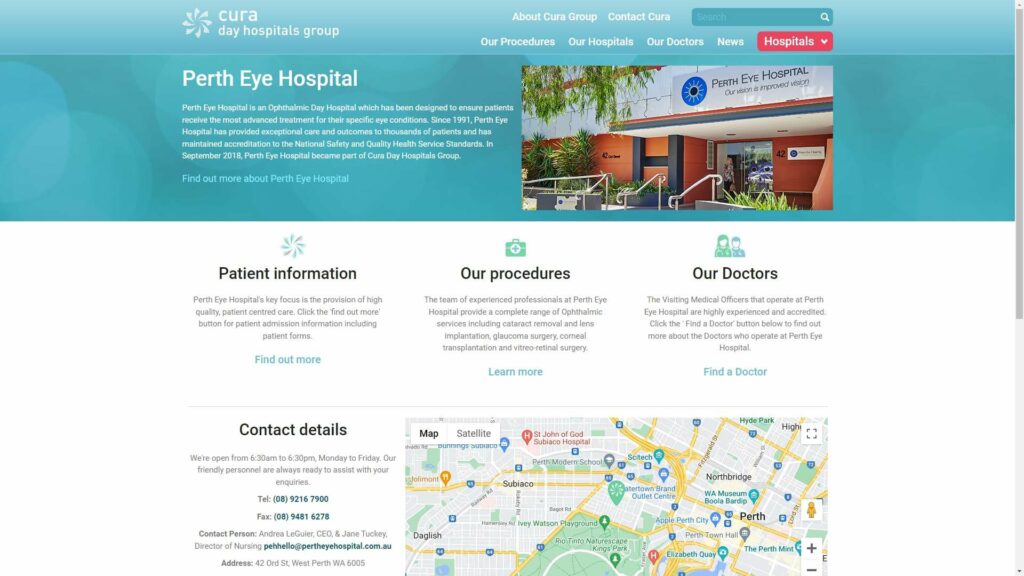 Website: https://curagroup.com.au/pertheyehospital
Address: 42 Ord St, West Perth WA 6005
Services: canthoplasty, cataract extraction and IOL, enucleation of the eye, evisceration of the eye, Gundersen flap, ICL procedure, intravitreal injections, penetrating keratoplasty, pneumatic retinopexy, pterygium and autoconjunctival graft, refractive lensectomy, scleral buckling, squint surgery, temporal artery biopsy, trabeculectomy, vitrectomy
Contact Information: 8 9216 7900
pehhello@pertheyehospital.com.au
Clinic Hours: Monday - Friday: 6:30 AM - 6:30 PM
| | |
| --- | --- |
| Google reviews score | 4.5 / 5 |
| Nicelocal reviews score | 4.4 / 5 |
| Total reviews | 3 / 5 |
| Score consistency | 5 / 5 |
| | |
| --- | --- |
| Availability | 5 / 5 |
| Responsiveness | 4 / 5 |
| Environment | 4 / 5 |
| Treatments | 5 / 5 |
Very clean and well-maintained space
More payment assistance options
Limited free parking
Administrative performance can be lacking
The Perth Eye Hospital is, by nature, very extensive with its services offered. We should note that it should not be confused with the Perth Eye Clinic, which is a similar yet separate space.
This space works under the Cura Group, so you'll need to make sure you are reaching the right lines to get a booking with the Perth Eye Hospital.
Their eye care is very exceptional, especially because they have ample equipment, extensive resources, and a staff capable of handling even advanced treatment.
That said, we don't love their administrative side quite as much. During their busiest times, they can be a bit messier with bookings and waiting times.
If you don't like having too much back-and-forth, then you may want to brace yourself for things to get a little bumpy down the line. Make sure you check the time and date of the appointment to avoid these issues.
Even if you encounter that, though, you'll find that everyone is very communicative and friendly. It makes it easier to express concerns and ask questions when the main staff is accepting and warm.
They are very attentive during your consultation and will try to accommodate your requests accordingly. Nurses, doctors, and receptionists all display understanding that is helpful for newcomers and those with experience alike.
There are fewer waiting area options because of the pandemic, but the space that you can stay in is kept up nicely. There are limited pick-up and drop-off bays, with only a limited 15-minute parking area that's not too big.
They're very effective with their cleaning, though, so you'll know that the space you're in is safe and sanitised. Finally, we like that they also provide quotes and cost assistance with your health fund before you book.
5. Lions Eye Institute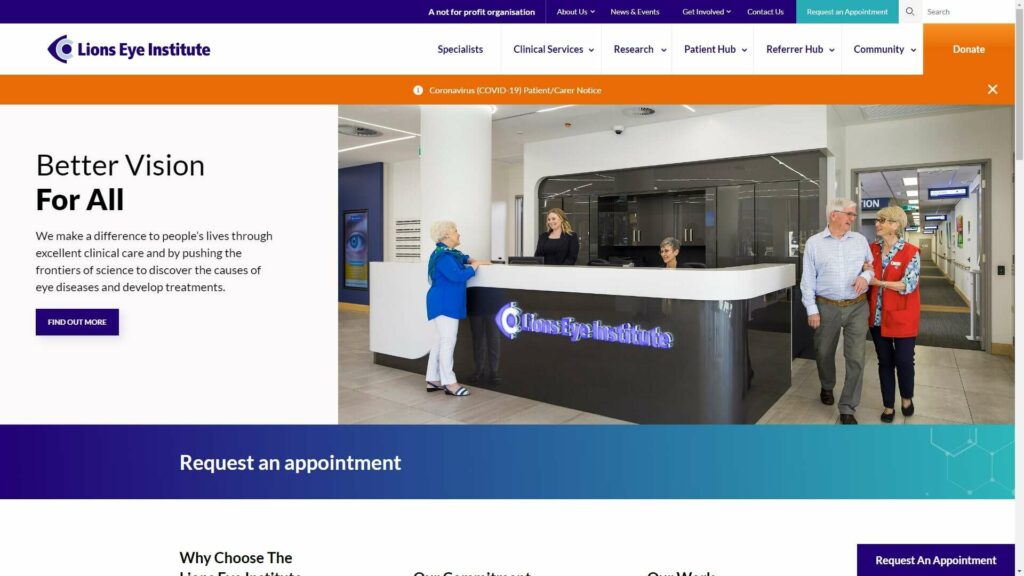 Website: https://www.lei.org.au/
Address: 2 Verdun Street, Nedlands WA 6009
Services: cataract surgery, cornea transplants, glaucoma, laser and refractive surgery, macular degeneration, ocular inflammation, oculoplastics, paediatrics and strabismus, surgical and medical retina
Contact Information: 8 9381 0777
carecentre@lei.org.au
Clinic Hours: Monday - Friday: 7:30 AM - 5:00 PM
| | |
| --- | --- |
| Google reviews score | 4 / 5 |
| Facebook reviews score | 4.5 / 5 |
| Total reviews | 4 / 5 |
| Score consistency | 3 / 5 |
| | |
| --- | --- |
| Availability | 4 / 5 |
| Responsiveness | 3 / 5 |
| Environment | 4 / 5 |
| Treatments | 5 / 5 |
Better financial accessibility than other options
Good space with proper facilities for varied needs
Hit-or-miss staff demeanour leaves much to be desired
Can have very long wait times
Lions Eye Institute stands out for us because of its advocacy. They are a not-for-profit organisation, so they tend to be more competitive and accessible in terms of rates and bookings.
Of course, you will still need a referral letter from your GP, optometrist, or specialist. If you're trying to get a Medicare rebate, they also require a referral for validity.
Because of donations and support, we find that their facilities have truly grown. This space is very capable of conducting the proper tests and getting you the treatment you need.
They are very efficient with procedures, but they also let you know about estimated durations of procedures so you know how much time to block off in your day.
Even though they are pretty much on top of their booking system, their management side can occasionally be disorganised. During their peak hours, you can end up having significantly longer wait times than in others.
Although all doctors and medical staff here are very trained and knowledgeable, their demeanour can be very hit or miss. We personally find it a bit of a turnoff that some of the staff are not very friendly.
Make sure you find a specialist and receptionist that you like since they also run the gamut of staff types – including ones who speak in rushed tones and aren't very warm. Although these cases are pretty rare, it's still something to think about.
Finally, double-check to make sure you get the right appointment. It will save you time, energy, and money.