Categories >
Guides and Tips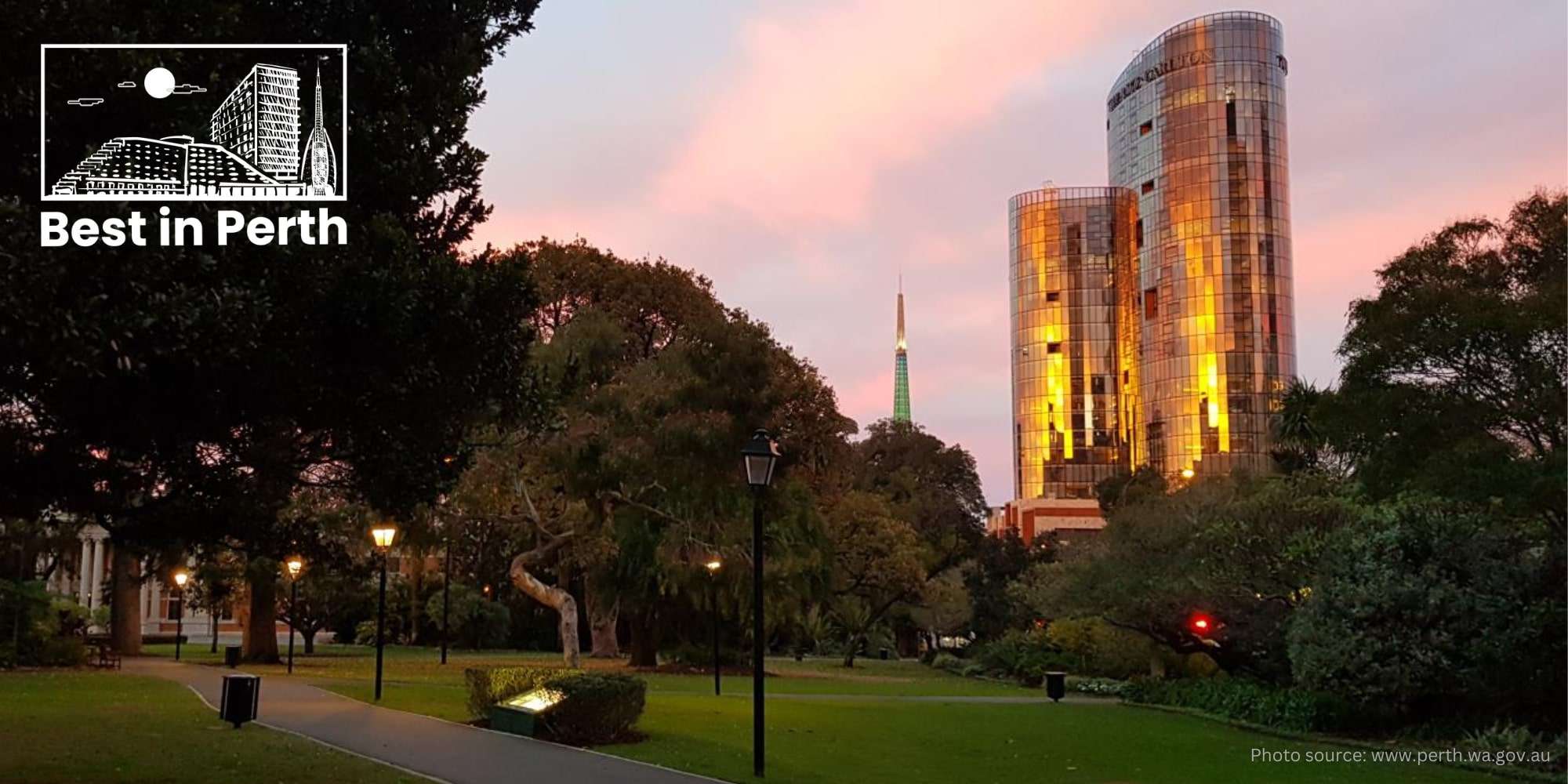 Best Things to Do in Stirling, Perth
Wondering about the most exciting things to do in Stirling, Perth? Look no further because we prepared our top picks right here!
Activities to Explore in Stirling
Here are some of the best things to do in Stirling, Perth:
Swim at the Scarborough Beach
Surf at Trigg Beach
Snorkel at Mettam's Pool
Have Fun at the Whale Playground
Shop at Westfield Innaloo
Buy Souvenirs at Karrinyup Shopping Centre
If you're ready, put on your best vacation clothes and check out some of our favourite locations and activities in Stirling below!
Swim at the Scarborough Beach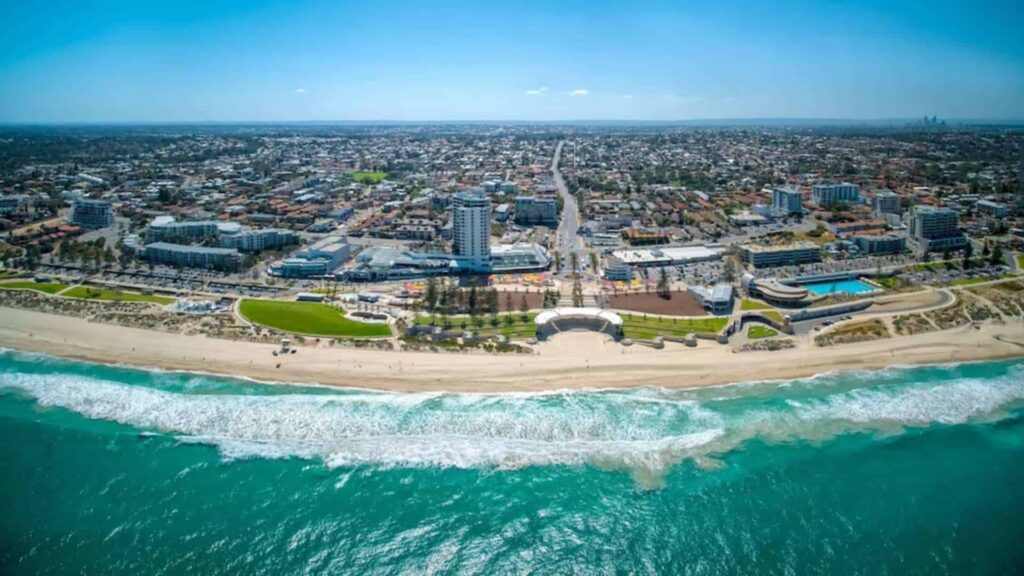 Website: https://www.westernaustralia.com/en/attraction/scarborough-beach/56b266a82880253d74c4ec7d
Address: West Coast Highway, Scarborough, Western Australia, 6019
Fees: Free
If you want a well-rounded beach experience, start your Stirling journey with a bang when you visit Scarborough Beach!
Swimmers, surfers, and bodyboarders are drawn to the area by the consistent swell, outstanding surf breaks, and lengthy stretch of white sand. What's more, kites and windsurfing are especially popular during the afternoon sea breeze.
No need to worry about you and your children's safety either, because Surf Life Saving patrols make sure everyone is safe at Scarborough Beach.
Since it's easy to get hungry from all the excitement, there are numerous cafes and restaurants to pick from as well. Alternatively, you can bring a picnic and take advantage of the big grassy areas, BBQ spaces, and gazebos.
For the most comfortable swim, we suggest dipping into the Scarborough Beach Pool. This is an open-air public pool that's heated by geothermal energy and has a top-notch entertainment centre. 
After you've had your fill of swimming, sunbathing, and surfing, we recommend spending an enjoyable hour or two at one of the many pubs with a magnificent view of the ocean.
You may enjoy live entertainment during the summer at the beachside amphitheatre, too. This site is also where various summertime events, such as beach cricket, are held.
With so many places to stay along this length of coastline, Scarborough Beach is the perfect destination for a summer vacation. There are many things to admire along the entirety of this long beach.
As for accessibility, Scarborough Beach is only around 20 minutes north-west of Perth, so it seems easy to drive to. Furthermore, there are regular buses that go there from the city to make your commute as seamless as possible.
Surf at Trigg Beach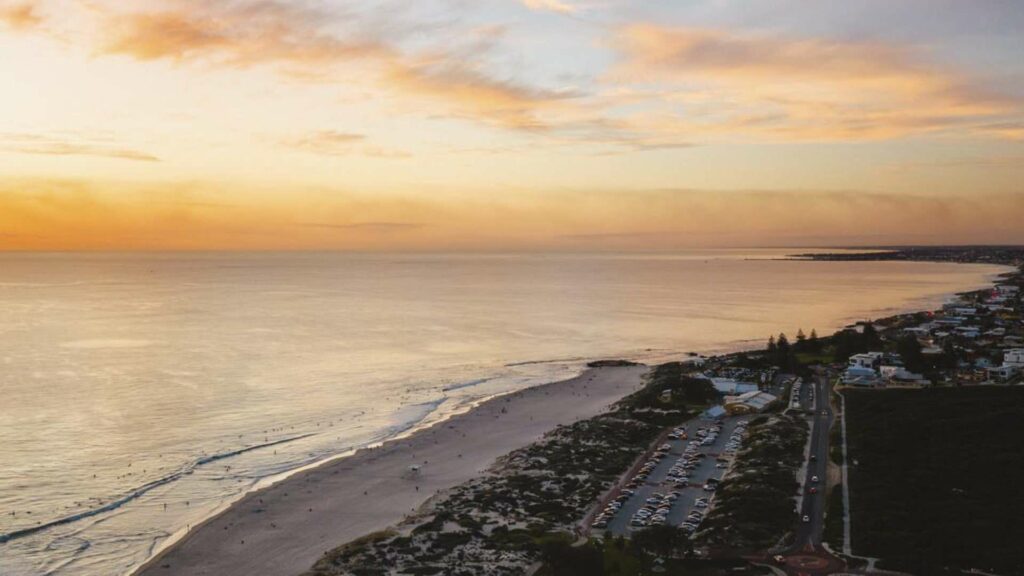 Website: https://www.stirling.wa.gov.au/leisure-and-culture/venue-and-facility-hire/beaches/trigg-beach
Address: Trigg Beach, West Coast Drive, Trigg, WA 6029
Contact Details: (08) 9205 8555
Should you be into surfing (or would like to try it out), Trigg Beach is one of Perth's most well-liked locations for that!
Trigg Beach offers beautiful white sand, clear blue waters, and a range of swimming opportunities. This is especially for those who want a good view of the Indian Ocean, too.
Of course, there's no shame in not knowing or being interested in surfing. There are other things to do because the beach is also popular for birdwatching, fishing, and snorkelling.
A section of the beach is well-known for being a wildlife hotspot, too! This is where tourists can occasionally enjoy observing dolphins, fish, and birds.
Not only that, but it's also available all year for bodyboarding, kiteboarding, and board surfing.
But if you really aren't into doing anything too physical, you can just sit back, and relax. Drink your favourite beverage and watch the pros ride some of the bigger waves from a safe distance.
Once you're well-rested and want to try a serene walk, the Trigg Bushland may be for you. We recommend going on a guided trail to see some sand dunes, explore the bushes, and meditate or reflect about life.
Since there are so many things to do on this beach, we suggest putting on sunscreen or sunblock and reapplying it throughout the day.
After all, you don't want your vacation to turn into a sunburn nightmare that your dermatologist will have to fix later.
Because it has plenty of room and nearby beach parking, we think Trigg Beach is a convenient option overall.
Snorkel at Mettam's Pool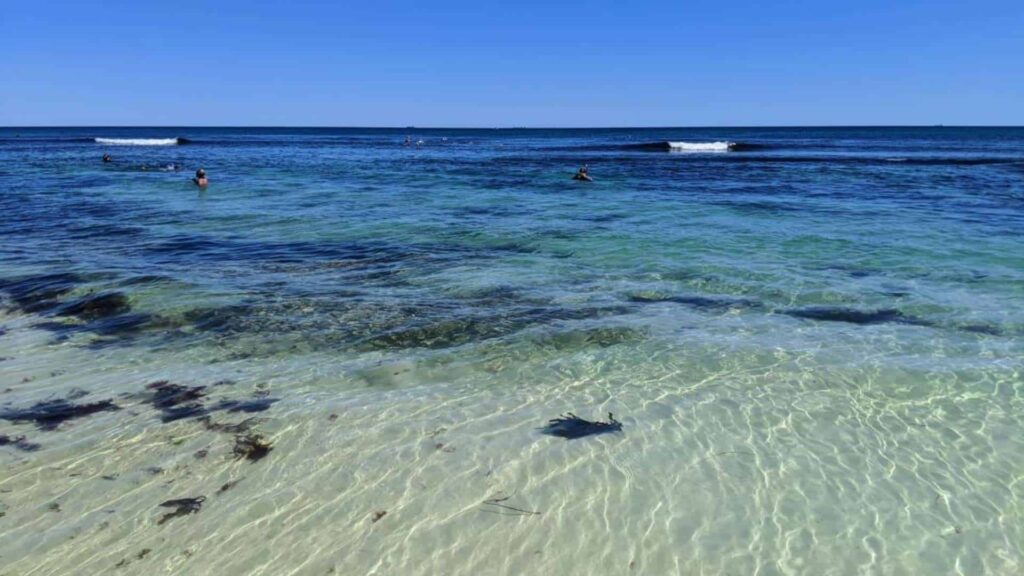 Website: https://exploreparks.dbca.wa.gov.au/site/mettams-pool
Address: West Coast Drive, North Beach, 6020
Contact Details: +61 8 9205 8555
Opening Hours: Open 24 hours
Do you ever have those moments when you can't decide between going to the pool or a natural body of water? Well, now you can have a little bit of both!
Due to its quiet, 'pool-like' quality throughout the entire year, Mettam's Pool is well-liked by both kids and adults. If you want a unique experience, we suggest visiting this location at least once.
We find it interesting that this lagoon was created naturally and that it's less than 2 metres deep (it's very safe for most ages!). The pool is home to a wide variety of fish species, too – especially in the southern section's holes and crevices. 
Here, you may find schools of buffalo bream, sea mullet, tarwine, blowfish, bullseyes, banded sweeps, and wrasse. In the open water, Australian herring and sand whiting can be seen, too.
If you know any sea enthusiasts, this would be a fun way to put their knowledge to the test by naming each fish or maritime discovery you'll find.
Due to the abundance of marine life that calls the 1.5m deep reef home, it's a very popular snorkelling location. But while snorkelling inside the lagoon is easy, note that the surge on the outside edge of the reef can be powerful at times. 
Other than minding the water surges and climate, keep in mind that the best time to go snorkelling and avoid crowds is early in the morning. This way, we believe you can appreciate looking at marine life better, without much hassle or distraction.
On West Coast Drive, there are also quite a few excellent coffee shops close by when you get hungry.
For future reference, you can get to the beach via stairs or a ramp. At the top, there are restrooms, an outdoor shower, and a few tables with shade.
Have Fun at the Whale Playground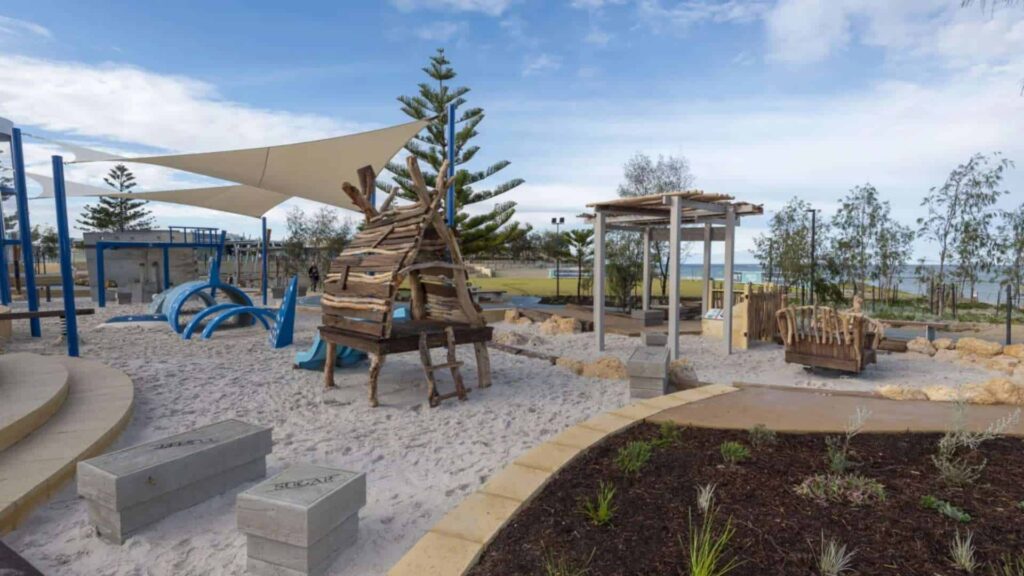 Address: Scarborough WA 6019, Australia
Opening Hours: Monday: 8:00 AM – 9:00 PM, Tuesday – Thursday: 10:30 AM – 11:00 PM, Friday – Saturday: 11:00 AM – 12:00 AM, Sunday: 10:30 AM – 11:00 PM
The Whale Playground may be a good choice for people who want a playground that's good for most physical abilities.
We think the big wooden fort and life-size whale skeleton on this playground are great for getting kids to use their imaginations. Slides, rope swings, cubby houses, climbing walls, and even a spectacular bird's nest swing are available as well. 
With so many other fun things to do nearby, like a skate park, rock climbing walls, and a basketball hoop, you can keep the kids occupied for the duration of the school break and beyond.
For us, the playground's ease of wheelchair accessibility also makes it ideal for more inclusive play. There's plenty of shade on the edge to cater to people who just want to rest as well.
However, there's a relatively tall side that seems to be more appropriate for taller kids. It's best to keep an eye on your shorter children so they don't end up requiring help from emergency doctors and pain specialists.
In our opinion, this playground is ideal for the whole family to have a picnic at. Alongside the playground are picnic tables, and on the expansive grassy area to the north are BBQ amenities that can be used.
The equipment and the grounds are typically clean, too. This is why we feel it's alright to move around here barefoot.
But don't fret if the youngsters get dirty since the restrooms and the showers are near the playground as well.
Shop at Westfield Innaloo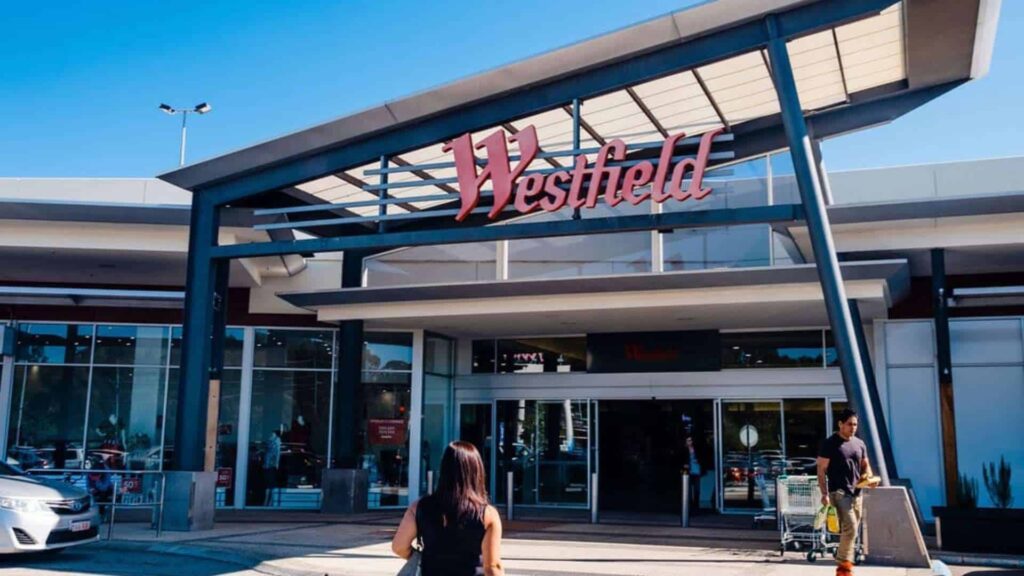 Website: http://www.westfield.com.au/innaloo
Address: Ellen Stirling Blvd, Innaloo WA 6018, Australia
Contact Details: +61 8 6466 2701
Opening Hours: Monday – Wednesday, Friday: 9:00 AM – 5:30 PM, Thursday: 9:00 AM – 9:00 PM, Saturday: 9:00 AM – 5:00 PM, Sunday: 11:00 AM – 5:00 PM
Some might say nothing's worse on a pleasant beach day than a pair of boardshorts that are one size too small or a bikini that has lost its shape. This is when you can go to Westfield Innaloo to solve these dilemmas.
For us, their current swimwear selection in-store caters to all beachgoers – from rash guards and board shorts to bikinis and one-pieces. 
If you like the newest styles, you might spend a little extra money on a stunning 2-piece from the Ozmosis shop. Otherwise, you can save your money for ice cream at the beach and choose fun and practical swimwear from Kmart and Target.
When it's time to eat, you can also get delectable seasonal snacks at Woolworths, Coles, Spudshed, Innaloo Garden Fresh, and Innaloo Fresh Market.
This one-stop hub is quite popular with guests during the summertime, especially for those who just want to cool off. Different beverage shops like Gloria Jeans, Green Juice Bar, Boost Juice, and Jamaica Blue are available for everyone.
In addition, no one will judge you if you only enter the premises because of their strong and comfortable air conditioning. When it gets hot outside, we recommend coming in for a couple of hours.
You can maximise this refreshing feeling by watching a movie, too. Enjoy their newest blockbusters with a variety of new films while you sit back, relax, and make the most of your spare time.
Get Souvenirs at Karrinyup Shopping Centre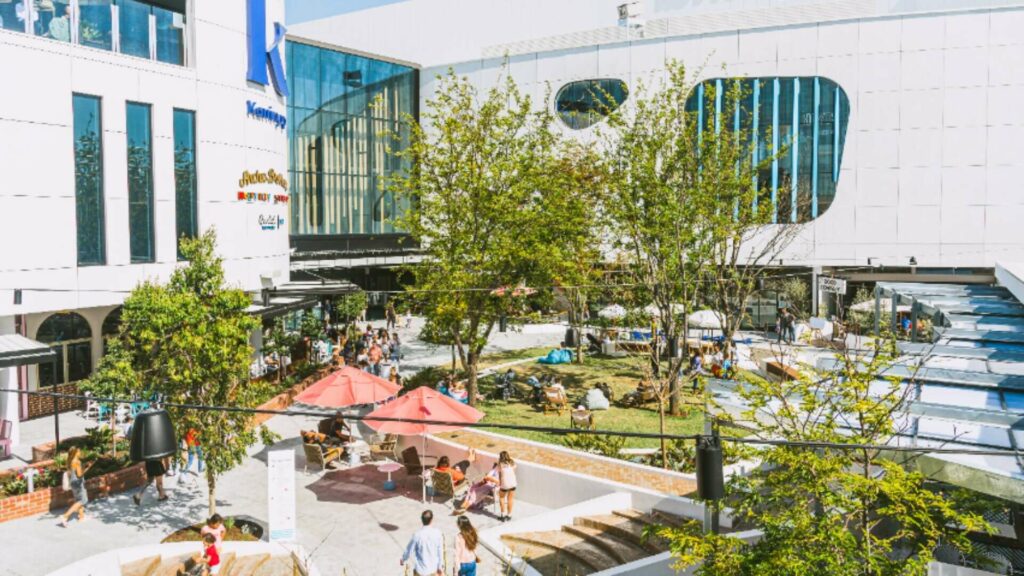 Website: http://www.karrinyupcentre.com.au/
Address: 200 Karrinyup Rd, Karrinyup WA 6018, Australia
Contact Details: +61 8 9445 1122
Opening Hours: Monday – Wednesday, Friday: 9:00 AM – 5:30 PM, Thursday: 9:00 AM – 9:00 PM, Saturday: 9:00 AM – 5:00 PM, Sunday: 11:00 AM – 5:00 PM
We think shopping fanatics will love Karrinyup Shopping Centre – it's among Perth's top locations for food, shopping, fashion, and more!
Amazingly, there are over 290 stores to discover, including Zara, Sephora, H&M, and UNIQLO. For us, it helps to allot around 2 hours to see adequate options for your shopping haul.
This site has virtually doubled in size after a 3-year renovation. It now features a corso and main street, leisure, lifestyle, entertainment, and a big plaza, which we feel is most suitable for kids and families.
If you're planning a vacation, this shopping centre is approximately 12 km north-west of the Perth CBD, so it's best to drive here first. After all, this shopping centre is near some of the best beaches and coastal suburbs in Western Australia.
You may also keep yourself entertained around here. Kill some time and explore their HOYTS Cinema, Holey Moley, Strike Bowling, Archie Brothers Croque Electric, and more.
In our opinion, you can also find your favourite restaurant here for everything from fast food to fine dining. Overall, more than 80 bars and restaurants are available in the centre, so we think there's something for everyone.
For those with more time to spare, there are also a bunch of other events to try out. We recommend trying bowling, taking part in SYNKRO's seniors communal exercise class, or enjoying live music at The Cafe Terrace.
Just keep in mind that their parking lot may have many twists and turns, making it difficult for some to get in and out of. It's best to allot some time for parking.
---
And there you go! We hope you find the best things to do in Stirling, Perth for a wonderful time with your loved ones.