Categories >
Guides and Tips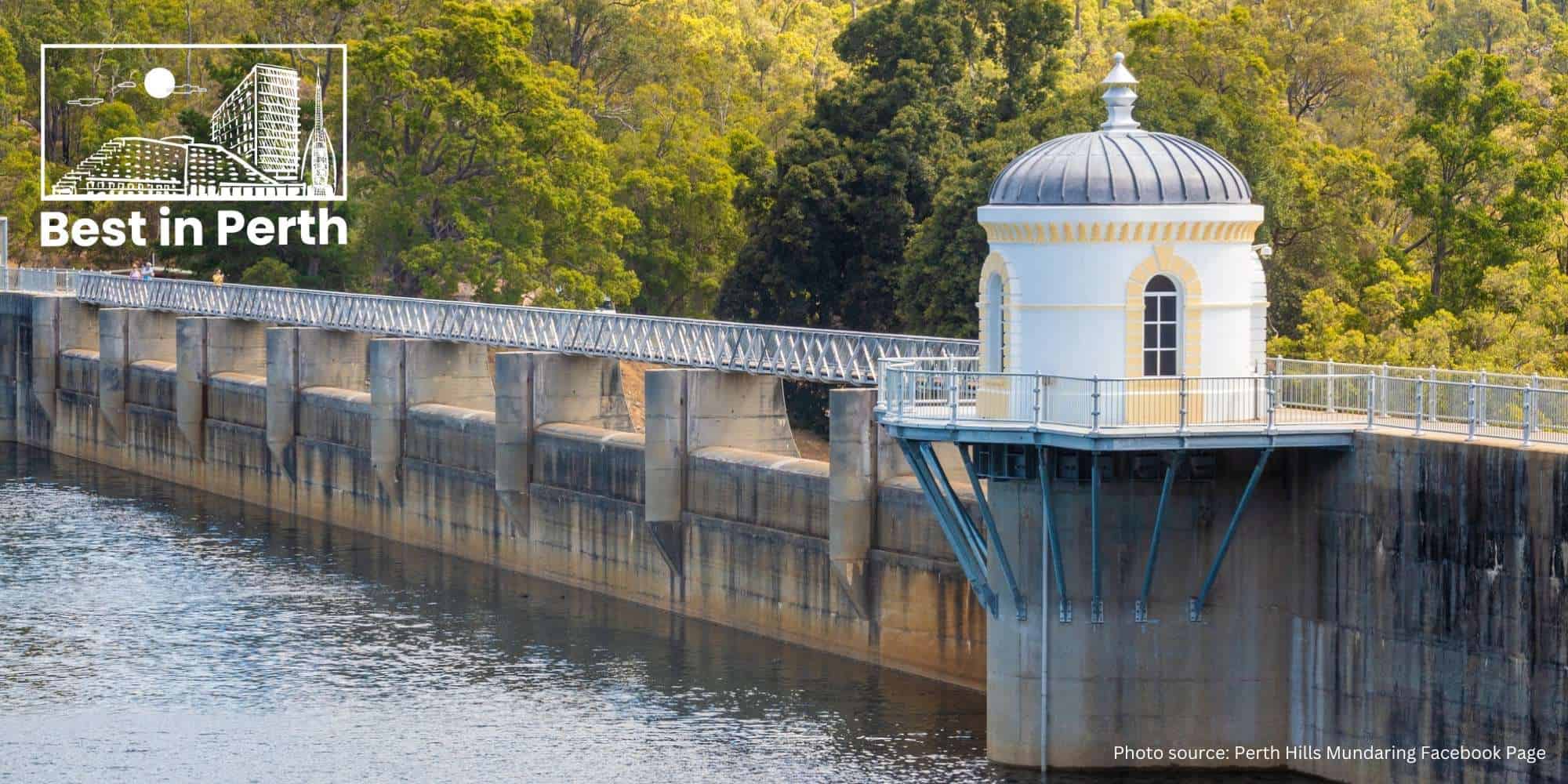 Best Things to Do in Mundaring, Perth
Preparing your list of things to do when visiting Mundaring, Perth? Let us help you with our top picks of various sites and activities for you to explore!
What Activities to Explore at Mundaring
Here are the best things to do in Mundaring, Perth:
Swim at the Lake Leschenaultia
Explore the John Forrest National Park
Bring your kids to the Sculpture Park
Play at the Morgan John Morgan Reserve Train Park
Discover wildlife at the Karakamia Wildlife Sanctuary
Visit the Avon Valley National Park
Are you excited for an all-day adventure? Check out our top suggested activities in Mundaring in detail below.
Take a Swim at the Lake Leschenaultia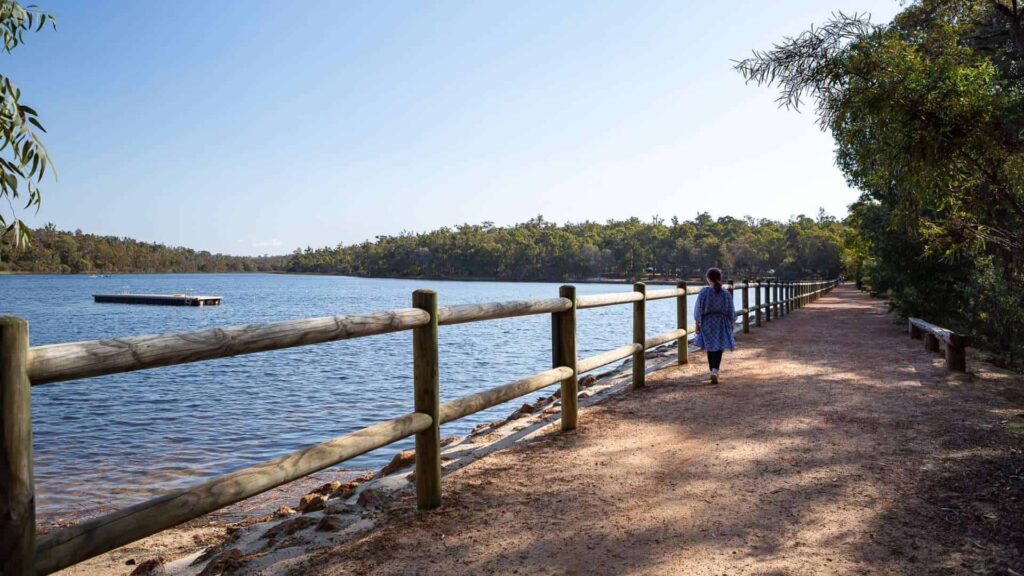 Website: https://www.mundaring.wa.gov.au/leisure-recreation/lake-leschenaultia
Address: 2135 Rosedale Road Chidlow, WA, Australia 6556
Contact Details: lake@mundaring.wa.gov.au
Fees: Free
If you want to have a refreshing day, we suggest going to an outstanding recreational lake called Lake Leschenaultia, located in Perth Hills' picturesque bushland.
We think Lake Leschenaultia is the ideal location for a family day trip or camping break because it provides a wealth of water and land-based activities.
You can walk the lake's 3 km stroll circuit or rent a canoe. Or, you can use a stand-up paddleboard (SUP) for a few hours and explore the area.
You can also see kangaroos, possums, and echidnas, as well as some of the many native bird species. Those with extra energy can also take advantage of the 10 km of off-road forest cycling trails.
The white sand beaches make it simple to access the calm waters where any kid can enjoy paddling or swimming in safety. Older children can enjoy jumping off the lake pontoon, too!
Take advantage of the wonderful picnic and BBQ areas or have something to eat at the Reflections cafe. This is open Saturday, Sunday, and during summer school holidays. 
After that, you may relax on the shaded lawn and watch the kids have a good time on the playground.
This serene location is perfect for overnight camping, in our opinion. It's also a great place to stay while exploring Perth Hills.
Sadly, unlike some dog-friendly beaches and campgrounds in the city, dogs aren't permitted in Lake Leschenaultia. If you're thinking about staying overnight, we advise you to find a dog sitter.
Explore the John Forrest National Park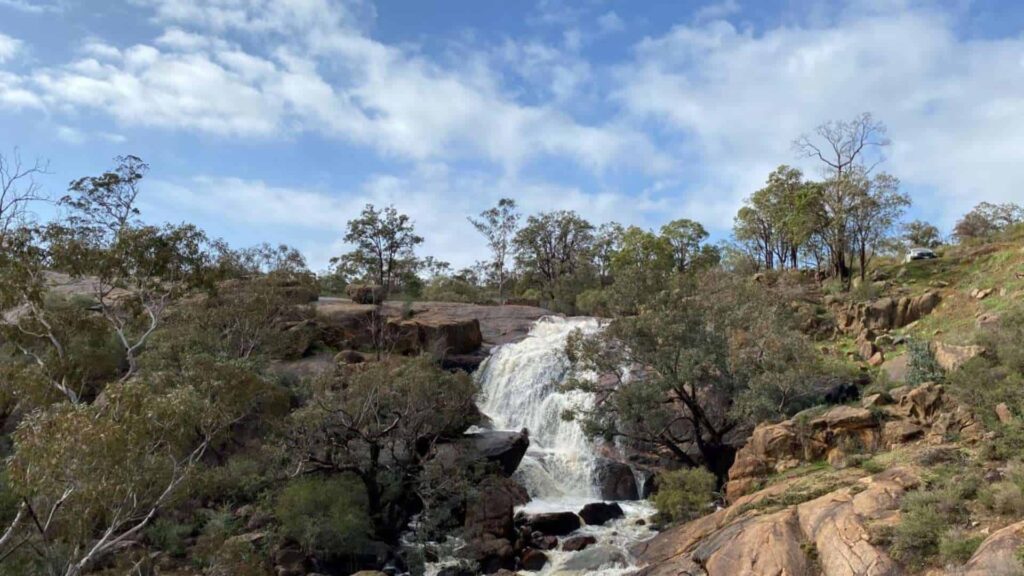 Website: https://exploreparks.dbca.wa.gov.au/park/john-forrest-national-park
Address: Park Rd, Hovea WA 6056, Australia
Contact Details: +61 8 9290 6100
Opening Hours: Open 24 hours
Fees: $15 (Standard Vehicle), $8 (Standard Concession), $7 (Large Vehicle), $2.5 (Large Vehicle Concession), $8 (Motorcycle)
Pack a picnic because the John Forrest National Park has breathtaking vistas, biking and walking trails, historic buildings, and an abundance of wildlife. This is only a 30-minute drive from Perth, too.
We recommend seeing the beautiful wildflowers in the winter and spring – especially when there are two waterfalls that stunningly flow. Here, there are several lovely places where you may enjoy a picnic or a BBQ feast.
There are a lot of walking paths that will take you past different trees and the eerie Swan View Tunnel. Even some of the native wildlife, like the western grey kangaroos, may be spotted relaxing in the park.
You may also explore the Railway Reserves Trail on foot or by bicycle, visit the lookouts, and take the best photos of Perth and the Swan Coastal Plain.
In case you feel thirsty after exploring the trails, the John Forrest Tavern's chilled drinks are the ideal way to quench that thirst.
And for those who have worked up an appetite, you may not need to look for cafes or restaurants outside – their tavern serves up a variety of high-quality food, so we suggest checking it out.
Just note that every day at 4 pm, the gate at the western end of Park Road Scenic Drive will be locked, so it's best to visit earlier.
Also, their parking lot seems convenient because it's next to the Ranger's Office and has 2 spacious, clearly marked, accessible spaces.
Bring Your Kids to the Sculpture Park Playground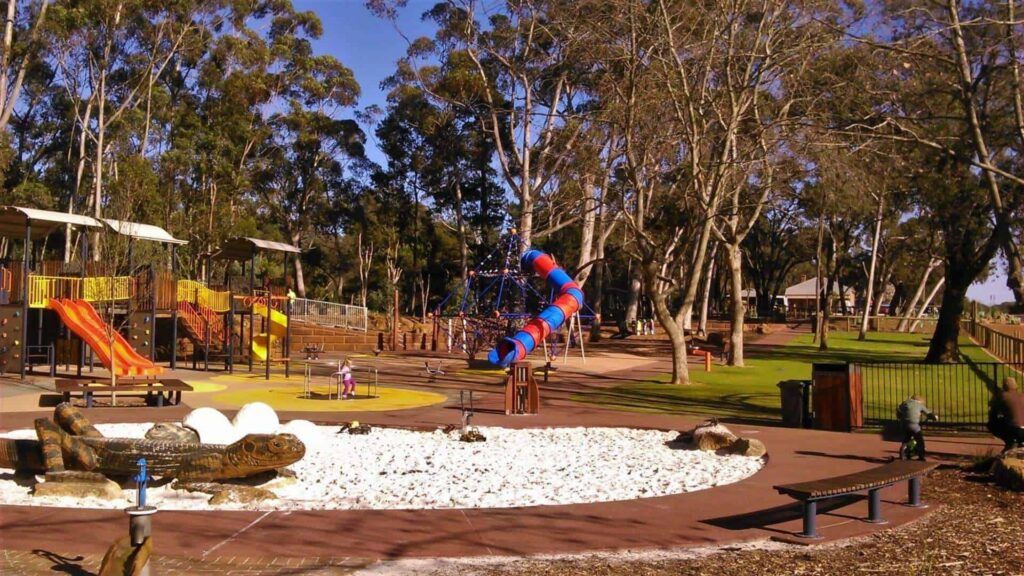 Address: Jacoby St, Mundaring WA 6073, Australia
Contact Details: +61 8 9295 0202
Opening Hours: Open 24 hours
Do you want to see a delightful playground with your kids? In the Perth Hills, about 40 minutes from the city centre of Perth, is the lovely Sculpture Park.
For starters, the park offers a wide range of activities. We believe many kids will enjoy sliding down the large slide and climbing the enormous spider web structure.
Sensory play is heavily emphasised here as well. Around the park, many musical instruments can be seen.
There's a big wooden 'Ornate Crevice Dragon' in a nearby sand pit, which we think is entertaining to climb. Under the sand, there are many of her bugs and eggs that you can find if you dig.
Friendly tip: to make this excavation even more enjoyable, bring some shovels as handy tools for this activity.
There isn't a swimming pool around here, but you might like their water play feature as an alternative. There's a tap where visitors can pump water onto the rocks for fun – we think it's best to bring extra clothing for this one.
We like that most of the park is wheelchair accessible, too. There are a few play areas for kids of all abilities, including a swing with a harness and a spinning wheelchair circle.
The park also has a lot of naturally occurring shading, but some parts of the playground get the most of the sun's rays.
For us, it's worth the trek up to the hills to visit Sculpture Park because it includes BBQs and restrooms, too. In our opinion, this makes it a well-rounded playground for the whole day.
All in all, you might wish to stay a little longer and eat here since the Mundaring Hotel is right next door.
Have Fun at the Morgan John Morgan Reserve Train Park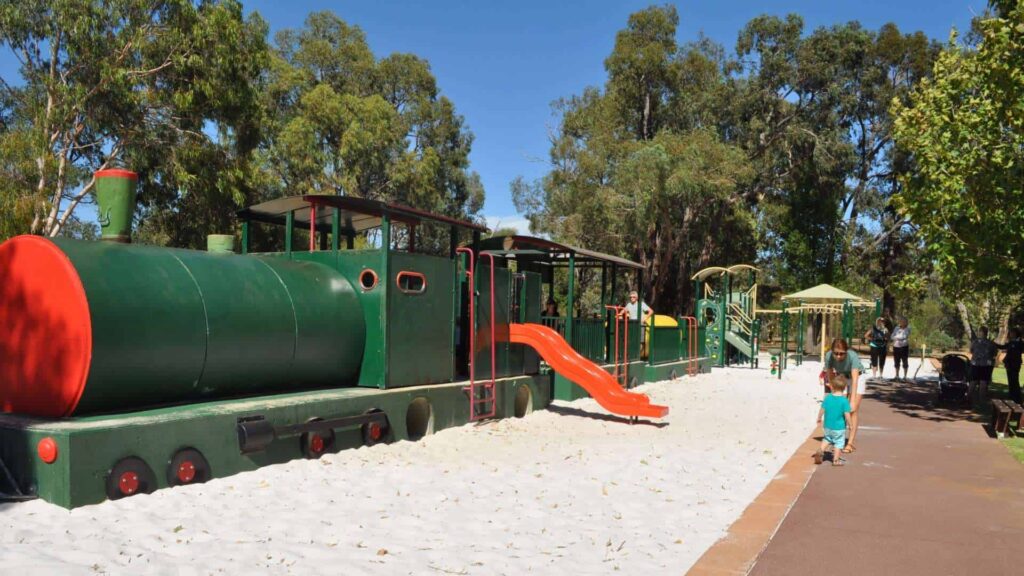 Website: https://www.mundaringtourism.com.au/dispform_id_106/
Address: 17 Railway Parade, Glen Forrest WA 6071, Australia
Contact Details: +61 8 9290 6645, visitorcentre@mundaring.wa.gov.au
Opening Hours: Open 24 hours
Should the kids want more fun, there's another playground at Morgan John Morgan Reserve. It has a big sandpit area and a play structure – but for us, its life-size replica train is what really sets it apart.
Little train enthusiasts who adore Thomas or Chuggington might enjoy using the locomotive's 2 carriages for some imaginative play. Kids may use the tiny ladder to ascend, board the train, and either drive or ride in the carriage!
We also appreciate that there's a swing designed specifically for infants and toddlers. Some even bring their pets with them, too!
Inside the carriage, there are also tables and chairs under a shade, making it a fun place to eat lunch. On a hot day, the train's slide and several of its 'wheel' tunnels also make for a cool place to hide.
Plus, the metal play structure also includes a climbing wall, a climbing net, slides, and more. There are tons of options for an all-day adventure!
Of course, we still advise keeping watch over these youngsters. Accidents and injuries demanding expensive doctors and pain specialists can happen even in the safest places.
The expansive grassy area is surrounded by huge gum trees, too. Because of this, there's plenty of room to be active, like kicking a football or throwing a frisbee. 
Not only that, but there's also plenty of room to spread out a picnic rug in a shaded area beneath a tree.
There's plenty of shaded parking as well. Plus, there's a bike rack, a drinking fountain, and a toilet block for the guests' utmost convenience.
Discover Wildlife at the Karakamia Wildlife Sanctuary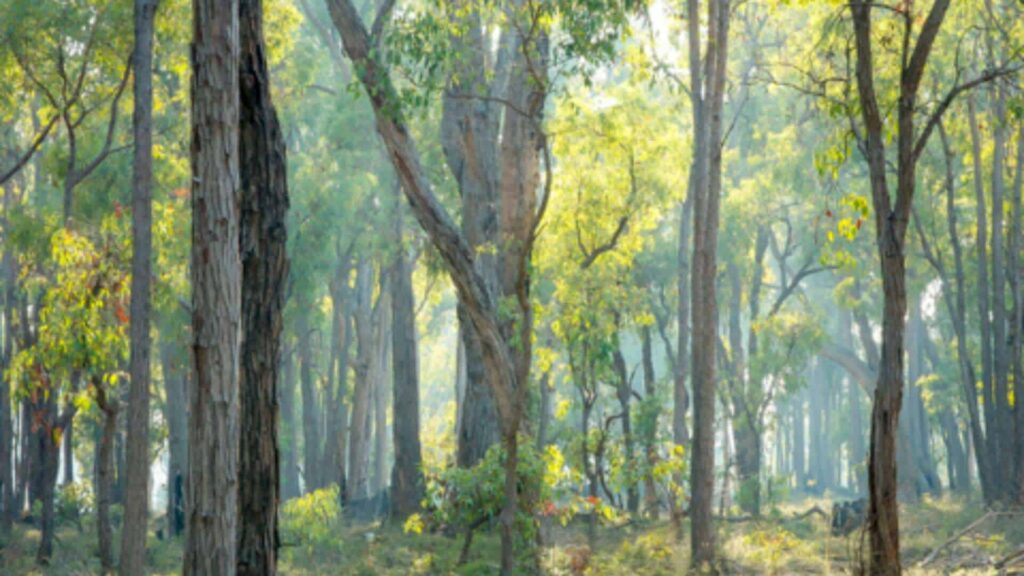 Website: https://www.australianwildlife.org/where-we-work/karakamia/
Address: 4360 Lilydale Rd, Chidlow WA 6556, Australia
Contact Details: +61 8 9572 3169
Opening Hours: Monday – Friday: 9:00 AM – 5:00 PM
Fees: $30 (Adult), $20 (Concession or Student)
Those who want a serene wildlife experience should visit the Karakamia Wildlife Sanctuary. This site is important for saving animals that were in danger of going extinct.
To explore the best of its offerings, a guided tour is the only way to see the refuge. As a part of their programme, you can take a 2-hour spotlight walk through Karakamia at dusk.
This duration seems adequate for learning about the animals. You can meet some of the furry residents and understand how you can help protect them.
We also advise planning well for this trip rather than just suddenly showing up. In this area dedicated to conservation, you need to make a reservation for a guided tour or ask about volunteering.
It's also best to follow the 'Leave No Trace' principles when visiting their natural areas.
This means leaving no trash behind, not picking flowers, and doing your best to take care of the place. Also, make sure to follow any rules or restrictions about fire that may be in place.
Visit the Avon Valley National Park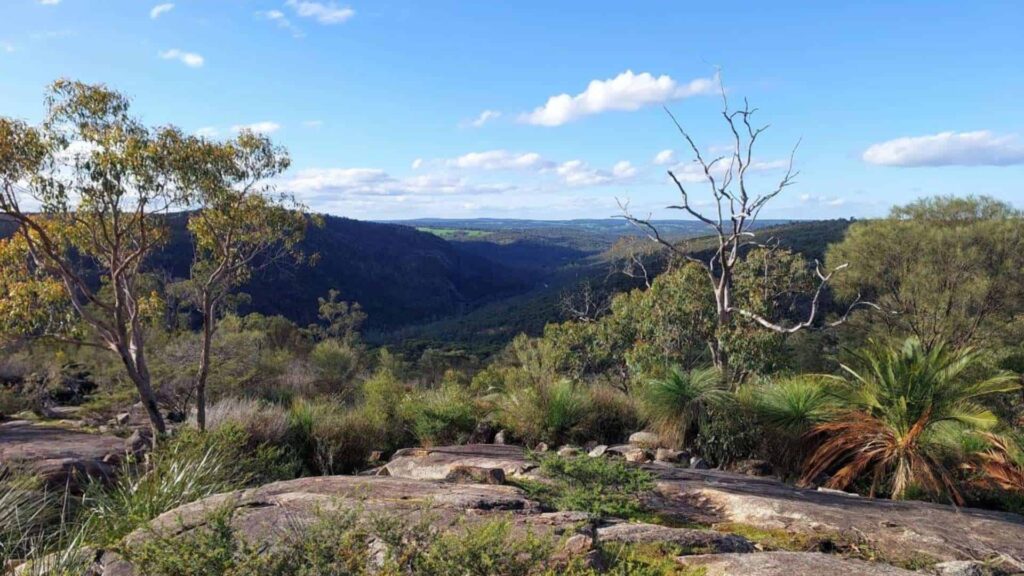 Website: https://exploreparks.dbca.wa.gov.au/park/avon-valley
Address: Unamed Road, Avon Valley National Park WA 6073, Australia
Contact Details: +61 8 9290 6100
Opening Hours: Open 24 hours
Fees: $15 (Standard Vehicle), $8 (Standard Concession), $7 (Large Vehicle), $2.5 (Large Vehicle Concession), $8 (Motorcycle)
Think of a quiet park to cross between the woods in the south and the dry land in the north. If this tickles your fancy, the Avon Valley National Park is for you!
What's more, this is a park that hasn't seen much development. For this reason, we believe you can appreciate the natural and authentic views here.
The terrain of Avon Valley National Park is dynamic and diverse as well. Wide-ranging vistas of the valley are provided by tall granite outcrops. 
We suggest taking a walk through the natural woods in the park's uplands if you want to think about life or meditate. If your therapist or psychologist has ever recommended taking a break from the city, this is where to go first.
Animal lovers would be happy to know that their trees are home to a variety of birds and other animals. The Wandoo Woods are home to kangaroos, wallabies, chuditch, and echidnas.
The park is also bathed in a riot of beautiful colour throughout the spring because of the abundance of wildflowers. For us, this is among the best seasons to be your own photographer and capture a ton of location photos.
Also, why not linger a while and unwind in the surrounding scenery? They have 4 campgrounds in the park that are open to regular campers.
Gather around one of the fire rings during campfires, but don't forget to bring your own wood to be sure.
Despite being seen as a 'basic' park, several guests commend its amenities, which include picnic tables and restrooms, too. 
The park is most enjoyable in the spring, fall, and winter. Since summer may be really hot, keep this in mind when planning your trip beforehand.
Adventurous people will find enough activities to enjoy at Avon Valley National Park. We believe this location is ideal for those wanting to slow down time, so make the most of your stay.
---
And there you go! We hope you find the best things to do in Mundaring, Perth and have productive fun all day long!