Categories >
Guides and Tips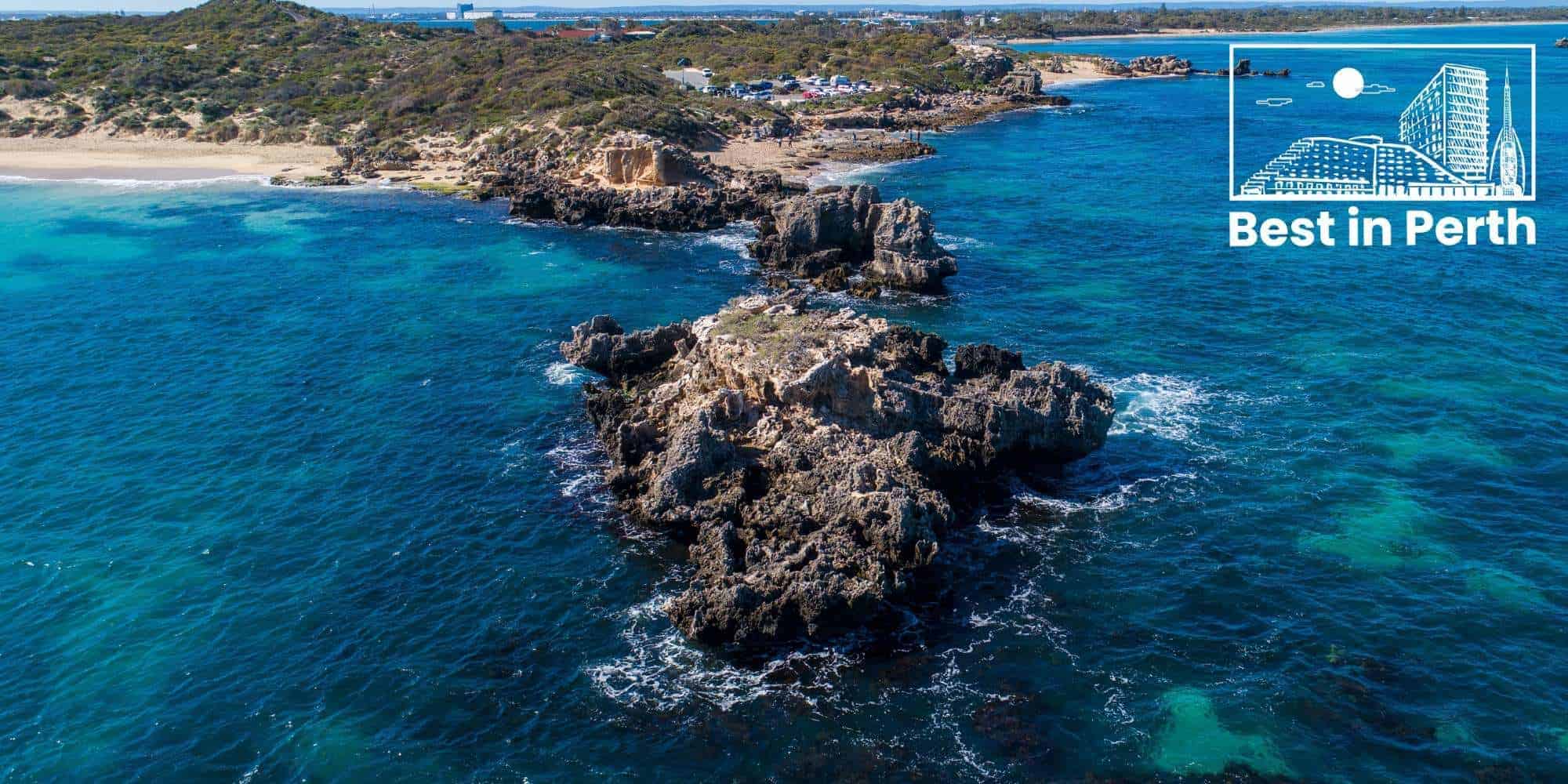 Best Things to Do in Rockingham, Perth
Looking up the best things to do in Rockingham, Perth? No worries! We're here to make your search easier with a bunch of our favourites compiled here.
What Activities to Explore in Rockingham
Here are some of the best things to do in Rockingham, Perth:
Visit the Penguin Island
Snorkel at Cape Peron
Go on a kayak trip at Shoalwater Islands Marine Park
Swim at Rockingham Beach
Learn history at The Catalpa Memorial
Take long walks at Palm Beach
Get guidance from Rockingham Visitor Centre
Make your stay memorable when you discover some of our favourite spots and things to do in Rockingham below.
Visit the Penguin Island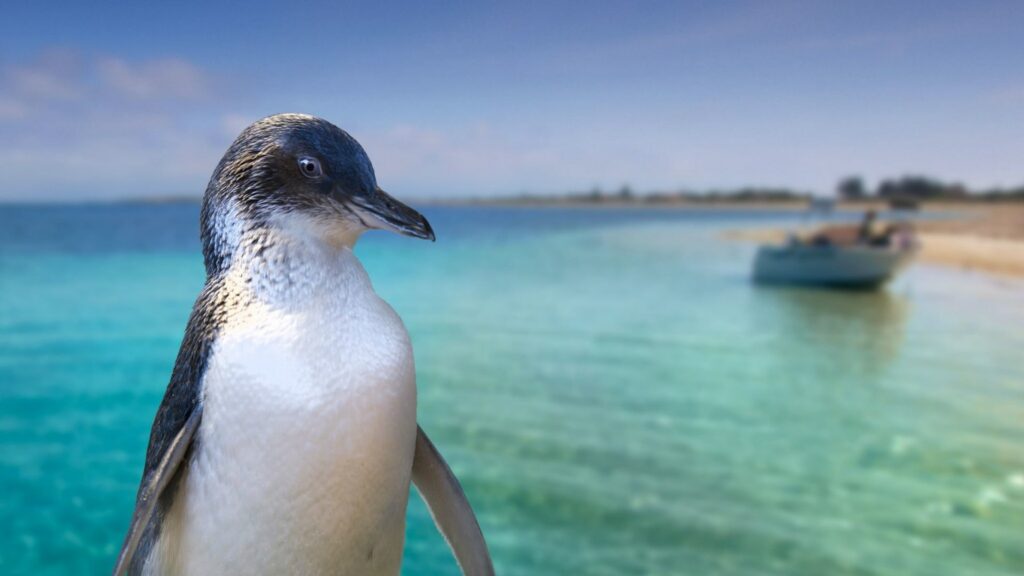 Website: https://www.penguinisland.com.au/
Address: 153 Arcadia Dr, Shoalwater WA 6169, Australia
Contact Details: +61 8 9591 1333
Opening Hours: Monday – Sunday: 8:00 AM – 3:00 PM
Fees: No park entry fee; admission fees apply
Penguin Island is one of the best places to see nature in Australia. It's 45 minutes south of Perth, and it only takes 5 minutes to get there by boat across Shoalwater Bay.
At the Discovery Centre, rangers arrange 3 daily penguin feedings. Here, visitors may get up close to the birds.
These penguins are known to be shy, so they spend most of the day hiding in their burrows or swimming out to sea to eat. We suggest getting a good spot because this is your best chance to see these adorable animals.
The Shoalwater Islands Marine Park, where Penguin Island is located, is also teeming with species like dolphins, sea lions, stingrays, pelicans, and seagulls. Snorkelers can enjoy reefs and seagrass meadows underwater.
Nature lovers can explore boardwalks and lookouts on the island. Enjoy a picnic while looking out over the water, allowing the kids to swim while the adults unwind.
Take note that every year, from the beginning of June to September 14, Penguin Island is closed so that the tiny penguins can nest. Make sure to schedule around this prior to your visit.
And from September 15 to early June, Rockingham Wild Encounters runs a ferry to Penguin Island once an hour for a fee. A variety of cruises are also available to explore more of the marine area.
Just remember that dogs aren't permitted in this park. If your furry friends are tagging along, you might want to consider bringing them to a dog-friendly beach or campground instead.
Snorkel at Cape Peron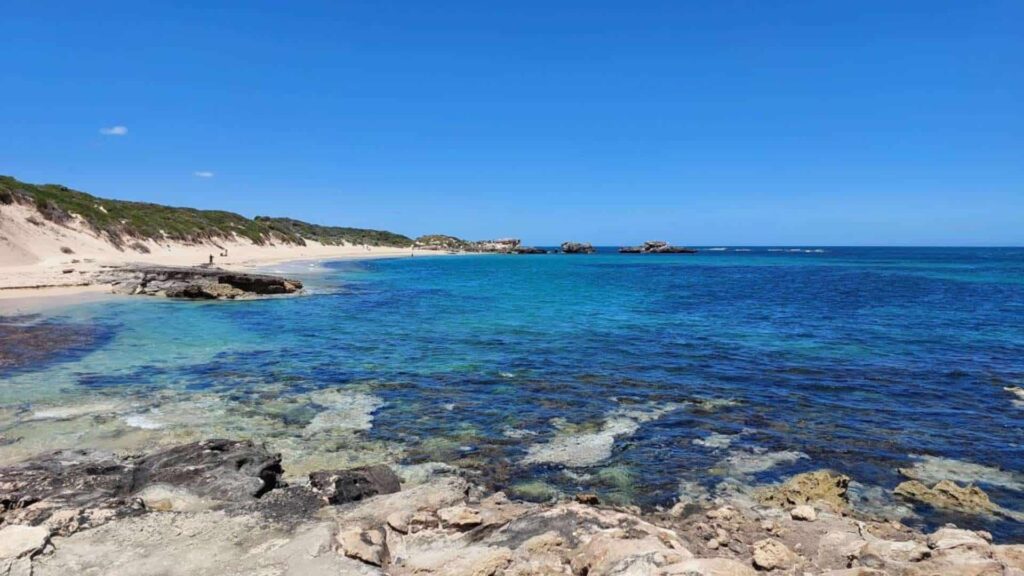 Website: https://visitrockingham.com.au/attractions/point-peron/
Address: Peron, WA 6168, Australia
Contact Details: +61 8 9219 9000, info@visitrockingham.com.au
Opening Hours: Open 24 hours
Fees: Free entry
If you like exploring the many wonders of marine life, you'll probably love snorkelling at Cape Peron. There are various reefs, caves, and swim-throughs in the seas nearby.
In addition, it's a unique place with many swim-throughs, a few large caverns, and reefs made of limestone that are full of marine life. 
Colourful nudibranchs (soft-bodied marine gastropod molluscs), stunning soft corals, sea anemones, octopuses, and sea stars are among the creatures that snorkelers can see.
To maximise your vision, it's best to get your eyes checked at your local eye clinic beforehand. You wouldn't want to miss anything here.
Because the waters are accessible and shallow, we think the location is good for most snorkelers (even beginners!). Moreover, we like that you can dive at this location throughout the entire year.
For your reference, the maximum depth is 7 metres (23 feet) while the average depth is 4 metres (13.1 feet). Additionally, visibility ranges from 5 m (16.4 ft) to 10 m (32.8 ft) and is medium.
Still, note that it's frequently busy around here. If you want to avoid the crowds, we advise waking up earlier and diving in the morning.
Overall, this site is quite large, so there are tons of things to explore. In our opinion, going here once may not be enough to check out every dive spot.
Go on a Kayak Trip at Shoalwater Islands Marine Park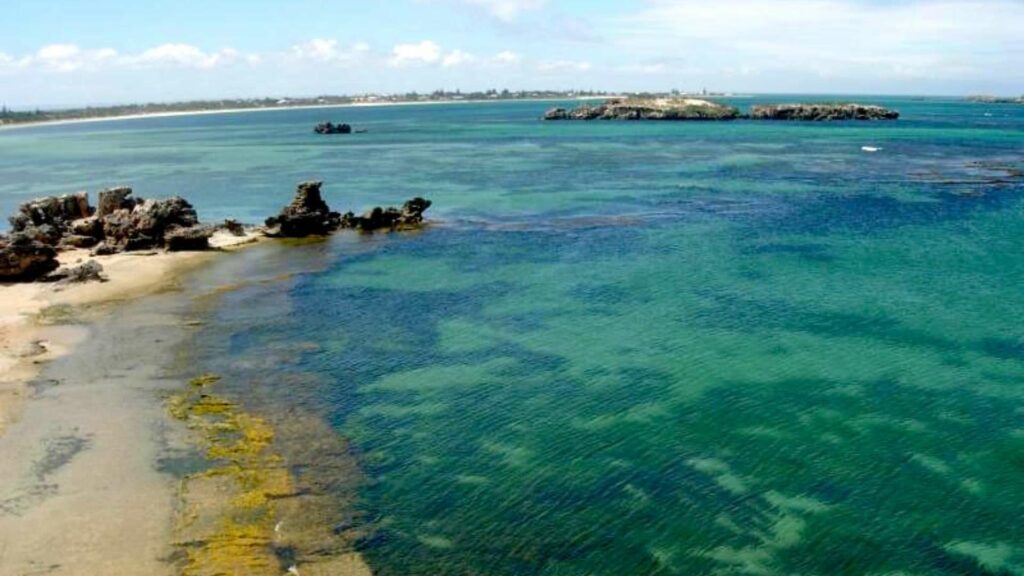 Website: http://parks.dpaw.wa.gov.au/park/shoalwater-islands
Address: 153 Arcadia Dr, Rockingham WA 6168, Australia
Contact Details: (08) 9405 0750
Opening Hours: Monday – Friday: 8:00 AM – 5:00 PM
In the Shoalwater Islands Marine Park, beautiful islands, reefs, and shipwrecks make for fantastic diving, snorkelling, and wildlife viewing.
We recommend joining a wildlife cruise to meet dolphins or going on a kayak trip to learn about the local marine life – including the endangered Australian seal and cavernous reefs.
Excellent diving and snorkelling opportunities can be found on cavernous reefs, too. If you have a permit, you can check out the surf break to the west of Penguin Island or explore a dive wreck.
You can do some fishing or crab-catching as well. Alternatively, when the wind picks up, kiteboarding is also a wonderful option on a clear day.
Look up to see pelicans flying overhead, or look down to see fluffy babies and their protective parents still in their nests. There are numerous birds, and you can see them from the boardwalks along the coast and on Penguin Island.
Getting in the water will likely result in you coming across a pod of bottlenose dolphins, which are very prevalent in the marine park. We suggest looking for tours that allow you to swim with dolphins.
Not only that, but a colony of endangered Australian sea lions called Seal Island can also be seen swimming and fishing in the neighbouring waters.
The Shoalwater Islands Marine Park in Rockingham is only a little over an hour's drive from Perth, which for us is very convenient.
It's just advisable to bring more cash than initially planned since some activities may cost more.
Swim at Rockingham Beach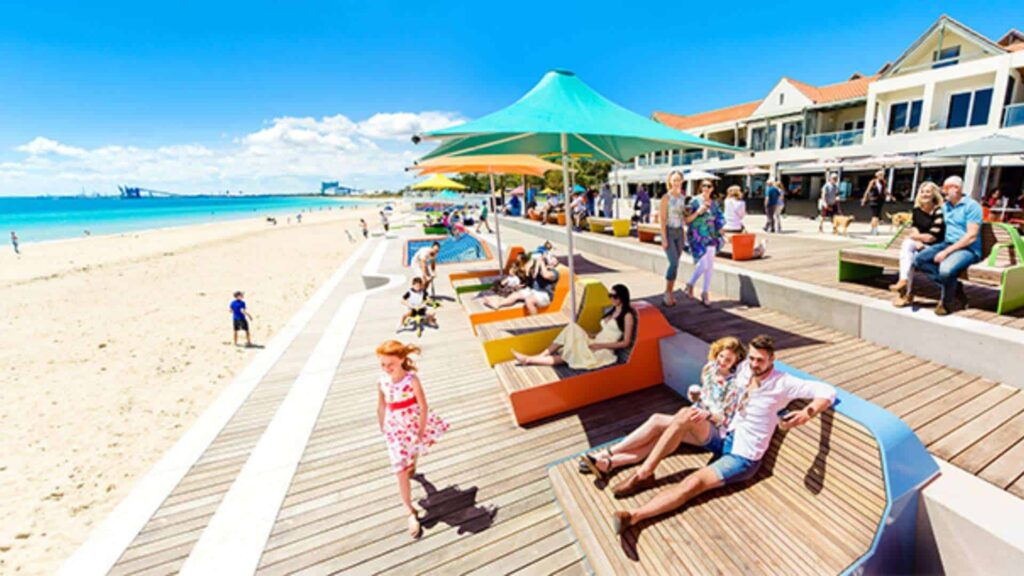 Website: https://rockingham.wa.gov.au/facilities-and-recreation/find-a-venue-park-or-reserve/rockingham-beach-foreshore
Address: Rockingham Beach Road, Rockingham
Contact Details: (08) 9528 0333, customer@rockingham.wa.gov.au
Being a popular beach in the area, Rockingham Beach is known for its clear seas, lovely white sand, and variety of activities.
For those who prefer something more leisurely, there are plenty of additional Perth attractions close to Rockingham Beach. This involves whale watching excursions, winery tours, and fine dining at nearby restaurants.
Because of its continuing multi-million dollar renovation, we believe Rockingham Beach has also gained a new attraction and charm for its guests. 
The new Beach Plaza has spots of orange, blue, green, and yellow seating and shaded areas, which we believe have added splashes of vibrancy throughout the coastline. It's also surrounded by a wooden boardwalk, which makes it the city's meeting place for family and friends.
If you want to make a splash, Rockingham Beach is known for its serene waves as well. It's protected from the wind because it faces north. 
For this reason, it seems like a great beach for families with young children to swim safely or for adults who like to swim laps.
It's a beach that welcomes everyone, too. Due to the seasonal beach mats, beachgoers with disabilities and the elderly can relax without having to be overly cautious.
Learn History at The Catalpa Memorial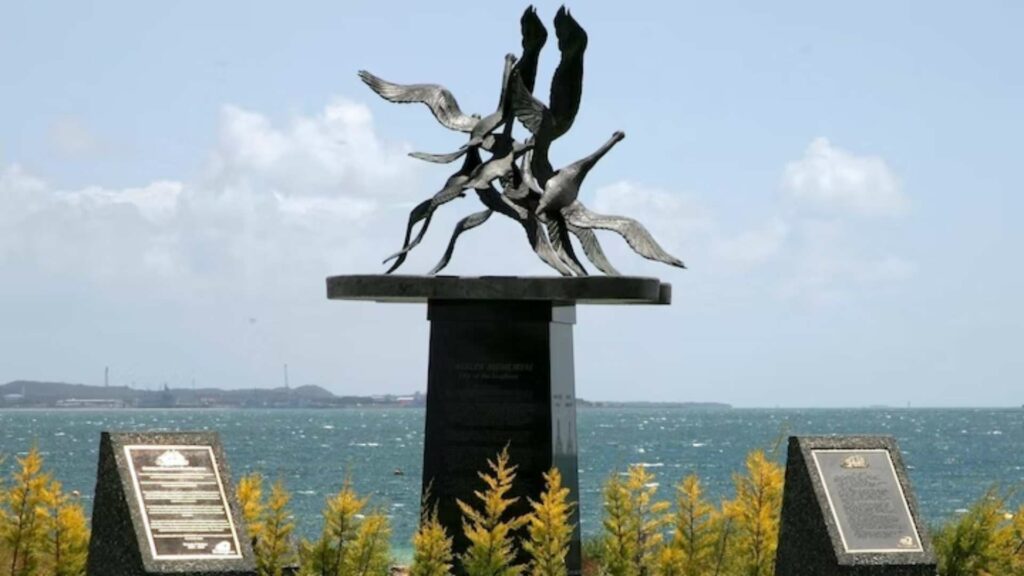 Website: https://www.westernaustralia.com/en/Attraction/Catalpa_Escape_Memorial
Address: 109 Esplanade, Rockingham WA 6168, Australia
Contact Details: +61 8 9592 3464
Opening Hours: Open 24 hours
Fees: Free entry
Are you a history buff? If so, the next place might be the best place to satisfy your curiosity or desire to learn.
The famous 1876 escape of six Irish Republican Brotherhood (Fenians) prisoners from Fremantle Prison is told at the Catalpa Memorial.
Here, visitors get to learn how the Fenians escaped from Fremantle Prison after being rescued. This also includes their following boat breakout from Rockingham Beach, which has added to Rockingham's fascinating past.
We think it would be interesting to know about one of history's most significant escapes, which is essential to Rockingham's past. Ireland, Australia, and the United States of America are all connected by the epic story of The Catalpa Rescue, which is global in scope.
For us, it's also a picturesque spot ideal for reflecting on what happened many years ago. You may also look at every area with a bit of historical detail to learn more throughout your visit.
We like that the site caters to those with limited mobility with wheelchair access as well.
And you can't go through the day without coffee, you can easily stop by a cafe nearby. The memorial is close to the Palm Beach Foreshore, which is only about 200 metres to the west of the café row and Val Street Jetty.
Take Long Walks at Palm Beach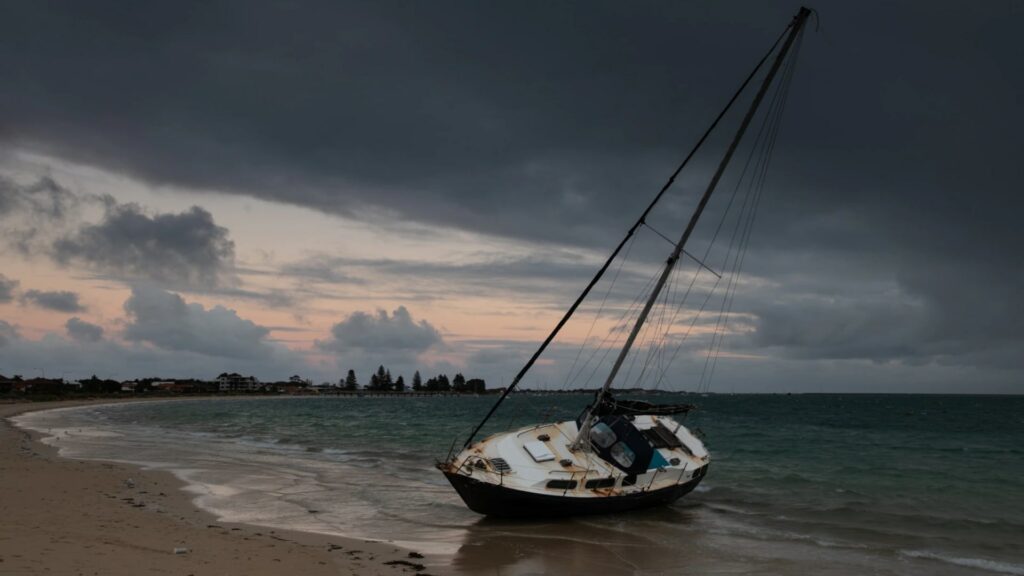 Address: Rockingham WA 6168, Australia
Rockingham's Palm Beach is a peaceful beach that faces north. Because of its serene ambience, this looks like a relaxing option for you and your loved ones.
Since there are usually no intimidating waves, we believe this beach is relatively safe for people of all ages. The waters in Palm Beach are incredibly clear and blue, too.
We love that little children can safely jump and splash around here. The beach seems like a great area for families, BBQs, and picnics.
Between October and April, beach access mats are placed to the west of the jetty. This is mostly to help people with disabilities, older people, and parents with strollers get from the main path to the sand.
Nevertheless, fishing may be productive for only some people. Several people may have no luck fishing off the jetty – though we think the relaxing experience and nice views may compensate.
We think you don't need to hire a photographer to capture a magnificent photo of the sunset from Palm Beach, either. We advise going for a long walk to have the best chance of taking the best pictures.
Furthermore, there's also a nice cafe close by in case someone needs a cup of coffee and a matching aesthetic meal for the day.
Get Guidance from Rockingham Visitor Centre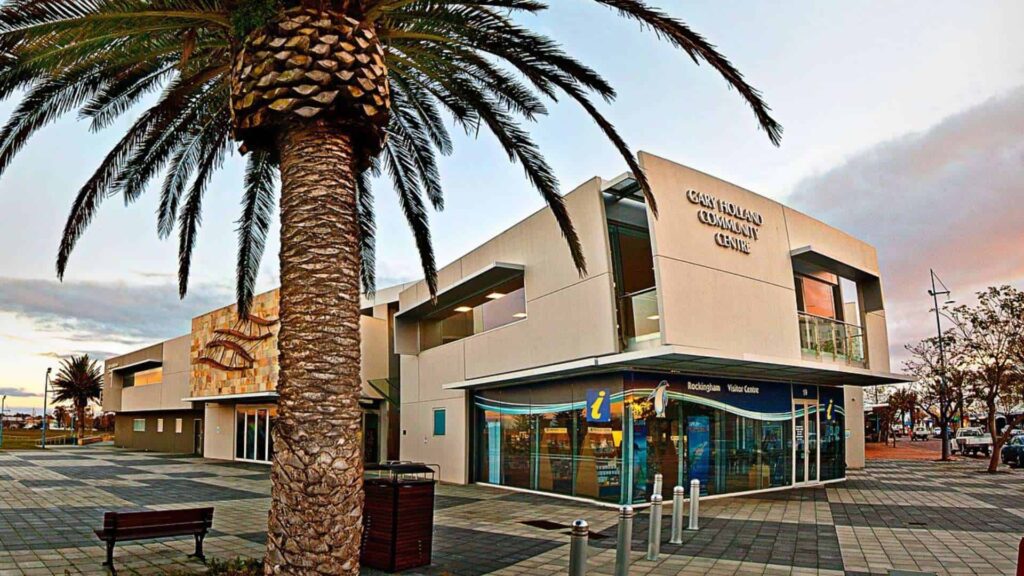 Website: https://visitrockingham.com.au/
Address: 19 Kent St, Rockingham WA 6168, Australia
Contact Details: +61 8 9592 3464
Opening Hours: Monday – Friday: 9:00 AM – 5:00 PM, Saturday – Sunday: 9:00 AM – 4:00 PM
Rockingham is unmatched for its breathtaking vistas along its 37 kilometres of coastline. However, not everyone is familiar with the ins and outs of this location from the start – this is when we feel you can use some help.
The Rockingham Visitor Center is where an informative team tells locals, tourists, and day travellers about the best things to do in the area. 
Aside from making reservations, they can give you a bunch of comprehensive brochures and suggestions for an enjoyable holiday.
We like that this centre is ideally situated for easy access in Rockingham, with plenty of parking. This makes it a great place for us to get important information and learn about Rockingham.
To save time, it's best to make the Rockingham Visitor Centre your first stop to acquire crucial information and travel tips.
They can provide you with practical assistance before you dive off one of the numerous neighbouring islands, sail a yacht within the protected bays, go fishing, or just take in the vast stretches of white sand beaches.
---
And there you go! We hope you find the best things to do in Rockingham, Perth for a fantastic day out in the suburb.