Categories >
Guides and Tips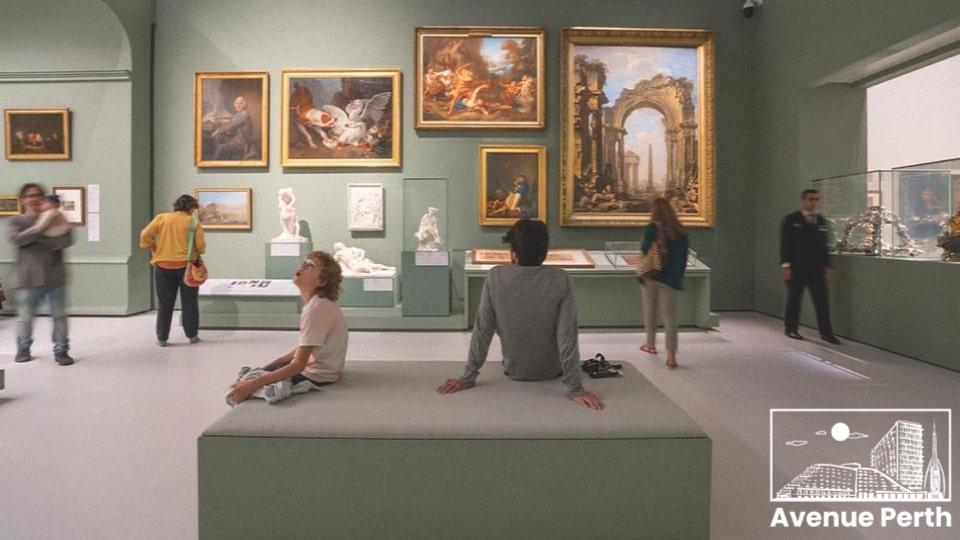 Indoor Adventures: The Best Indoor Activities in Perth
There are times when going outside to enjoy the day isn't always ideal, whether it be because of the intense noontime heat or heavy rain.
Thankfully, the city definitely has some hidden gems indoors waiting to be discovered.
So keep your chin up because rain or shine, there is always something you can enjoy in Perth anytime you want!
See the biggest gold coin in the world at the Perth Mint
Website: https://www.perthmint.com/
Address: 310 Hay St, East Perth WA 6004, Australia
Contact details: +61 8 9421 7222
Operating hours: 9:00 AM – 5:00 PM (MON-SUN)
Price:
Adult (16+) – $22
Child (5-15) – $12
Senior (60+) – $20
Let's start with a visit to the largest gold coin ever made in history. You'll find it at the Perth Mint, a former colonial branch of the United Kingdom's Royal Mint and now the official bullion mint of Australia.
The gold coin, officially known as the Australian Kangaroo One Tonne Gold Coin, has a diameter of 80 centimetres and is 12 centimetres thick. As the name implies, it weighs 1,012 kilograms and is 99.99% pure gold.
It has kept its world record ever since 2012.
To see it with your own eyes, you'll need to sign up for The Perth Mint Gold Tour. The tour includes a live exhibition on how they melt gold and turn it into gold bars and coins.
Another part of the tour to look forward to is their King of Gold and Queen of Silver exhibits. These two are among the largest gold and silver nuggets not only in Australia but in the world.
My first visit here was certainly a fun experience. I highly recommend you stop by their shop and get yourself a limited-edition coin.
These coins typically feature important events in history, like the famous ANZAC operations during WW2, or pop culture icons, like James Bond and the Star Wars franchise.
Pro tip: The Perth Mint is a cashless venue. Make sure you have your credit cards or electronic payment options ready when visiting this attraction!
Check out the latest artworks from Perth's finest at the Art Gallery of Western Australia
Website: https://artgallery.wa.gov.au/
Address: Perth Cultural Centre, Perth WA 6000, Australia
Contact details: +61 8 9492 6600
Operating hours: 10:00 AM – 5:00 PM (WED-MON)
Appreciating fine art is another must-try activity while in Perth. And the best place to do just that is at the prestigious Art Gallery of Western Australia, which you'll find at the Perth Cultural Centre in Northbridge.
It's a public art gallery without any entrance fee, so feel free to come back here anytime you want!
As the state's biggest art gallery, it features more than 18,000 artworks and sculptures made by both local and international artists. It also features art made by Aboriginal and Torres Strait Islander artists.
The Art Gallery of Western Australia actually continues to expand its collection, and it features new exhibitions at least every three months. You can check out their website to see what the latest exhibitions are on display here.
If you want to learn more about their exhibitions, the art gallery also hosts guided tours on the third Saturday of every month. These are multi-language tours, so feel free to join even if you're not proficient in English.
Before you leave, make sure to check out their store! It sells merchandise made in collaboration with Western Australia's artists.
Pro tip: Getting hungry? Then come to the highest floor of the Art Gallery of Western Australia and visit the rooftop bar, where you'll be served great food and drinks!
Learn more about Aboriginal history and culture at the WA Museum Boola Bardip
Website: https://visit.museum.wa.gov.au/boolabardip
Address: Perth Cultural Centre, Perth WA 6000, Australia
Contact details: +61 1300 134 081
Operating hours: 9:00 AM – 5:00 PM (MON-SUN)
Price:
Adult (16+) – $15
Child (15 and below) – FREE
Senior (60+) – $10
You're already at the Perth Cultural Centre, so you might as well check out its other famous attractions! The second place you should definitely visit here is the WA Museum Boola Bardip.
In Whadjuk Nyoongar, Boola Bardip means "many stories." This museum was intended to be a place where its visitors could learn in detail about the culture and history of the Aboriginal peoples of Western Australia.
Its main exhibition, the Ngalang Koort Boodja Wirn, features various artefacts and documents about the Aboriginal peoples' tools, government systems, and ways of communication before the arrival of European settlers.
If you're a huge fan of exotic animals, WA Museum Boola Bardip also has the Wild Life exhibit, which is filled with ancient fossils and live specimens of the rarest animals in Western Australia.
Aside from artefacts and ancient fossils, WA Museum Boola Bardip also hosts live performances for those looking to experience the museum in a totally new way.
During my last visit here, I got the chance to see the Love and Loss Live Tour, which tells the story of Ellen Stirling, the wife of the founder of Perth, Admiral James Stirling.
Make sure to check out their website to see what exhibits and live shows are currently available in the museum.
Pro tip: Download their Gogo app to improve your experience. This app lets you have your own "tour guide," who will direct you to each exhibition while providing you with a detailed explanation of every artefact you encounter.
Watch intense basketball games at the RAC Arena
Address: 700 Wellington St, Perth WA 6000, Australia
Contact details: +61 8 6365 0700
The RAC Arena is the home of the Perth Wildcats and West Coast Fever, Perth's biggest teams in basketball and netball. The arena is also located within Northbridge and is just a couple of blocks away from the Perth Cultural Centre.
Aside from sports, the RAC Arena is also a popular venue for many concerts and live performances held in Perth. One of the biggest concerts held here was Billie Eilish's concert in September 2022.
What's really awesome about RAC Arena, though, is that its roof can be fully retracted, so even outdoor events like motocross and tennis games can be held inside the arena!
If any of these pique your interest, make sure to visit the RAC Arena website to see when these games and concerts will be held.
Pro tip: If you or someone you know has hearing issues, the RAC Arena has Hearing Augmentation Systems available in their information kiosks.
These systems will broadcast the stadium audio directly to your ears via a headset or a telecoil installed within a hearing aid.
Contact them on their website so you can reserve one for yourself before a show.
Learn more about marine life at The Aquarium of WA
Website: https://www.aqwa.com.au/
Address: 91 Southside Dr, Hillarys WA 6025, Australia
Contact details: +61 8 9447 7500
Operating hours: 9:00 AM – 4:00 PM (MON-SUN)
Price:
Adult (16+) – $32
Child (3-15) – $19
Senior (60+) – $26
Who says you need to dive just to catch a glimpse of the marine life living in the seas and rivers of Perth? Don't worry because you'll have the chance to check them out at The Aquarium of WA, also known as AQWA.
Located in Hillarys Boat Harbour, AQWA has one of the largest collections of aquariums in Australia, and it currently holds the record for having the largest single aquarium in the country.
This aquarium is an exhibit called the Shipwreck Coast, and it has an underwater tunnel that spans almost a hundred metres. It contains specimens gathered from the seas near Western Australia, like sharks, stingrays, and turtles.
Aside from Shipwreck Coast, there are also other exhibits here, like the Perth Coast exhibit and the Danger Zone exhibit, where you can check out the most dangerous marine life, like the blue-ring octopus and lionfish.
My personal favourite is the Glowing Ocean exhibit, AQWA's newest exhibition. This exhibition uses UV lighting to show off the invisible fluorescent details of coral reefs and fish that are normally invisible to the naked eye.
If all the walking around in the exhibits made you peckish, AQWA has a cafe where you can choose to either dine in their air-conditioned room or outside on the terrace. Outside, you'll get an amazing view of the Indian Ocean.
Pro tip: Interested in doing something very exciting? Then make sure to sign up for AQWA's Snorkel with Sharks experience!
For 30 minutes, you'll have the chance to swim with their sharks under the guidance of one of their experienced divers. You'll get a souvenir certificate, which you can use to brag to your friends about your heart-pounding experience!
Explore the ancient jail cells of Fremantle Prison
Website: https://fremantleprison.com.au/
Address: 1 The Terrace, Fremantle WA 6160, Australia
Contact details: +61 8 9336 9200
Operating hours:
9:00 AM – 5:00 PM (MON, TUES, THURS, SAT, and SUN)
9:00 AM – 9:00 PM (WED and FRI)
Price (Convict Prison tour):
Adult (16+) – $22
Child (5-15) – $12
Senior (60+) – $19
Continue on another fun-filled adventure while learning more about the history of Perth at Fremantle Prison. This former prison is the only UNESCO World Heritage Site in the entire state of Western Australia.
Fremantle Prison is a vital part of the city's history, as it had a profound effect on Perth's development during the late 1900s. It used to be the prison for many of the convicts that were shipped to Perth from the United Kingdom during the colonial era.
These convicts were instrumental in the city's rapid growth, as their labour was used to develop Perth's infrastructure and districts.
During your visit to Fremantle Prison, you'll have the chance to learn more about the Convict Era in detail as well as the stories of the most notorious criminals formerly incarcerated in the prison.
There are five different tour experiences here, each covering a specific section of the massive prison. The most popular, the Convict Prison Tour, covers the Convict Era.
A tour experience you should definitely try is the Tunnels Tour, which will take you to the labyrinth of underground tunnels built by the prisoners to provide the prison and the city of Fremantle with a reliable supply of freshwater.
Each tour has its own ticket prices, but the entrance section and the gift shop corner of Fremantle Prison are fully accessible to the public for free.
Pro tip: If you're game for a spooky experience, Fremantle Prison offers the Torchlight Tour. Visitors can tour the prison late at night and see the spookiest sections where some of Perth's scariest urban legends originated.
Travel back in time to the Swing Era at the Jazz Cellar
Website: https://jazzcellar.net.au/
Address: 139 Buxton St, Mount Hawthorn WA 6016, Australia
Contact details: +61 419 993 180
Operating hours: 5:30 AM – 10:30 PM (FRI)
Price: Adult (18+) – $30
Curious what a speakeasy was like back in the 1920s and 30s when jazz and swing music were the hottest in Perth? Wonder about it no longer, as you can visit an authentic speakeasy today in the suburb of Mount Hawthorn—the Jazz Cellar!
All the staff wear 1920s clothing, and some visitors even dress according to that time period. (Don't worry, you won't need to borrow your grandparents' clothes!)
Plus, the bar's walls are adorned with memorabilia and designs popular during the Swing era. Of course, a jazz bar won't be complete if there's no live jazz.
The jazz band that performs in the Jazz Cellar is the Corner House Jazz Band. This band was formed in 1980 and is one of Australia's most popular jazz bands.
They've performed outside of the country as well, including in Japan and the USA!
Because it's very popular, Jazz Cellar requires visitors to book in advance through their website. I recommend you buy your tickets at least a week in advance because the bar can only support up to a hundred people every Friday night.
Pro tip: Jazz Cellar is a BYO establishment. You'll need to buy your liquor someplace else before arriving here because they don't sell their own.
Play with retro arcade machines at Palace Arcade Bar
Website: https://www.thepalacearcade.com.au/
Address: 84 Beaufort St, Perth WA 6000, Australia
Contact details: +61 8 6558 1611
Operating hours:
4:00 PM – 12:00 AM (WED and THURS)
12:00 PM – 2:00 AM (FRI and SAT)
12:00 PM – 10:00 PM (SUN)
It was fun dancing the night away to jazz music, but how about doing something to relive your childhood? The best place to do that is at the Palace Arcade Bar, a pizza parlour filled with arcade machines that'll surely make you nostalgic.
Here, you'll have the chance to play your favourite arcade games from when you were a kid, like Street Fighter 2 and Pac-Man. They even have the granddaddy of all video games, the Pong arcade cabinet.
Of course, playing arcade games isn't the only thing you can enjoy here. As a pizza parlour, Palace Arcade Bar offers a whole range of pizza flavours you can enjoy with your fellow gamers in between your gaming sessions.
They also serve gluten-free pizzas, so it's definitely okay to invite a friend who has dietary restrictions.
If you're in the mood for alcohol, Palace Arcade Bar also serves amazing wine cocktails to keep the mood up late at night. Just make sure to drink in moderation, especially if you're planning to stay here until their closing time.
Pro tip: Palace Arcade Bar has a special promo for each day of the week. If you love playing arcade games, I suggest you visit them on Wednesdays because they offer unlimited access to their arcade machines for only $10.
See the biggest shows in Perth at His Majesty's Theatre
Website: https://www.artsculturetrust.wa.gov.au/venues/his-majestys-theatre/
Address: 827-905 Hay St, Perth WA 6000, Australia
Contact details: +61 8 6212 9292
Operating hours: 10:00 AM – 5:00 PM (MON-FRI)
A great way to spend your time in Perth indoors is to see the biggest live performances in His Majesty's Theatre. This theatre is an important part of Perth's identity, as it was the largest theatre in Australia when it was completed in 1904.
As the only remaining working Edwardian theatre in Australia today, His Majesty's Theatre is oftentimes used for the grandest concerts and live shows in Western Australia.
Some notable figures that once performed here are the famous Russian ballerina Anna Pavlova and the English actor Sir Ian McKellen.
Nowadays, the theatre is often used to host live performances by the West Australian Opera and the West Australian Ballet. You can visit their website to learn more about their current and upcoming shows.
His Majesty's Theatre also has a couple of restaurants you can eat at before or after a show. It also has a bar where you can order light snacks during a show's intermission.
Pro tip: His Majesty's Theatre offers special tours to those interested in learning more about the theatre's history and its impact on Australian culture.
Their Grand Historical Tour costs $25 per person, and it will take you to different areas of the theatre, including the backstage and stage.
Enjoy an intense indoor skydiving session at iFLY Perth
Website: https://www.iflyworld.com.au/locations/ifly-perth/
Address: 143 Great Eastern Hwy, Rivervale WA 6103, Australia
Contact details: +61 1300 435 928
Operating hours:
11:00 AM – 8:30 PM (MON-FRI)
7:30 AM – 6:00 PM (SAT and SUN)
Price (per person): $129.95
End your grand indoor adventure on a high note! Come to Rivervale, where you'll get the chance to experience indoor skydiving at iFLY Perth.
So, how does it work? Well, to simulate the feeling of skydiving, iFLY relies on strong fans in an isolated tube to generate winds strong enough to carry a person off their feet!
An experienced staff member is always present to make sure the participant remains safe during the entire skydiving session.
But if you'd like to see other views while flying, you can go for their skydiving simulation using virtual reality technology.
With a VR headset, flyers can now finally feel as if they're actually skydiving over the Alps or above the beaches of Perth!
iFLY also offers its indoor skydiving experience to people with disabilities. For only $49.95, those with physical or cognitive disabilities can feel what it's like to skydive thousands of feet high in the sky.
Pro tip: Save money by visiting iFLY during their off-peak hours! Their branch in Perth charges off-peak rates before 10:00 AM and after 5:30 PM on weekends.
Meanwhile, their off-peak prices are applied the whole day between Mondays and Fridays.
---