Categories >
Guides and Tips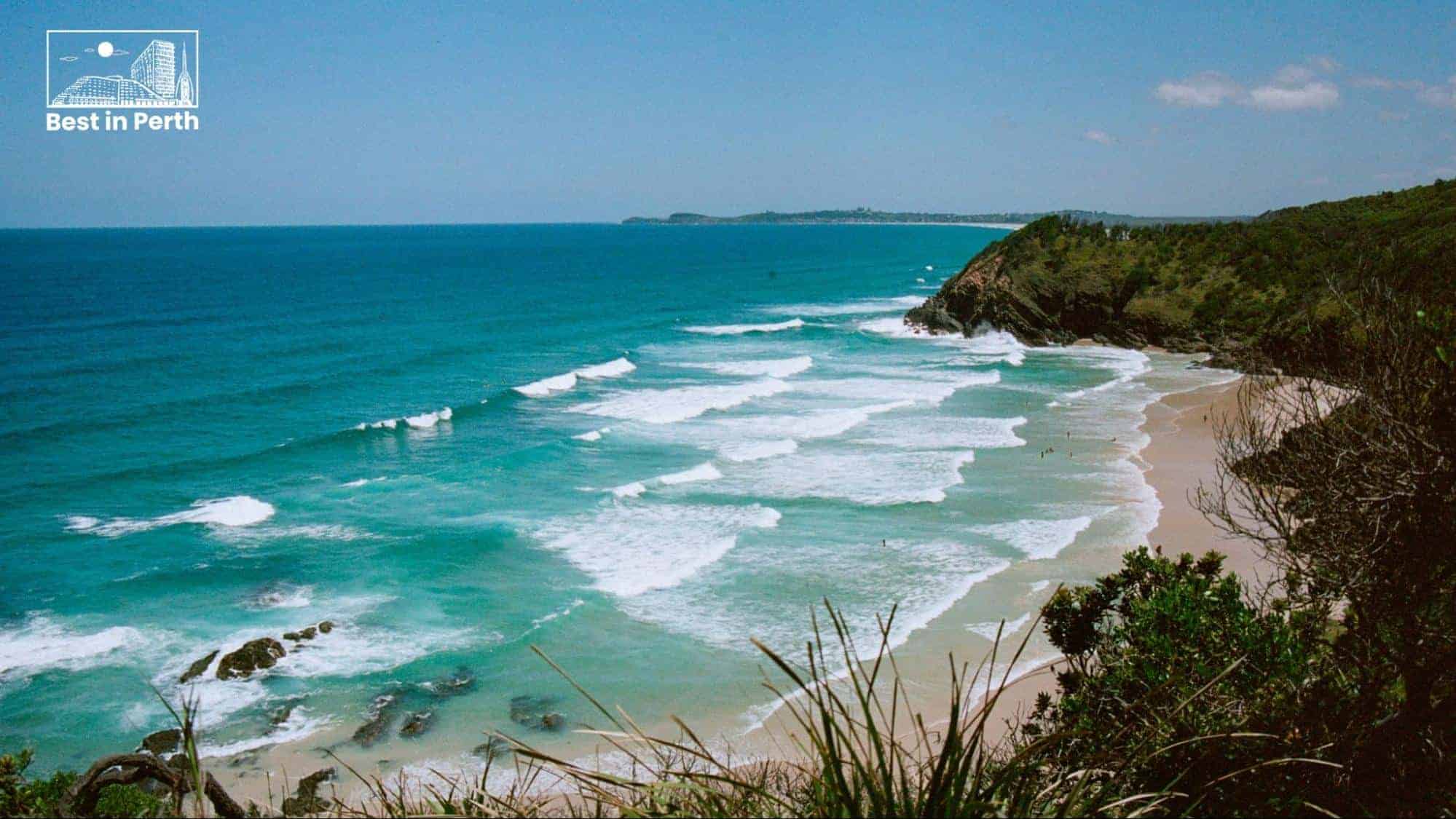 Things to do in Byron Bay: Exploring, Eating, & Shopping
Unlike other coastal destinations in Australia, Byron Bay's charm lies in its idyllic and slow-paced character.
It's a bit secluded, as it's located far north, and while the town is attracting plenty of tourists at present, its location makes it a little less busy than the beaches nearer the cities.
Nonetheless, The Bay, as the locals call it, offers several attractions that you'll want to book a trip for days. Read on to learn more about the things you can do in this lovely spot, and you'll find yourself planning your vacation in no time.
Top Things to Do in Byron Bay
Don't be fooled by Byron Bay's laid-back vibe. The coastal gem is teeming with activities that will keep you busy for days.
Here are the top experiences you shouldn't miss while in town.
1. Go beach hopping
You can spend a day or two in and around Byron Bay exploring its several beaches.
Main Beach
For surfers
Must-visit: The Wreck and The Pass
One of the most popular must-visit spots, Main Beach is undoubtedly top-rated for its irresistible breaks that are every surfer's dream. It's also a fully patrolled area, perfect if you prioritize safety.
Know that this spot is a popular surfing destination, so expect to mingle with a lot of people during peak season.
Other surfing spots worth mentioning are The Wreck and The Pass. Aside from the breaks, you might encounter dolphins joining you for the surf ride.
Wategos Beach
For fun seaside BBQ parties
Must-visit: Little Wategos Beach
On your way to the Lighthouse, you can take a side trip to the stunning Wategos Beach. On top of the white sand and turquoise sea, you also get barbecue facilities to help you pull off a seaside BBQ party.
If you prefer somewhere quiet, go farther east to find Little Wategos Beach. It's devoid of the usual facilities, but there are fewer visitors. If you're lucky, you can even have the beach all to yourself.
Tallow Beach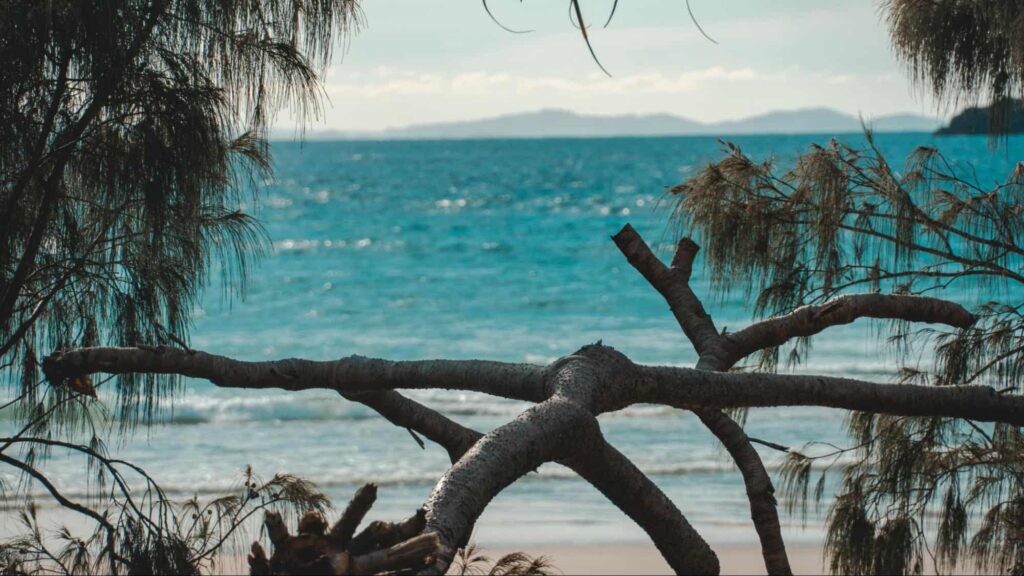 For bird and whale watching
Just behind the Arakwal National Park, you'll see more of nature's wonders at Tallow. Birds flock into this spot such as ospreys, sea eagles, and oystercatchers.
Some humpback whales might also show up during winter and spring as they pass the seas here, so be sure to bring your binoculars for a chance to witness a breach or two.
The beach is six and a half kilometers long, offering plenty of space for leg stretching and leisure walking.
Belongil Beach
This beach is close to the Main Beach and perfect for when you want to escape the crowded surfing spot. Belongil Beach is the ideal location for quiet walks and sunset watching.
2. Visit the Cape Byron Lighthouse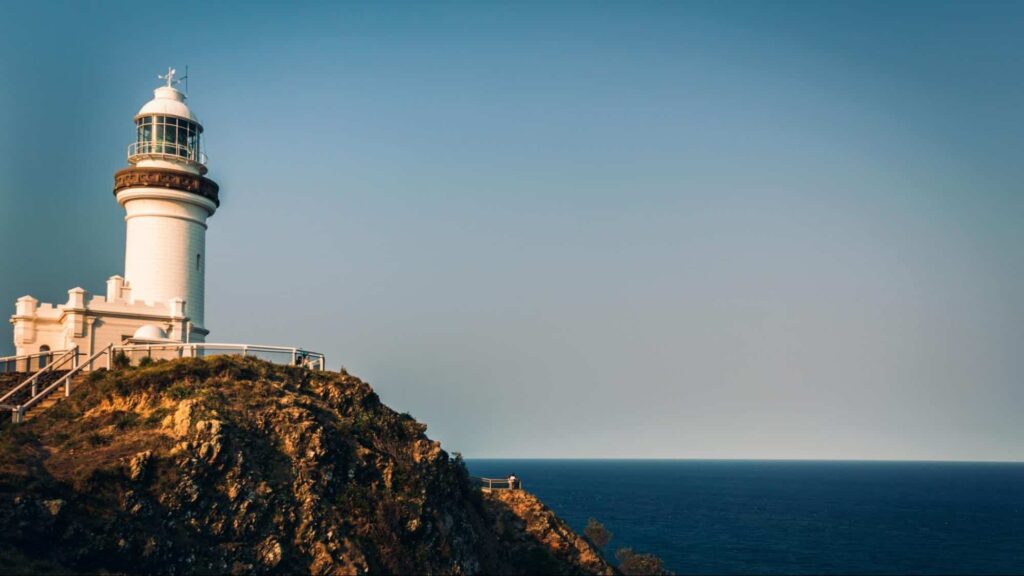 It's almost obligatory to visit the Cape Byron Lighthouse when you're at Byron Bay. And while it might sound like a cliche tourist spot, you won't regret reaching it.
The best way to reach the lighthouse is to take the walking trail near the coast that starts at Main Beach. Prepare your cameras to capture spectacular views as you make your way up along the coastline.
You can also take a peek inside the Lighthouse and learn more about its history. The structure was built in 1901, which means you'll be up close and personal with a man-made wonder over 100 years old.
If you can't walk the sloped trail, you can opt to drive up instead. However, note that parking near the Lighthouse is not always available.
3. Explore the hinterlands
Go deep into the Byron Bay rabbit hole by exploring its hinterland gems. A short drive inland will bring you countryside goodness in the form of unique towns and local restaurants.
Nimbin
For art and culture buffs
This town is about an hour's drive inland from Byron Bay and is the place to go to for art and culture buffs.
It's home to musicians, artists, writers, and environmentalists, so many of the town's activities include workshops, arts and crafts, and even poetry contests.
Mullumbimby
The quaint little town experience
Must-visit: Middle Pub and Mount Chincogan
Dubbed the "Biggest Little Town in Australia", Mullumbimby is a quaint community that offers scenic views of both the town and the lush green surroundings.
The town's design allows you to explore at your pace with its navigable and bike-friendly streets, made more inviting with shops and eateries. You'll also find the historic Middle Pub down Burringbar Street.
One of the most striking natural features here is Mount Chincogan, which sits above the town. It's open for public access once a year to host the Chinny Charge, a fund-raising running and walking race limited to 500 participants.
Bangalow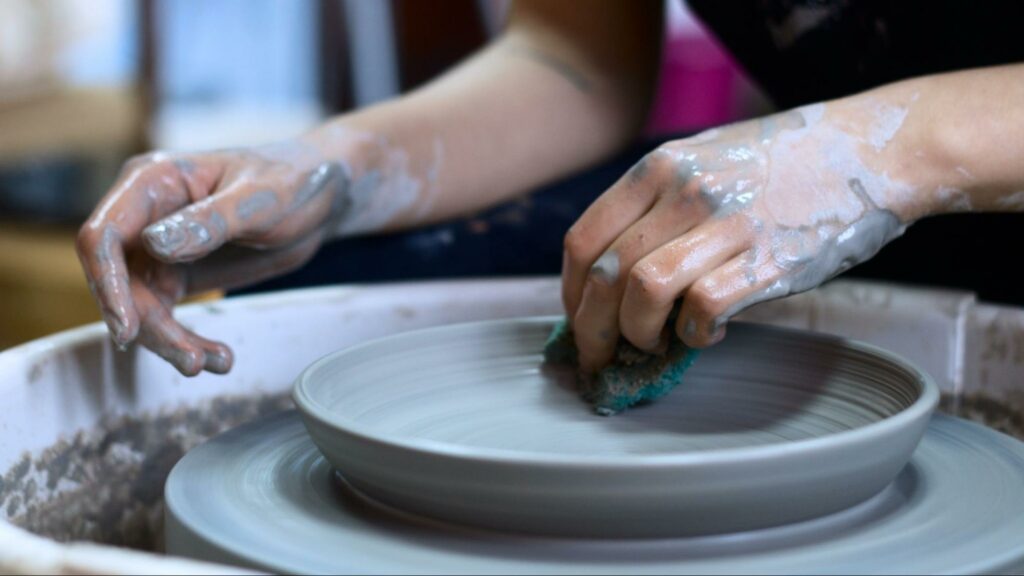 For the creative crafter
Must-visit: Clay Barn
This village features a single street lined with choice cafes and boutique shops, perfect for leisurely strolling and souvenir collecting.
A must-visit is the Clay Barn, a fun shop offering pottery classes, courses, and studio access. After learning the basics, you can try creating your souvenir, too.
Clay Barn
4. Revel in Byron Bay's natural beauty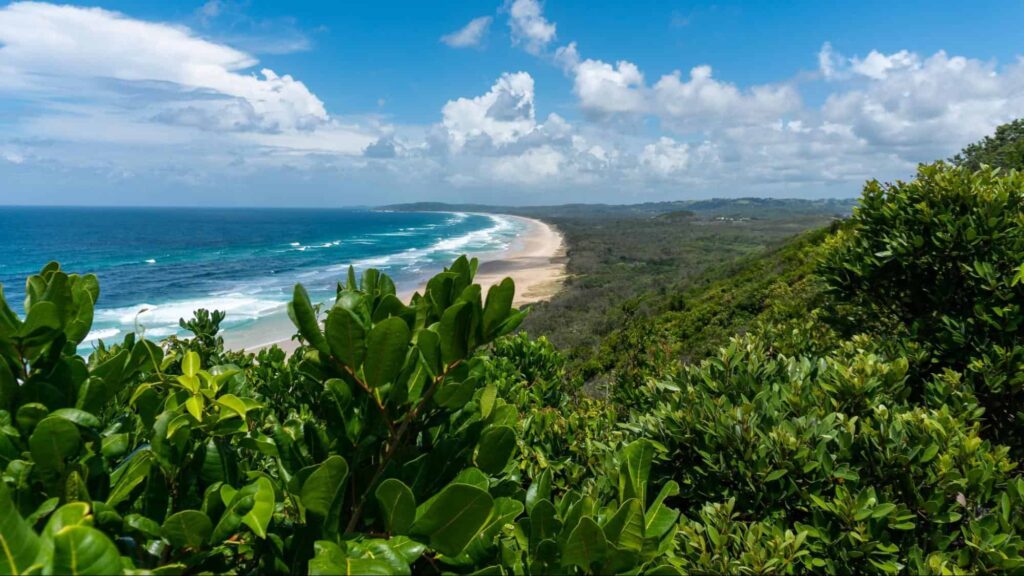 The hinterlands are rich with natural wonders too. Here are some places to check out if you prefer a nature-themed trip.
Minyon Falls
The stunning rock formations and 100-meter waterfall are viewable both above and below, depending on how you want to approach it.
Visitors who want to go to the base of the fall should get ready for a 7.5-kilometer hike through the subtropical rainforest. We recommend trying this option at least once as you can also take a dip into the water.
People who simply want to take in the views may go to the main lookout point located at the top of Minyon Falls.
Arakwal National Park
This park offers a package of experiences with its secluded beaches, various species of birds, diverse wildlife, and walking trails. Several programs will also educate you about the Arakwal Bundjalung People and the aboriginal history of the land.
The national park is just 2 kilometers from Byron Bay, making it a convenient go-to when you want to escape the township.
5. Dive Julian Rocks
Byron Bay is just as rich underwater as it is on land, and you can see it with your own eyes by scuba diving in Julian Rocks or Nguthungulli. The spot is teeming with marine life, thanks in part to its location where temperate and tropical waters meet.
On your tour, you will be in for a treat as the zone is home to over 1,000 marine species. Over 500 different species of fish and a vast population of corals, sea turtles, dolphins, rays, sharks, and humpback whales await you in the deep.
The Julian Rocks Nature Reserve is considered a sanctuary zone, meaning it's a highly protected area. Exploring the depths means you need to book a tour to any of the six main dive sites within the nature reserve and the Cape Byron Marine Park.
6. Learn more about food at The Farm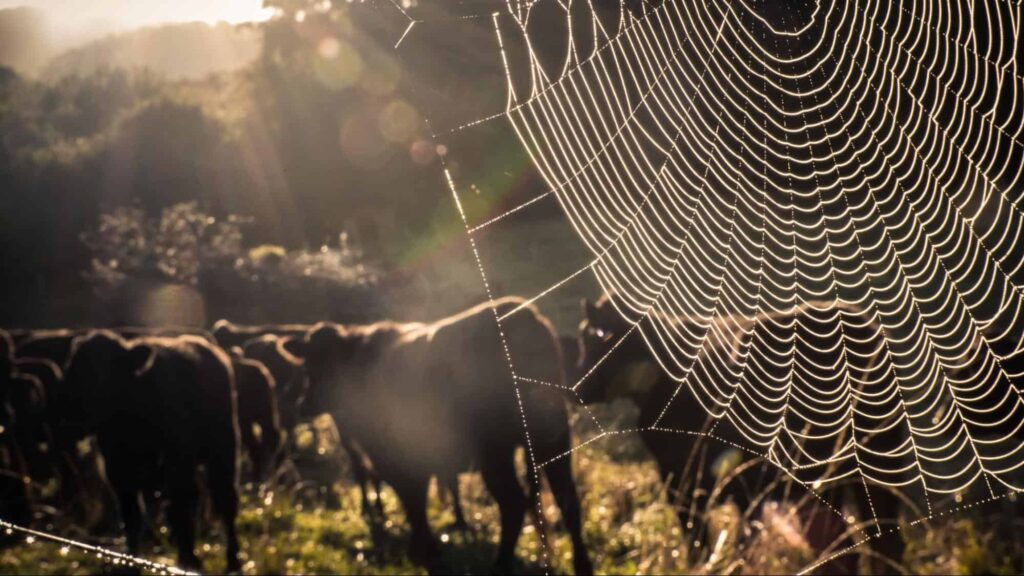 This destination, just outside the town, allows you to sample dishes made with local and fresh ingredients harvested from the site. You can also book a guided tour to meet farm animals, learn how food is grown, and contemplate your food habits.
The 80-hectare property houses micro businesses selling a variety of food items from bread to fresh produce.
Aside from eating, you can avail of workshops to educate yourself further. If you're with children, you can keep them busy with The Farm's nurseries and kids' activities.
7. Go whale watching
Byron Bay is a great spot for watching humpback whales as they swim past here during winter and spring. Aside from viewing the gentle giants from the town's many beaches, you can also book a tour to get a closer look.
One of the most recommended whale-watching guides is Out of The Blue Adventures, which departs from Ballina's Richmond River from June to October.
On board, a marine biologist will accompany you to share in-depth knowledge about the specie and the Cape Byron Marine Park.
Another one is the Blue Bay Whale Watching, a guide that uses Bay Warrior, said to be one of the biggest and most comfortable whale-watching boats in the area. Trips depart from Brunswick Heads Boat Harbour from mid-June to early November.
8. Tour the Cape Byron Bay Distillery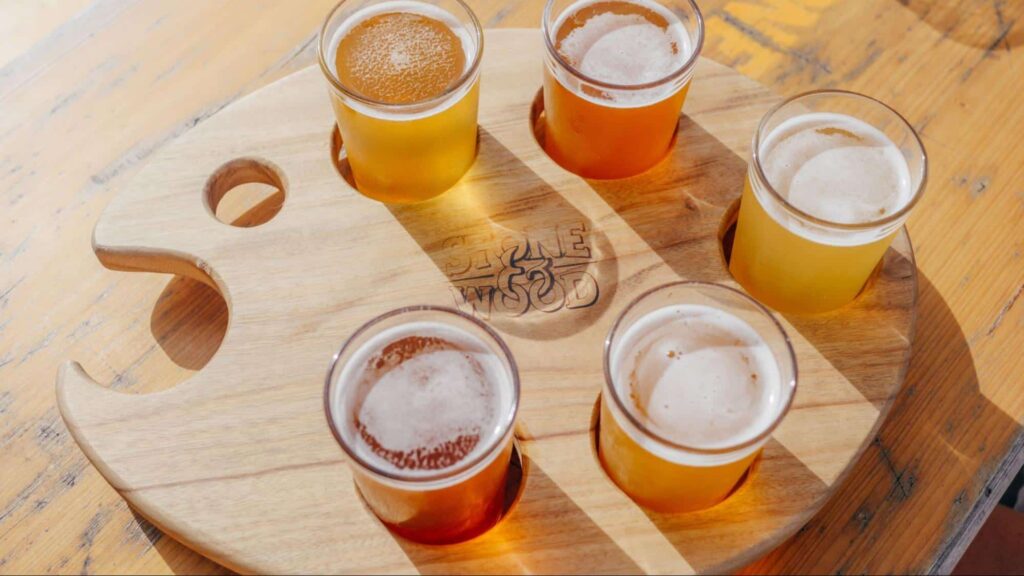 Get a nice change of pace by sipping gin and touring the Cape Byron Bay Distillery.
The sip-and-tour experience will begin with a serving of gin and tonic, followed by a guided walk through the subtropical rainforest surrounding the distillery.
You'll learn about the botanicals used in producing memorable drinks, including Brookie's Gin.
The tour will also walk you through the art of distillation, a great way to make you appreciate your drinks more. Cap off your day at the distillery by sipping seasonal cocktails while taking in the breathtaking view of the surrounding greenery.
We also recommend checking out Byron Bay's top breweries: Stone & Wood Brewery, Byron Bay Brewery, and Husk Distillers.
The Best Restaurants and Bars in Byron Bay
After exploring, the next thing you won't want to miss is Byron Bay's foodie scene. Here are some of our recommendations to save you time searching where to eat.
9. Beach Hotel
Serving good beer and scrumptious pub meals while overlooking Main Beach, this hotel is one you should try at least once when you're in town.
The menu and the mood of the place switch up depending on the day. Coffee and filling breakfasts are served in the morning, heavy meals for the family at lunch, and cocktails flow until nighttime.
Moreover, you'll also be treated to live music from epic bands, a cherry on top of great food and scenic views.
10. The Mez Club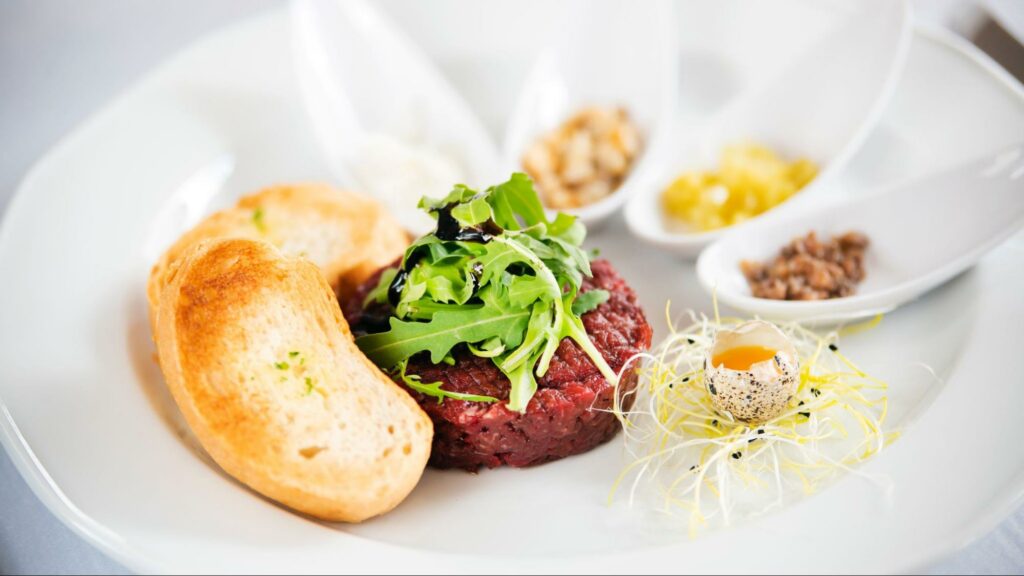 Lovers of Mediterranean cuisine will find The Mez Club a haven. The restaurant serves a flexible menu fit for either grazing or dining plus a wide selection of cocktails.
The dishes are inspired by cuisines from Morocco, France, Italy, and Spain, so expect fresh ingredients, delectable sauces, and delightful desserts.
Most lovely is the club's stunning interiors. A Moroccan-inspired space that imitates the laid-back, seaside vibe of Byron Bay is a feast to the eyes, filling you already even before the food is served.
11. Light Years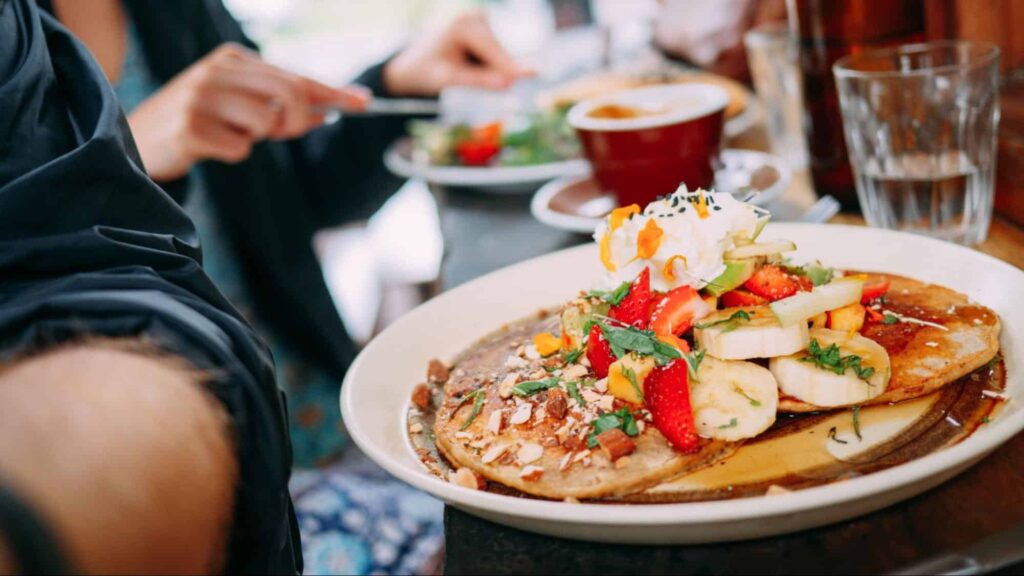 Flavorful Asian dishes meant for sharing in a high-vibe, fun environment is what you'll get when you enter the Light Years' doors. Apart from a unique cocktail selection, you can dig into filling dumplings, curry, Wagyu beef, chili prawns, and fried rice.
Originally in Lawson Street, the Byron Bay branch has now moved to Jonson Street. Fortunately, the same fun and funky atmosphere, a signature of Light Years, lives on.
12. Manna Haven
Vegetarians will be spoilt for choice in Manna Haven, thanks to the healthy and delicious vegan food and sugar and gluten-free selection. It's also an ideal place for the adventurous eater, as the restaurant refreshes its menu every week.
You can opt to "grab and go" or "rest and relax" when you order your food here. The first option allows busy tourists to enjoy vegan food even when they're in a hurry.
Manna Haven's must-tries include Grilled Eggplant, Pumpkin Lasagne, and Curried Poppyseed Dahl.
The Best Shopping and Stores in Byron Bay
Your Byron Bay vacation won't be complete if you don't hit the shops. The town offers top fashion and homeware finds, with a lot of the items not found elsewhere.
Make sure to allocate at least a day for exploring!
13. ROWIE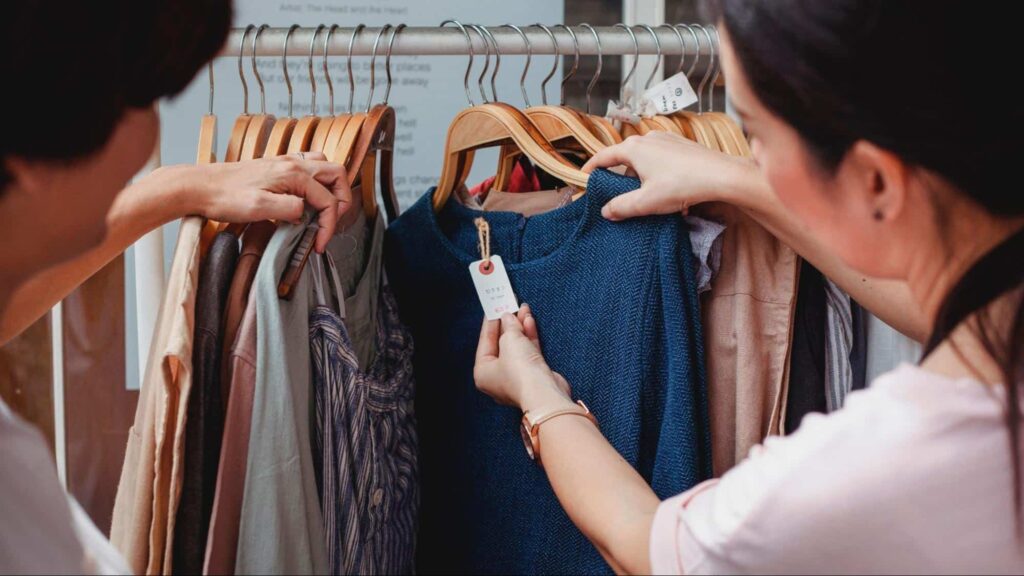 Women-led and independent, this boutique offers a wide range of women's wear that is effortless, feminine, and artisanal.
And while the label is now recognized globally, it still sticks to small-run productions and artisanal craftsmanship, with a close-knit team of designers getting the job done the ROWIE style.
ROWIE's stores are open in both Byron and the hinterland Bangalow, giving you more options wherever you're staying in town.
14. Newrybar Merchants
Artisanal homeware, handmade beauty products, and unique urban apparel make up the goodies that you'll find at Newrybar Merchants.
The retail space is a selling point itself with its rustic charm and homey ambiance. Meanwhile, the fact that the place houses local artisans and curators is sure to attract visitors who prefer supporting local businesses.
15. Habitat
Habitat is a village in Byron Bay featuring a retail and lifestyle precinct where you can find a well-curated selection of flagship stores, indie boutiques, and fashion labels.
If your time is limited and you can't go elsewhere, an afternoon stroll in this area alone will yield great finds enough to fill your extra luggage.
Apart from the shops, you can also try dining at the complex's famous Barrio, known for its hearty dishes and relaxed atmosphere.
If you have a day or two to spare, a stroll in Byron Bay's Arts & Industrial Estate should also be a rewarding shopping experience.
There's also the Byron Bay Community Market held every first Sunday of each month.
If your stay coincides with the opening, remember to swing by and check out the plethora of items waiting for you. Among them are handcrafted goodies, fresh produce, take-away food, jewelry, and garden furniture.
Byron Bay Accommodation: Top Hotels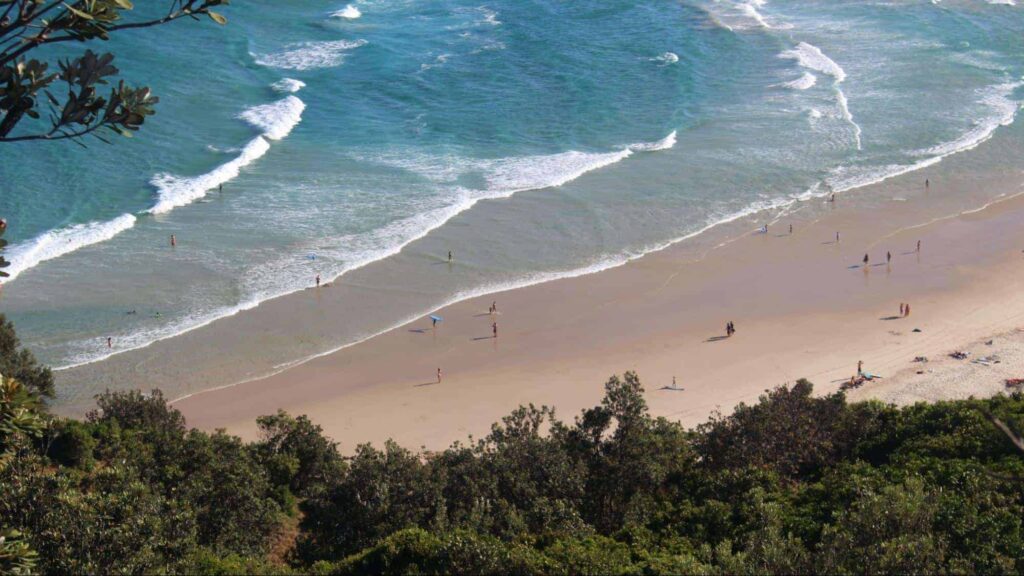 A single day won't be enough to cover all the exciting things Byron Bay offers. Book a night or two at these favorite hotels.
16. Crystalbrook Byron
Formerly Byron at Byron, this luxury hotel offers 92 guest suites surrounded by nature. Accommodations include the Rainforest Suite, Treetops Suite, Rainforest Luxe Suite, and Treetops Luxe Suite, all designed to provide an immersive experience.
Moreover, you can avail of the hotel's yoga classes, dip into their infinity pool, or sweat it out at the tennis court.
17. Elements of Byron
This beachfront accommodation houses a world-class resort and homey private villas, both surrounded by Byron Bay's rainforests and coastal beauty.
The hotel also has a fine-dining restaurant, cocktail servings, and a premier spa to help you fully realize your dream luxury escapade.
18. The Villas of Byron
Visitors who prioritize privacy should check out The Villas of Byron. Each villa provides exclusive accommodation, complete with private internal courtyards with pools and lavish ensuite bathrooms.
The villas are available in one and two-bedroom types. The rates are pricier, of course, but know that you'll get the best value for your money if you require quiet time during your vacation.
19. Beach Suites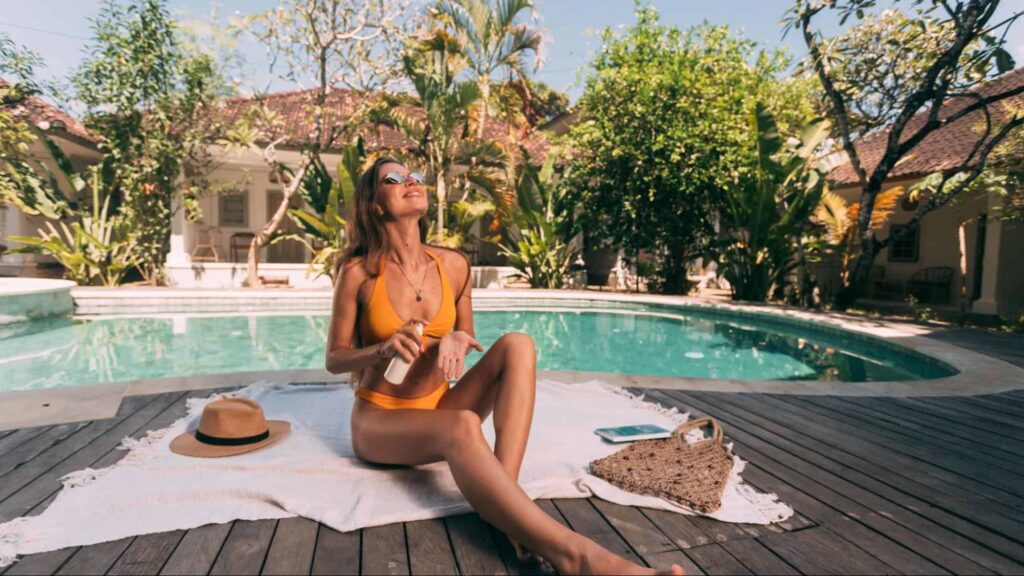 Byron Bay's Beach Suites offer penthouses that are the pinnacle of sunbathed luxury. They include beachfront studios that take advantage of stunning coastal views and garden suites that provide tranquility and privacy.
The prospect of staying in each suite type is exciting, but the perks do not end there. The luxury accommodation is also pet-friendly, allowing you to bring your whole family, including your fur baby, on a grand holiday escape.
When is the best time to go to Byron Bay?
Byron Bay holds a lot of promise all year round. That said, the best time to visit has got to be during the spring season which falls from September to November.
Spring means flowers are in full bloom, festivals are happening, and the last of the whales appear along the Byron coasts.
The temperature falls between 20℃ and 30℃, and the weather is dry, making this season perfect for exploring, eating out, and hitting the beach.
Is it worth visiting Byron Bay?
Byron Bay is well worth the visit for its capacity to cater to any type of traveler. Whether you want to drive around, hike, surf, swim, stroll, shop, or pamper yourself, there are places in and around town that can give you exactly what you want.
The broad selection of food, drinks, and shops is also exciting and interesting, especially those stores that educate you on the origins of the things you consume.
How long should I stay in Byron Bay?
Staying for three days in Byron Bay is the sweet spot if you have a modest budget and limited vacation time. With a well-planned itinerary, you can cover most of the best things the town has to offer.
For instance, you can devote your first day to the beaches and seaside restaurants. Then the second day for hiking, trail walking, and exploring the hinterlands. Lastly, spend the third day relaxing in your villas and shopping for souvenirs.
Of course, it's always great to extend your stay for a few days if you love the town, as you'll be able to see and enjoy more.