Categories >
Guides and Tips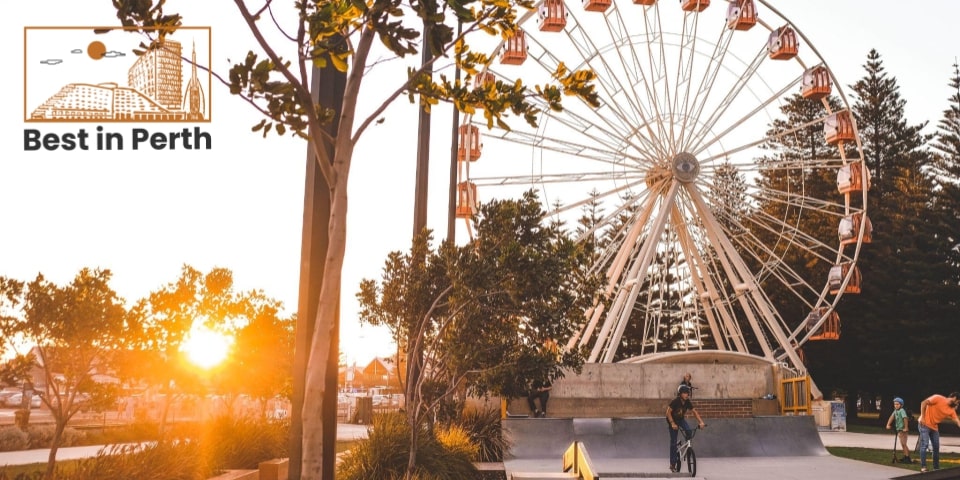 20 Unique Things to Find and Experience in Perth
There are many places in Perth you can go for unique experiences – hot air ballooning at the Avon Valley, sightseeing at the Araluen Botanic Park, exploring the Fremantle Prison, taking photos of the quokkas at the Rottnest Island, golfing at the Oasis Supa Golf and Adventure Putt, and more.
You may also enjoy watching a game at the Optus Stadium, looking at dinosaurs at the Academy of Taxidermy, ringing The Bell Tower, and supporting the Black Swan Habitat initiative.
Check out our extensive list below to learn more about these beautiful locations and their exciting activities.
Avon Valley Hot Air Ballooning
Hot air ballooning in Perth could be one of your best journeys to remember. You can get a bird's eye view of the scenery as you drift over the Avon Valley's gorgeous greenery and hills.
Prices range from $280 to $500 per person. Extras such as hot tea or coffee, champagne breakfast, and a flight certificate may be included.
To see the best views and savour the picturesque sights, some may need to get their eyesight checked beforehand. You don't want your vision to be all blurry and rely on the photos you'll take after all.
Araluen Botanic Park
In Perth, the Araluen Botanic Park is one of the best sites to see tulips and other lovely, exotic blooms. You'll want to visit them at their peak in August and September.
Get ready to wander by wearing your walking shoes, packing a picnic, and taking out your camera. It's a vast area with many walking paths, parks, running streams, and other natural landscapes to explore.
Of course, this adventure likely entails a lot of walking. A podiatrist in Perth may help manage persistent foot or ankle swelling.
Fremantle Prison
For explorers interested to learn more about Perth's darker side of history, Fremantle Prison offers a wide variety of outstanding tourist experiences as a top heritage destination.
Visitors on a fascinating Prison Day Tour may 'enter and serve their sentence' with the site's guides. You may also take a Tunnels Tour experience to explore the maze of tunnels 20 meters beneath the prison on foot and by boat.
Depending on the chosen tour, entry fees range from $22 to $65 for adults and $12 to $45 for children.
Hillarys Boat Harbour
Boat enthusiasts would love Hillarys Boat Harbour. It's an award-winning tourist attraction offering a broad appeal of daytime and nightlife entertainment.
Hillarys is also the ideal place to unwind with handmade art and gift shops, martini bars, fine dining, and kid-friendly restos. It also has AQWA, the Aquarium of WA, home to Australia's largest aquarium and underwater glass tunnel.
In addition, tourists can partake in leisure and adventure pursuits like helicopter rides, deep-sea fishing, diving, jet skiing, deep-sea fishing, and seasonal whale viewing aboard boats.
Aviation Heritage Museum
The Aviation Heritage Museum presents aircraft geeks with a distinct museum experience with its exceptional exhibits, helpful guides, and unique tours.
There's a lot to see since numerous volunteers have conceived, donated, and constructed an outstanding collection of aviation displays. This includes 30 planes and hundreds of artefacts.
Special tours of the museum are offered upon request too. One is the 'Inside Lancaster Tour', including a private tour of the restored Lancaster bomber's interior and exterior.
Didgeridoo Breath
Didgeridoo Breath has a massive online selection of didgeridoos, accessories, Australiana, aboriginal music, and more.
For those unfamiliar, the didgeridoo is a wind instrument played with constantly vibrating lips to create a persistent drone while doing a circular breathing technique. Since you'll be using your lips a lot, this experience may not be advised for those who just got lip fillers or any similar lip procedure or treatment.
You may also visit the in-home gallery store by appointment to buy a didgeridoo or accessories. In addition to incursion courses for schools and business events, they also provide private sessions for players of all skill levels.
Oasis Supa Golf & Adventure Putt
If you like golfing but want to take it further, Supa Golf is worth a shot. Supa Golf is a tweaked golf version where plastic clubs with enlarged heads are used – the ball is also large, soft, rubber plastic, and iridescent in colour.
It's much simpler to strike the Supa Golf ball because of the bigger tools. This is extremely simple to play due to the miniature fairways, larger holes, course layout, and virtually impossible-to-lose ball – anyone, even beginners, can enjoy it!
This costs $12 to $18 for adults and $8.50 to $15 for kids. Book in advance to have a leg up since they typically get many customers.
Rottnest Island
Swap the hustle and bustle of the city for a tranquil getaway on Rottnest Island. In this tiny corner of paradise, you can discover white-sand beaches, learn about rich cultural heritage, and swim and snorkel in crystal-clear waters.
Several people also like to take pictures of quokkas – small marsupials native to the island. Because of their cheeky smiles, they're frequently referred to as the 'happiest mammals on Earth'.
Even though quokkas are usually friendly, they're still wild animals at the end of the day. Because of their sharp claws and teeth, keep your distance to avoid being bitten or getting scars for your dermatologist to fix later on.
Caversham Wildlife Park
Should you want to see more animals, Caversham Wildlife Park features more of them. They consist of wombats, Tasmanian devils, possums, wallabies, and koalas.
You may feed the kangaroos by hand, take a picture with a koala, watch one of two fantastic interactive performances, and have a good chat with the keepers. Your entry cost covers all of these.
Just be aware that the Wildlife Park doesn't have any water fountains. Have enough water, or buy water bottles at the Wildlife Park kiosk.
Scitech
For kids and kids at heart, Scitech presents a good scope of exciting and instructive science experiences. It has the largest planetarium in Australasia, six interactive galleries, engaging science performances, and informative puppet shows.
Visiting this place can also boost Western Australians' interest and participation in science, technology, engineering, and mathematics (STEM).
For a child, adult, and mini group of 4, it costs $12, $19, and $52, respectively. Additionally, there's a Discovery Shop where you may get odd scientific items as souvenirs.
Optus Stadium
Watching from Optus Stadium's roof can give you a unique bird's eye view experience. The 60,000-seat stadium can accommodate large concerts and entertainment events in addition to AFL, cricket, football, rugby union, and league games.
No matter how far back you're seated during a game, having a presence of mind is still advised. Otherwise, your health insurance for face and body injuries might come in handy.
Note that the experience costs $149 per person, and you'll need to book ahead.
Academy of Taxidermy
If you ever imagine the Jurassic Park movie happening in real life, this site would be the best place to do it. The Museum of Natural History has a dinosaur exhibition located at the Academy of Taxidermy.
Many would enjoy exploring the life-size dino models and learning about Australian wildlife. This little museum also has extensive collections (more than 2,000 items) of other preserved animals on display in a historic theatre.
On top of that, enthusiasts don't have to cram their visits during the weekends since the academy is open 6 days a week.
Spacechameleon Adventure Co
Wondering where you or your group friends can go in Perth? Spacechameleon Adventure Co's offerings sound as amusing as its name.
Here, you and your peers can enjoy adventure activities based around roping and team building. Activities may also be customised according to your interests.
Choose one or more among abseiling, camping, canoeing or kayaking, rock climbing, walking, and hiking and make the most of your stay.
Crystal Cave
Enchant yourself with the mystery of the Crystal Cave. Here, you can enjoy looking at the stalactites, stalagmites, helictites, and other crystal formations throughout the caves.
Once you're away from the entrance, the cave stays at almost the same temperature. This makes it a perfect summer or rainy day activity for families and friends at any time of the year.
Other than that, you may sightsee by the lake and birdwatch, walk on the trails, dine at the cafe, look at the koalas and wild kangaroos, or take some more tours.
His Majesty's Theatre
Theatre lovers would find their little heaven in the 118-year-old His Majesty's Theatre.
Remaining the last active Edwardian-era theatre in Australia, this theatre is the ideal location to witness top-notch performances. Comedy, theatre, dance, opera, or an evening of cabaret at the Maj are showcased.
Apart from the theatrics, you may hire their venue for your next event.
London Court
Starting as a 3-day festival of splendour and pageantry in 1937, the London Court of the 21st century is still a hub for both shopping and business today.
There are tons of establishments in the area, including jeweller's stores, hair and beauty salons, legal offices, dentists, and others renting the premises.
The classic ceilings at both entrances of London Court are decorated with copper-coloured ships. This is a visual treat that transports shoppers and visitors back in time.
The Perth Mint
Old but gold, The Perth Mint is where you can choose your medallion's design and see how much gold it would be worth.
It was the third Australian location of the British Royal Mint when it was opened in 1899. Today, it produces bullion coins and bars of gold, silver, and platinum.
Furthermore, you can get stunning Argyle pink diamonds and south sea pearls, among other distinctive West Australian gems.
After the tour, you can unwind with a cup of tea or coffee and a snack at the outside café. No need to worry about which day of the week you can visit – they're open daily!
The Bell Tower
With bells dating back before the 14th century, the towering glass spire of The Bell Tower is a touchstone for all tourists.
Visitors can enjoy informative exhibits on these well-known bells and the history of bell ringing at the Bell Tower. Not only that, but the Swan River views from the open-air observation deck on the sixth floor are breathtaking too.
In one of their interactive Chiming Experience tours, the Bell Tower is the only site on the planet where you can watch the bell ringing in action or even give it a go.
Kings Park
Nearly 6 million people visit the world's largest inner city park, Kings Park and Botanic Garden, each year. It's a location with plenty of things to discover – picnics, treks, ceremonial and cultural activities, and an exceptional array of Western Australian flora.
Kings Park's spectacular setting shows the Swan River and Perth City. From a great height, you can view Perth's boundless blue skies, vividly coloured boat sails, dazzling lights of the city, far-off Perth Hills, and more.
You can have a picnic on green lawns, go for a jog through the forest, or see an outdoor performance under the stars. With a variety of great playgrounds appropriate for kids of all ages, the little ones are also cared for.
Black Swan Habitat
An environmental initiative you can also support is the Black Swan Habitat. It aims to restore river walls that have been destroyed and build crucial wildlife habitats along the South Perth shoreline.
A beach, two vegetated headlands, an island, and a planted rock revetment make this up. It also serves as a getaway for learning, bird watching, nesting, and ecology.
Their main goal is to provide a habitat for local waterbirds. Because of this, pet owners should keep in mind that dogs aren't allowed on the beach for the birds' protection.
There are several hotels nearby if you're temporarily staying near the Black Swan Habitat. The Metro Hotel Perth, COMO The Treasury, and Quest South Perth Foreshore are among your options.