Categories >
Internet/Tech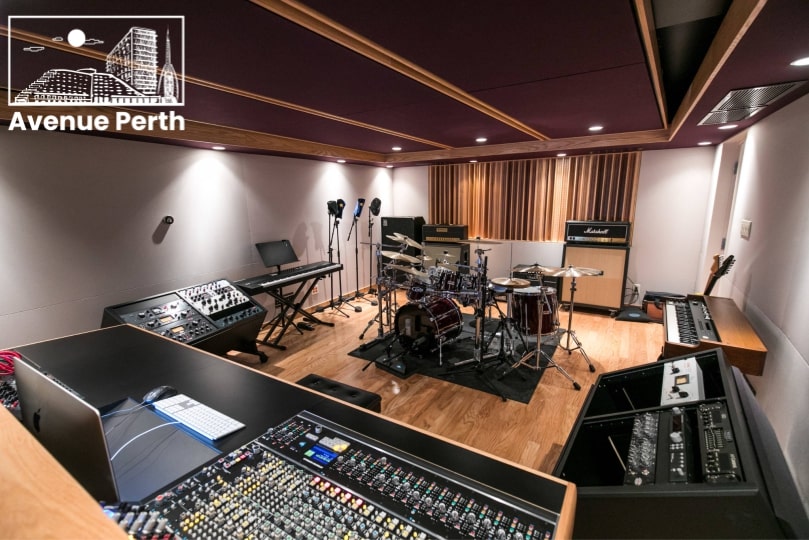 Where Music Comes Alive: 5 Best Recording Studios in Perth
A recording studio is a special facility designed to record, mix, edit, and produce vocal or instrumental performances. Unfortunately, building your own professional recording studio may cost you at least $30,000.
Luckily, Perth is home to great recording studios equipped with high-end recording devices and sound mixing equipment.
So whether you're an aspiring artist looking to start your own music career or someone who wants to start a podcast with their friends, there are awesome recording studios in Perth ready to help you!
How much would it cost to rent a recording studio in Perth?
Renting a recording studio in Perth can cost you A$80 an hour on average. However, please take note that the price is highly dependent on the quality of their equipment, the size of their studios, and the demand for their studios.
1. Vision Recording and Rehearsal Studios
Address: 14/12 Milford St, East Victoria Park WA 6101, Australia
Website: https://www.visionstudios.com.au/
Facebook: https://www.facebook.com/VisionRecordingAndRehearsal/
Phone number: +61 432 034 122
Business hours: 9:00 AM – 11:00 PM (MON-SUN)
You can visit Vision Recording and Rehearsal Studios if you're in need of a studio to record complex music performances. Its owner, John Prosser, aims to provide a space where musicians can express themselves without limits.
It has four massive studios that can be used for live music recording. Its biggest one, Studio A, features three separate rooms: a live room, a control room, and an isolation room for recording vocals or instruments without interference.
All three rooms within the studio are fully connected with one another, so musicians can remain in sync throughout the whole session.
Its recording studios are equipped with microphones and audio devices made by companies like AKG and Sennheiser. They are also equipped with the SSL Six500 for sound editing and mixing.
For bookings, you can message at info@visionstudios.com.au.
Huge studios for complex recording sessions
Uses equipment made by companies like AKG and Sennheiser
Long operating hours
Strictly by appointment only
Equipment not the latest in the market
The rooms available for hire are great quality

"Vision has been nothing but absolutely incredible in my experience. Staff are always friendly and incredibly helpful. The rooms available for hire are great quality, the studio is all you could ever need as a band / recording engineer, and the live room is unbelievable. We have been using the room to run HeyMuzo's Practice and Play events for 6+ months now, and it has been an awesome experience. Would recommend Vision to anyone."

-Jaidyn Green, Google Reviews
Right up there with the best

"Excellent place to do voice overs. John is easy to deal with, professional and great space and equipment. Being a former musician I have worked in many studios…this is right up there with the best at surprisingly excellent fees and value for money. Highly recommend to musicians, voice over professionals and singers."

-Natalia Josephs, Google Reviews
2. Magic Studios
Address: Unit 90/102 Railway St, West Perth WA 6005, Australia
Website: https://www.magicstudios.com.au/
Facebook: https://www.facebook.com/MagicStudios/
Phone number: +61 8 9278 8888
Business hours:
8:30 AM – 4:30 PM (MON)
8:30 AM – 5:00 PM (TUES-FRI)
Magic Studios, located in West Perth, is a recording studio that specialises in producing quality voice-over content. It has three studios designed for hosting podcasts, live streaming, music production, and video production.
Their studios are equipped with NT2A microphones, which are designed to capture voices clearly. A studio of theirs also has a green screen for those interested in using their studios to capture an advertisement or a music video.
For aspiring voice-over artists, Magic Studios also has its own training program to help you create better scripts and teach you how to convey emotions better purely with your voice.
They also offer music production packages that'll help artists from pre-production to audio mastering. They use advanced auto-tuning software like Melodyne for these packages.
Uses NT2A microphones to better capture voices
Has a studio with a green screen for video productions
Uses Melodyne for audio mixing
Offers voice over training programs
Unavailable on weekends
Studios too small for large music groups like bands
Quality video and audio production facilities

"Quality video and audio production facilities with full editing options available. I use Magic Videos Perth for all of my business videos now."

-Jason Berard, Google Reviews
Always a pleasure working with Magic Studios

"It is always a pleasure working with Magic Studios. Their service, quick turnaround times and great value are the reason I never work with anyone else for our on hold messages. Thank you!"

-Sally Austin, Google Reviews
3. The Hen House
Address: 3/5 Rowallan St, Osborne Park WA 6017, Australia
Website: https://thehenhouse.com.au/
Facebook: https://www.facebook.com/thehenhouserehearsalstudios/
Phone number: +61 407 442 726
Business hours:
8:00 AM – 11:00 PM (SUN-MON)
8:00 AM – 6:00 PM (SAT)
For up-and-coming music artists, The Hen House is ready to welcome you. Located in Osborne Park, it has two warehouses fully converted to house 17 studios that can be used for recording, podcasting, and rehearsing.
Rob Nassif founded it to be a space where the city's local musicians could freely create their music and bond with their fellow artists.
Its recording studios are equipped with high-quality equipment such as Neumann TLM102 microphones and Yamaha HS7 speakers. The rooms also feature acoustic panels made by Autex Acoustics.
For audio mixing, they use Focusrite Scarlett 8i6.
You only need to pay $30 per hour to use their studios. Visit their website if you're interested in booking a session.
17 studios available
Very affordable rates
Features high-quality equipment made by Yamaha and Neumann
Strictly self-service studios, no sound engineers offered
Some studios are not soundproofed enough
Great value for money

"Excellent facility and great value for money. Everything worked as it should – PA, aircon, door codes, parking – and the room (and whole premises) was clean and soundproof. First time I've used The Henhouse but it definitely won't be the last."

-Grayden Provis, Google Reviews
The equipment was state of the art

"Absolutely brilliant place! I used the podcast studio to start recording my audiobook and it was the perfect space to do it in. I just rocked up, plugged in my laptop and away I went. The instructions for the use of the rooms were really clear and it felt like I could call someone at any time if I needed. The equipment was state of the art, but still really accessible and easy to use. I really appreciate how smooth it was from booking to the use of the room, as well as how affordable it would. I will be back for my next session soon!"

-Alana Reeves, Google Reviews
4. 385 Recording Studios
Address: 385 Newcastle St, Northbridge WA 6003, Australia
Website: https://385studios.com.au/
Facebook: https://www.facebook.com/385Studios/
Phone number: +61 410 434 160
Business hours: Available 24/7
You can freely create music at 385 Recording Studios whenever you want! Open 24/7, this studio in Northbridge aims to be the place where Perth's local musicians can access the best help and equipment to compete on the world stage.
It's a fully equipped facility, complete with its own musical instruments, recording devices, and sound mixing equipment. In addition, 365 Recording Studios also has a full staff of sound mixers and engineers ready to help customers.
Speaking of sound mixing, 385 Recording Studios is proud to be one of the few owners of the SSL 6000 E Series analogue mixing console in Western Australia.
This rare equipment is highly sought-after in the music industry and was used by famous musicians and bands like The Rolling Stones, David Bowie, and Michael Jackson.
Uses SSL 6000 E series analogue mixing console
Has its own sound engineers you can hire
Open 24/7
Fitted out with a state of the art SSL

"Had a great time recording here at 385! Imran and James were a dream to work with, and always made sure to go above and beyond to make the experience as easy and productive as possible. The vibes in the studio were always great, with both the guys providing really useful feedback as we went along, and I always felt assured that they would get us the best signal for every instrument we recorded.
The studio itself is fitted out with a state of the art SSL and all the equipment on offer was fantastic. With Crank studios next door, we were able to utilise both studio spaces to record drums, acoustic guitar, bass and vocals and were extremely happy with the result. Thanks again to the 385 team!"

-Kaya Byrne, Google Reviews
Very impressed with my experience at 385 Studios!

"Having experienced many recording studios before, I'm honestly very impressed with my experience at 385 Studios!! My initial thoughts was that I was going to have to send my tracks to Sydney and get it edited, mixed, and mastered over there. But after my first session, I was so blown away with the service, attentiveness from both James and Imran, that I no longer think I have to send anything to Sydney! That saves me so much hassle and now I can just go into the best Perth recording studio, record my music, sit down with Imran and James, and mix and master my song with them! Also, another great thing about these guys, is their advice and ear to know how to take my track to another level!! I wish I could give these guys more than 5 stars!! Thank you so much Imran and James!"

-Jenny Nguyen, Google Reviews
5. Tiny Music Recordings
Address: 214A Queen Victoria St, North Fremantle WA 6159, Australia
Website: https://www.tinymusic.com.au/
Facebook: https://www.facebook.com/tinymusicWA/
Phone number: +61 412 390 205
Business hours: 10:00 AM – 6:00 PM (MON-SUN)
Founded by Paul Francis Wood in 2020, Tiny Music Recordings is a recording studio in North Fremantle designed to help local artists.
As a musician and music producer himself, Paul wanted to provide fellow musicians with a place where they could develop their skills.
His studio features high-end equipment, including condenser microphones like the Neumann TLM 107 and Sennheiser e602ii. For sound processing, the studio uses the Lexicon MX300 Stereo Reverb Processor.
Aside from equipment, Paul is willing to offer his expertise and experience as a producer to help artists with everything from songwriting to sound mixing.
Because Tiny Music Recordings places an emphasis on helping local talent, this studio isn't hired by the hour but for an entire day, so musicians can have all the time they'll need.
Owner is a seasoned music producer that can help develop your musical talent
Studio can be rented for the entire day at a fixed price
High-end sound equipment and musical instruments
One studio only
Tends to get fully booked on most days
Has done an awesome job working on our music

"My band has recorded at Tiny Music quite a few times now. Woody has stood in and helped us through the whole process of learning how to record and to get involved with the process. We've worked really closely with Woody and he is really lovely to work with and also has done an awesome job working on our music. For anyone looking to work closely in collaboration with a great recording engineer, who really knows what he is doing, and is really easy to get along with; I would very highly recommend!"

-Owen, Google Reviews
Woody has a gift of bringing the best out of you

"Hi Folks, Woody's work from production to collaborating all aspects of his work is high quality. Woody has a gift of bringing the best out of you. My song sounds fantastic and I'm looking forward to doing more songs with Woody."

-Tracey Alexandra, Google Reviews
---