Categories >
Guides and Tips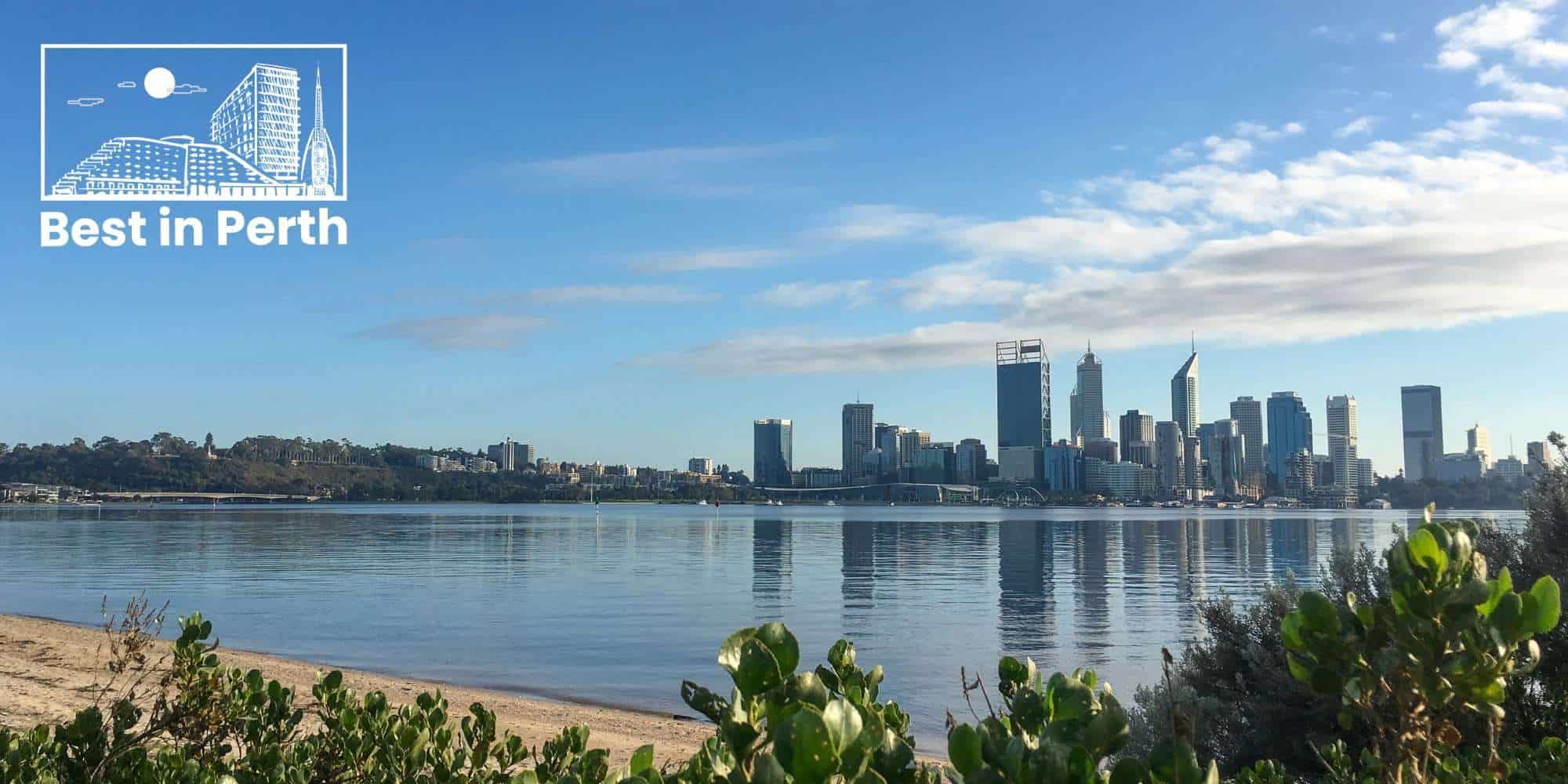 Best Things to Do in Swan, Perth
If you're looking for the best things to do in Swan, Perth, we got your back! From picnics and parks to hikes, experience some of the loveliest activities we've picked out for you and your loved ones.
What Activities to Explore at the Swan Valley
Here are the top things to do in Swan, Perth:
Taste the Sandalford wines
Tour the Sacred India Gallery
See wildlife at the Caversham Park
Relax at the Duidgee Park Toodyay
Try the Outback Splash Waterslides
Dine at the Edgecombe Brothers Winery
Visit the Walyunga National Park
Have a fantastic time exploring the valley by following our list of the best things to do in Swan, Perth below.
Taste the Sandalford Wines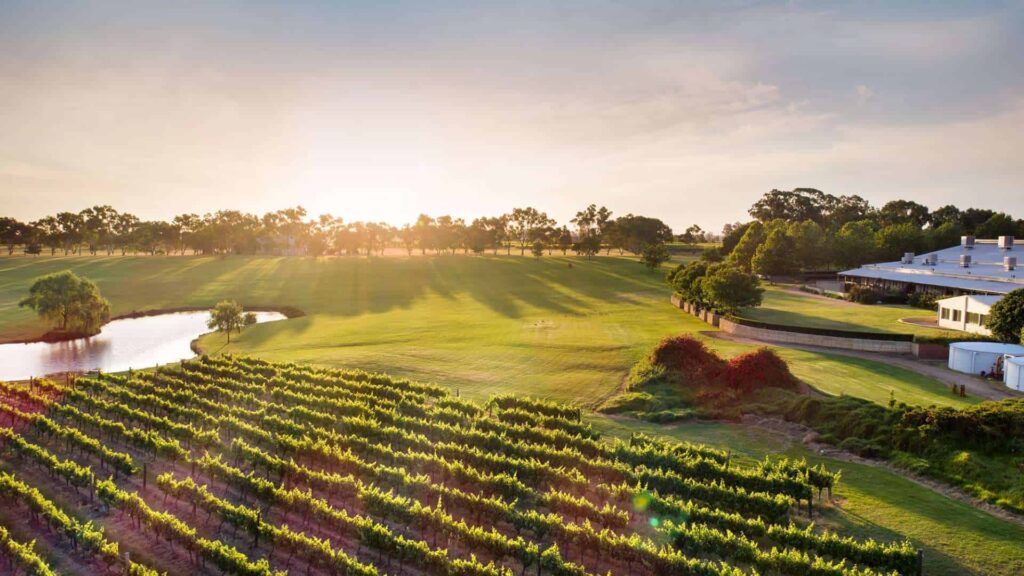 Website: http://www.sandalford.com/
Address: 3210 W Swan Rd, Caversham WA 6055, Australia
Contact Details: +61 8 9374 9374, sandalford@sandalford.com
Opening Hours: Sunday – Thursday: 10:00 AM – 5:00 PM, Friday – Saturday: 10:00 AM – 9:00 PM
If you're looking for a wine-tasting place with a luxurious atmosphere, we suggest going to Sandalford Wines. The staff entertains all kinds of visitors and provides wonderful recommendations.
Don't fret if you have kids with you either. This is since they offer a nice playground to keep the children busy while the adults unwind, too.
There's also free Wi-Fi, which we think is handy for those who just can't seem to get away from city life.
After wine tasting, you can also have a delightful lunch with their accommodating staff. Of course, it's best to eat outside so you can enjoy the picturesque scenery.
We heard many guests like their seafood mains like scallops, cod, and shellfish. You can also try their pasta in delicious sauces, just like at a fine dining restaurant.
The restaurant is typically full during peak hours, so we advise going there a bit early or later to avoid the crowd. Sandalford Wine is just a 25-minute drive from Perth, so this looks convenient for many.
Book a Guided Tour at the Sacred India Gallery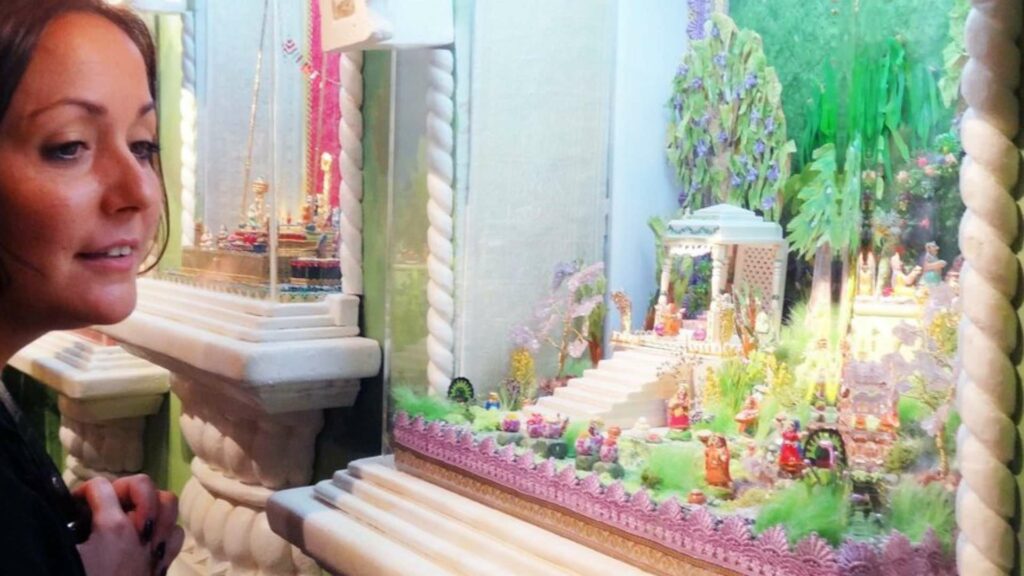 Website: http://www.sacredindia.com.au/
Address: 76 Dulwich St, Bennett Springs WA 6063, Australia
Contact Details: +61 8 9274 7075, sacredindia@outlook.com.au
Opening Hours: Saturday – Sunday: 12:00 PM – 1:00 PM, 4:00 PM – 5:00 PM
For those who want a serene yet enlightening option, Swan Valley's The Sacred India Gallery could be your next destination. This place brings the sights and sounds of spiritual India to life on a stunning 5-acre site.
This location is hidden beneath a forest of gum trees. Visitors get an hour-long guided tour that includes displays of the amazing miniature works of art by resident artist Jagattarini.
We think this site is perfect for art gallery enthusiasts, too. Besides the miniatures, it's made up of a complex maze of displays and traditional Indian carvings.
Guests can truly learn about Indian culture because there are opportunities to ask a bunch of questions along the way. If you're still curious, you may also talk to the monk at the end of the tour.
Not only that, but they also offer music and cooking events from time to time. We feel you'll have plenty of choices for enjoying art in different forms and simultaneously.
Take a tour to visit 3 of India's historic holy locations. Just book a spot on one of their free weekend or holiday tours in advance to see the gallery as soon as possible.
See Some Wildlife at the Caversham Wildlife Park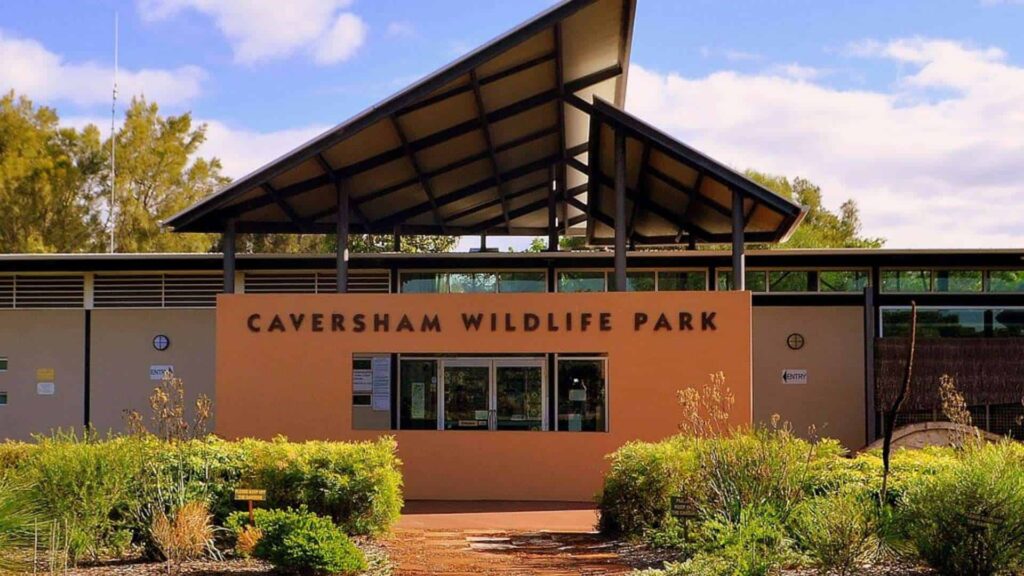 Website: https://www.cavershamwildlife.com.au/
Address: 233B Drumpellier Dr, Whiteman WA 6068, Australia
Contact Details: +61 8 9248 1984, sales@cavershamwildlife.com.au
Opening Hours: Monday – Sunday: 9:00 AM – 4:30 PM
Fees: $32 (Adult), $15 (Child or 3 to 14 years old), $25 (Student), $25 (Pension)
The Caversham Wildlife Park is a fantastic addition to your Swan visit – especially if you want the whole family to get a genuine Australian meet-and-greet experience.
Guests can feed the kangaroos and get up close and personal with Australia's unique wildlife here. Among other animals, you can pose for pictures with koalas, wombats, possums, snakes, and lizards.
It's advised that you bring a camera and be your own photographer. They welcome the use of flash and video there, though there may be exceptions to this rule on several occasions.
You and your family can also take in the Farm Show, watch the penguins being fed, and much more! You'll see the largest private collection of natural species in Western Australia here.
Our recommended length of stay is around 3 hours to have enough time to see everything. Still, you're free to stay the whole day and make the most of your visit.
Keep in mind to arrive early because after around 2 pm, you might not be able to see some attractions. The last entry at the park is also at 3:30 pm, so make sure to get in soon.
Enjoy a Picnic at the Duidgee Park Toodyay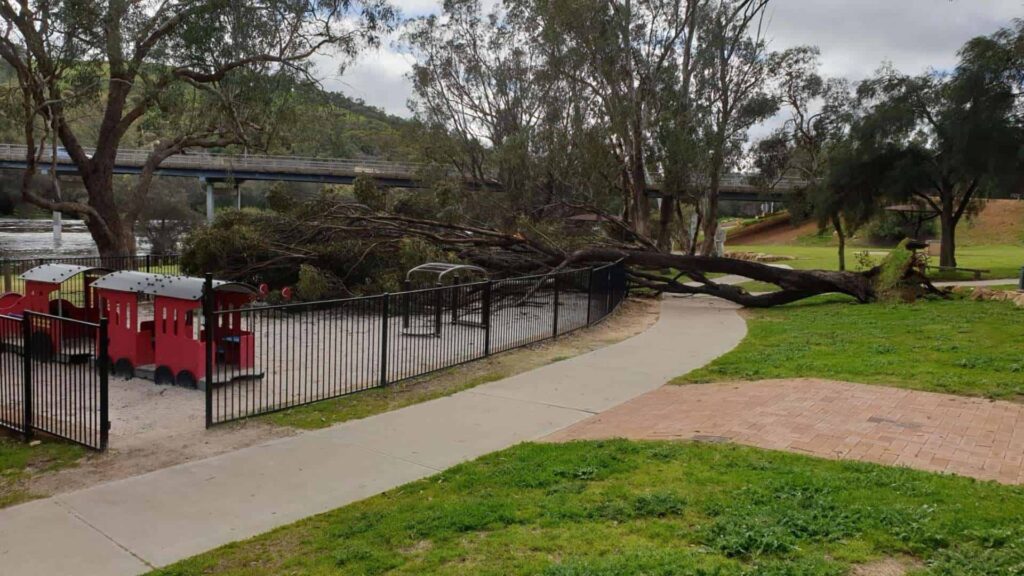 Website: https://www.toodyay.wa.gov.au/community-visitors/sport-and-recreation/walks-tracks-and-parks/duidgee-park.aspx
Address: Toodyay, WA 6566, Australia
Contact Details: +61 8 9574 2345, records@toodyay.wa.gov.au
Opening Hours: Open 24 hours
Those travelling north may find Duidgee Park Toodyay a pleasant stop for a couple of hours. It's wide and spacious, so we believe you can easily find a perfect spot for relaxation or rest.
We think this is ideal for the whole family, too. This is mainly due to the park's shaded and grassy areas, and tables. 
There's a skateboard area and playground for the little ones as well. Parents would feel at ease with the area since it's fenced and easy to guard.
Another thing that can keep kids entertained is their miniature train. Note that this only runs on the 1st and 3rd Sundays of each month, so plan your trip if you want to catch a glimpse of it.
Moreover, the riverbank nearby has fantastic views for you to take in and capture some memorable photos from.
Still, sitting in a park all day can make you hungry. Fortunately, there are some cafes and restaurants less than or around 500 metres away.
Here are some dining options you can check out near Duidgee Park Toodyay:
The Cola Cafe
Toodyay Cafe & Curry Club
Toodyay Pizza Shack
Victoria Hotel Toodyay
Toodyay Bakery
A word of advice: you may bring your own food and use their BBQ facilities to save money instead of going out to eat later.
Go Down Perth's Outback Splash Waterslides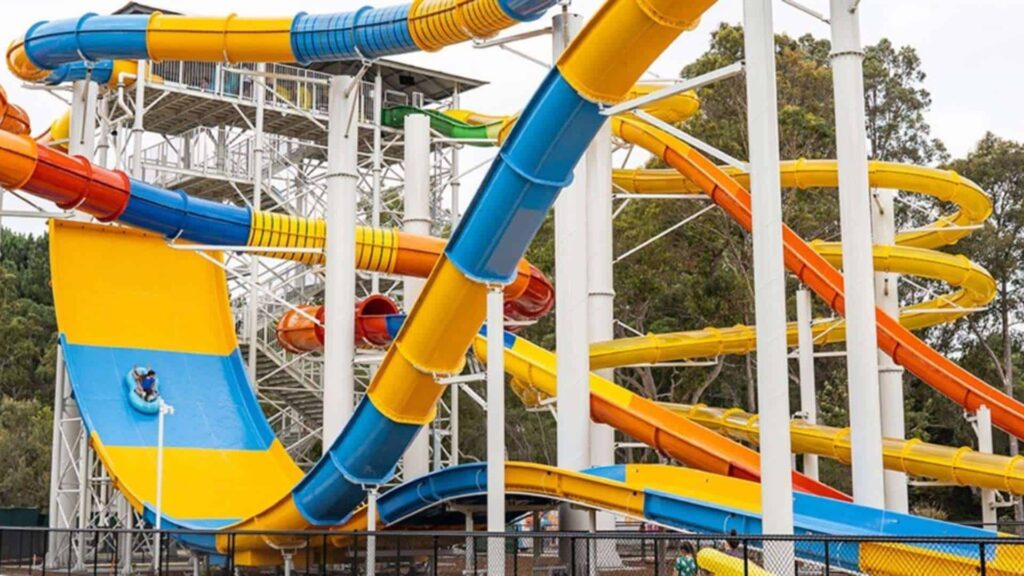 Website: https://www.outbacksplash.com.au/
Address: 1635 Neaves Rd, Bullsbrook WA 6084, Australia
Contact Details: +61 8 9571 1375, info@outbacksplash.com.au
Opening Hours: Monday – Sunday: 10:00 AM – 5:00 PM
If you want to do something more exciting, Perth's Outback Splash waterpark and year-round activities will make for a crazy day out.
For years, one of Western Australia's best outdoor entertainment locations has been Perth's Outback Splash. This is only 30 minutes from the city and right next to the Swan Valley.
The park has activities for the whole family to do all year long, like mini golf, mazes, sensory play, and meeting Australian animals. This is in addition to the 4 new waterslides and water attractions (open from September to April).
We believe the big tipping bucket on the island-themed water slide playground creates a burst of water that can thrill any age. In our opinion, these attractions can keep the youngsters entertained all day.
It's no wonder for us that this location is a well-liked destination. We suggest planning your Christmas parties, birthday celebrations, or get-togethers with friends here.
Bar enthusiasts in Perth may like their Burger Bar and Snack Shack for fresh meals and coffee, too. But note that their kitchen closes at 4 pm, so it's best to come here much earlier.
Dine at the Edgecombe Brothers Winery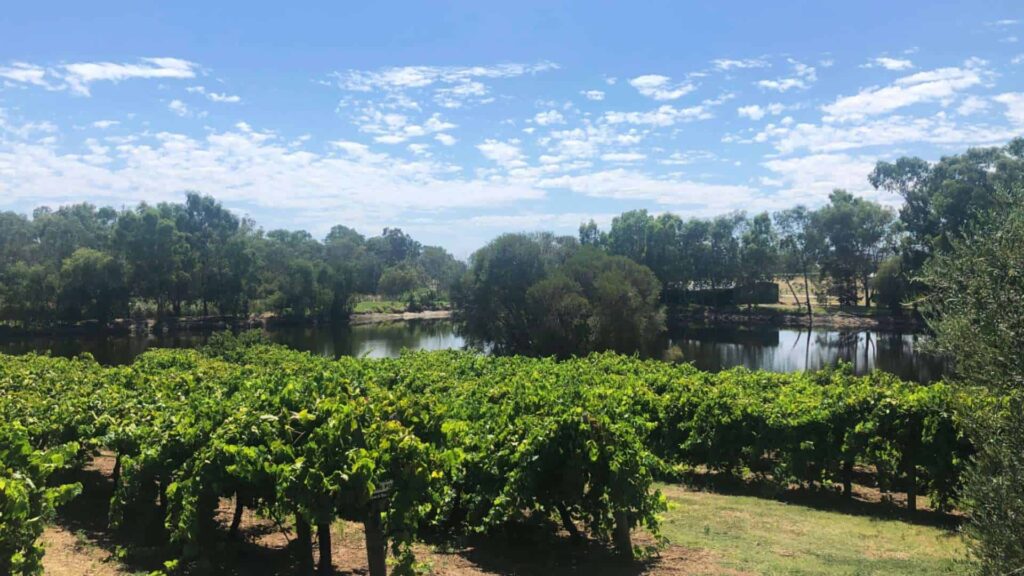 Website: http://www.edgecombebrothers.com.au/
Address: 1733 Gnangara Rd, Henley Brook WA 6055, Australia
Contact Details: +61 8 9296 4307, info@edgecombebrothers.com.au
Opening Hours: Wednesday – Friday: 10:00 AM – 4:00 PM, Saturday – Sunday: 9:00 AM – 4:00 PM
Edgecombe Brothers Winery has famous table wines from Swan Valley, fresh vegetables from the season, and a quiet, rural setting where you can also relax.
Their winery, located in the Swan Valley, looks out over serene Lake Yakine and takes in the stunning vistas of the Darling Ranges – there are a lot of visual feasts to take in!
We suggest having the entire family over for a long table lunch. This is just outside, under the wisteria vines that adorn their outdoor eating space.
It's good to kick back and unwind at their family and dog-friendly location, which has sweeping lawns and outdoor play equipment as well.
The Swan Valley vineyards that surround their winery are used to make the wines. These beverages are typical of the hot, dry region, with their zesty, fruity white wines, warm, spicy reds, and renowned fortified wines.
Many people who go to Edgecombe Brothers Winery also choose their own seasonal fruits and vegetables here. Table grapes, asparagus, and more options await.
If you're unsure about which produce to get, we advise contacting them to find out what's currently in season. This is so you can schedule your trip according to your preferred goods.
Visit the Walyunga National Park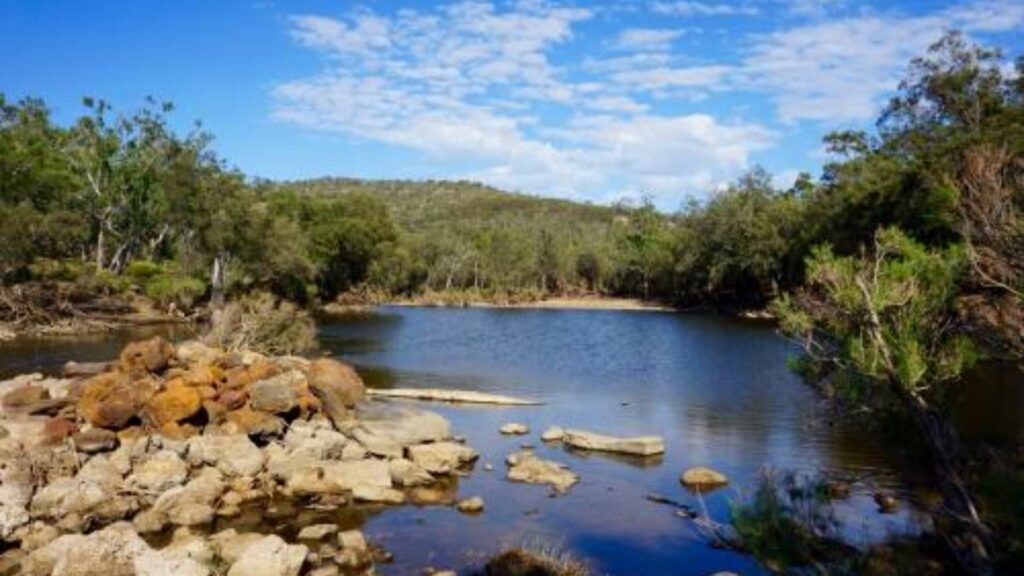 Website: https://exploreparks.dbca.wa.gov.au/park/walyunga-national-park
Address: Walyunga Rd, Bullsbrook WA 6084, Australia
Contact Details: +61 8 9290 6100, enquiries@dbca.wa.gov.au
Opening Hours: Monday – Sunday: 8:00 AM – 5:00 PM
Fees: Around $5 per vehicle
Another park to explore is Walyunga National Park, located just north of the Swan Valley. We feel it's an amazing spot for a walk and wine afternoon because it's conveniently accessible to the Swan Valley.
For us, this site is a natural treasure trove that not many people know about. It has flowing waterfalls, forested valleys, steep hills, and a lot of wildlife. 
Despite it being best known as an epic vantage point for watching the Avon Descent, Walyunga also boasts a lot of fantastic hiking paths. We recommend seeing the spectacular springtime wildflowers and going stargazing at their on-site campground.
There are also barbecues and picnic areas where you can relax by the river. You'll be  surrounded by trees, as well as trains that go by as well.
Most of the park's attractions are on the west side of the river, with only limited access to the other side. From the riverbank, you can just enjoy the pristine environment and scenery.
Although it's a lengthy, difficult hike, there's a picturesque, semi-secret viewpoint spot off O'Brien Road, too – this is worth seeing if you want to explore more or take in more excellent views.
Just remember to carry plenty of water, as the place can get quite hot in the summer. The gates also close at exactly 5 pm daily, even if your car is still in the parking lot, so decide beforehand if you'll stay or leave early.
Dogs aren't allowed here either. Instead, you may check other dog-friendly beaches or campgrounds in Perth for your furry companions.
---
And there you go! We hope you find the best things to do in Swan, Perth. Take your time and prepare well for an exciting day ahead!