Categories >
Guides and Tips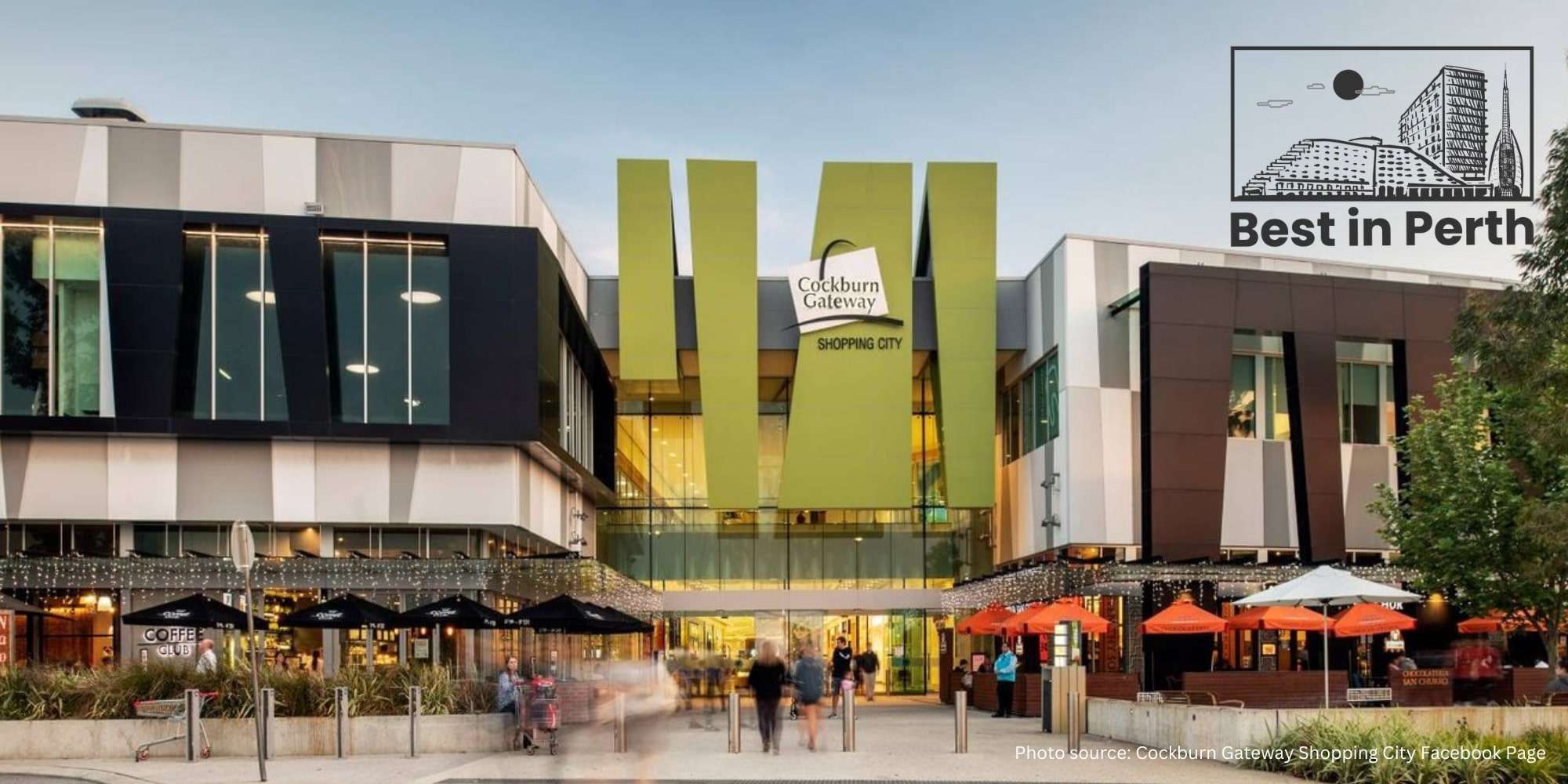 Best Things to Do in Cockburn, Perth
Thinking of the best things to do in Cockburn, Perth? Make the most of your visit and try out a bunch of our favourite activities listed here!
What Activities to Explore in Cockburn
Here are some of the best things to do in Cockburn, Perth:
Have fun at the Adventure World Theme Park
Visit the Coogee Beach
Bring kids to the Bibra Lake Regional Playground
Try the Cockburn ARC waterslide
Shop at the Cockburn Gateway Shopping City
Explore the Omeo Shipwreck
Take the Manning Stairs
Check out the best locations and amenities in Cockburn, their unique features, and some travel tips below.
Have Fun at the Adventure World Theme Park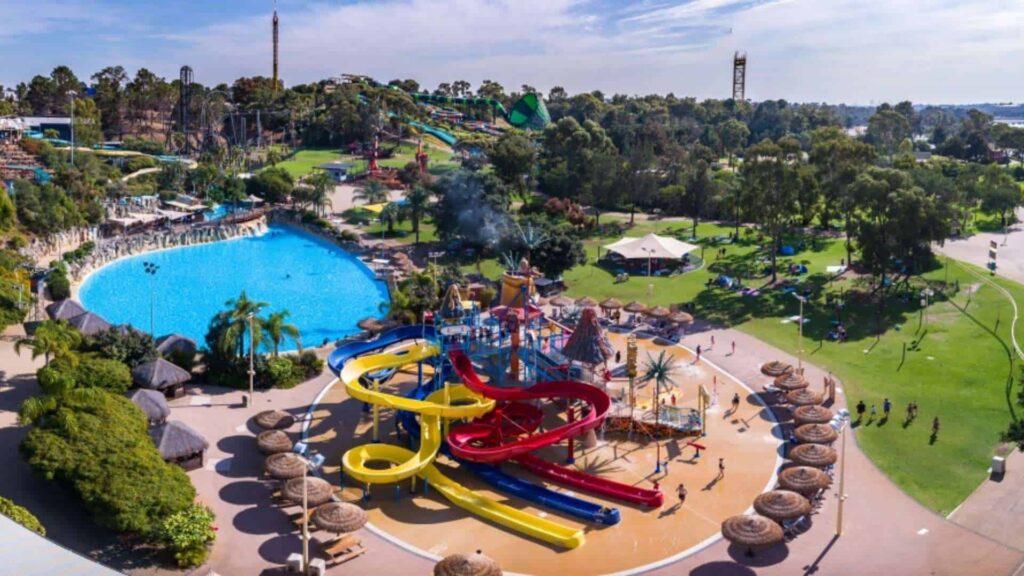 Website: https://www.adventureworld.net.au/
Address: 351 Progress Dr, Bibra Lake WA 6163, Cockburn, Western Australia
Contact Details: +61 8 9417 9666, feedback@adventureworld.net.au
Opening Hours: Sunday – Wednesday: 10:00 AM – 6:00 PM, Thursday – Saturday: 10:00 AM – 5:00 PM
Who says you can't have fun at a theme park as an adult? Take your kids, family, and friends to Adventure World for a most memorable time.
Here, you can pay for the entry fee and ride all day for free at Perth's only water park. There are more than 25 rides and attractions that await, so we feel you won't easily get bored.
Some notable attractions include the thrilling ride Goliath, a gigantic gyro swing, and the rollercoasters Abyss and Kraken – the last of which is among the longest, tallest, and steepest funnel water slides!
Of course, some of these attractions are better suited for older kids and adults. If you want the less scary options, they have a lot of those as well.
For starters, they offer the Hawaiian-themed Kahuna Falls and the magical Dragon's Kingdom for the younger ones, ages 2 to 8.
Afterwards, we suggest taking a short break and changing into a fresh set of dry clothes. You'll feel refreshed when you grab some coffee and sandwiches from the Kahuna Cafe.
Alternatively, there are also other food kiosks around the park. There are vegetarian and gluten-free options as well, so people who want to eat healthy can do so.
Overall, it's best to be in peak physical condition for a fun yet tiring day at Adventure World. We recommend checking in with your dentist, eye doctor, or others to feel more comfortable being active at the park.
See the White Sand at the Coogee Beach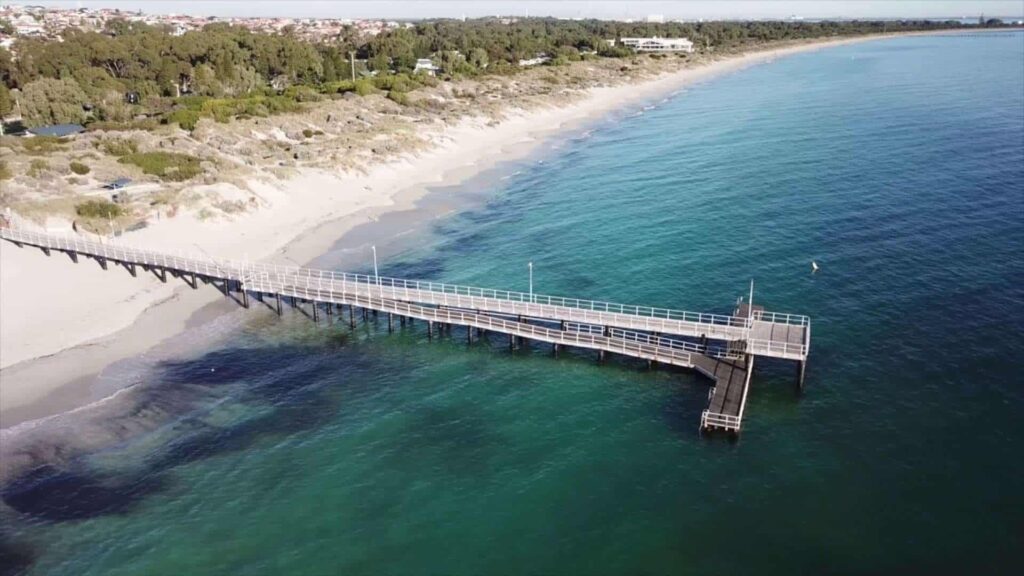 Website: https://www.cockburn.wa.gov.au/About-Cockburn/Facilities-and-Venues-for-Hire/Coogee-Beach-Reserve
Address: 4 Powell Road, Coogee, WA 6166
Contact Details: 08 9411 3444, customer@cockburn.wa.gov.au
Opening Hours: Monday – Friday: 8:00 AM – 5:00 PM
Are you searching for the ideal beach vacation? Coogee Beach boasts beautiful natural surroundings, including white sand and clean water, as well as breathtaking sunsets.
This beach is a wonderful option for kids, too! It doesn't have large waves, so we think this wouldn't be too intimidating for the little ones. 
The site is also close to Cockburn Sound, which is the only place on the Western Australian coast with shark nets. This is close to the neighbourhood playground and park, too.
We also recommend having a lovely picnic in their shaded grassy area. This is a relaxing way to distance yourself from stressful days in the city.
In addition, you may enjoy the view of the beach when you stand up on a paddle board. This is a pretty safe thing for kids to do as long as a parent or guardian keeps an eye on them.
After a long day, note that there are 3 options for getting from Coogee Beach to Cockburn Central Station. You may travel by bus, taxi, or car.
For your reference, taking the 52 bus may take around 25 minutes, while getting a taxi or driving your car should take around 11 minutes.
Bring Your Kids to the Bibra Lake Regional Playground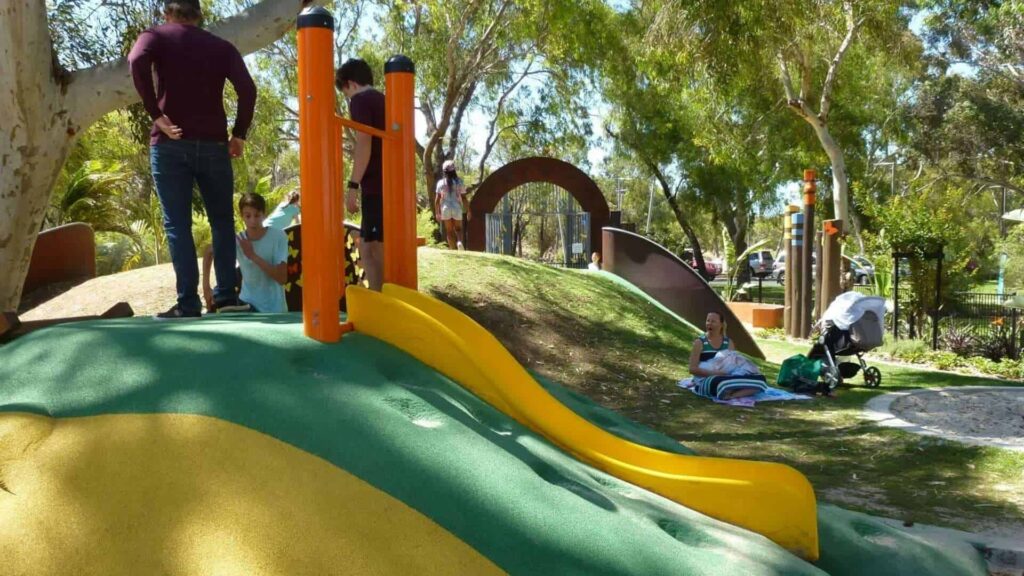 Website: http://www.cockburn.wa.gov.au/Council_Services/Parks/Bibra_Lake_Regional_Playground/default.asp
Address: Bibra Lake WA 6163, Australia
Contact Details: +61 8 9411 3444, customer@cockburn.wa.gov.au
Opening Hours: Monday – Sunday: 8:30 AM – 9:00 PM
There's lots to explore at the Bibra Lake Regional Playground. In our opinion, kids would like the double flying fox, water-squirting bulrush plants, and big talking rocks that tell stories about Nyungar.
The playground's goal is to use play to introduce kids of all ages and abilities to the outdoors. We think this makes the site as much fun as it is educational and overall fulfilling.
Its features and designs are based on local wildlife, flora, and indigenous culture. This gives kids a unique way to learn, explore, and play while learning more about our local history.
You can spend the entire day at the playground with your family and friends. This is thanks to the BBQs, picnic spots, restrooms, and change rooms for those with disabilities. 
Even a food truck serving ice cream, coffee, drinks, and different cuisines can be found here – you won't be starving for too long!
Just remember to bring your bathing suit and a change of clothes. If the kids want to cool off, there are bulrushes that squirt water and other water games they can play.
But unlike some dog beaches and campgrounds in Perth, your furry friends aren't allowed inside the fenced portion of the playground due to the large number of children here.
Instead, dogs are allowed on a leash outside of the gated playground area.
Try the Waterslide at the Cockburn Aquatic and Recreation Center (ARC)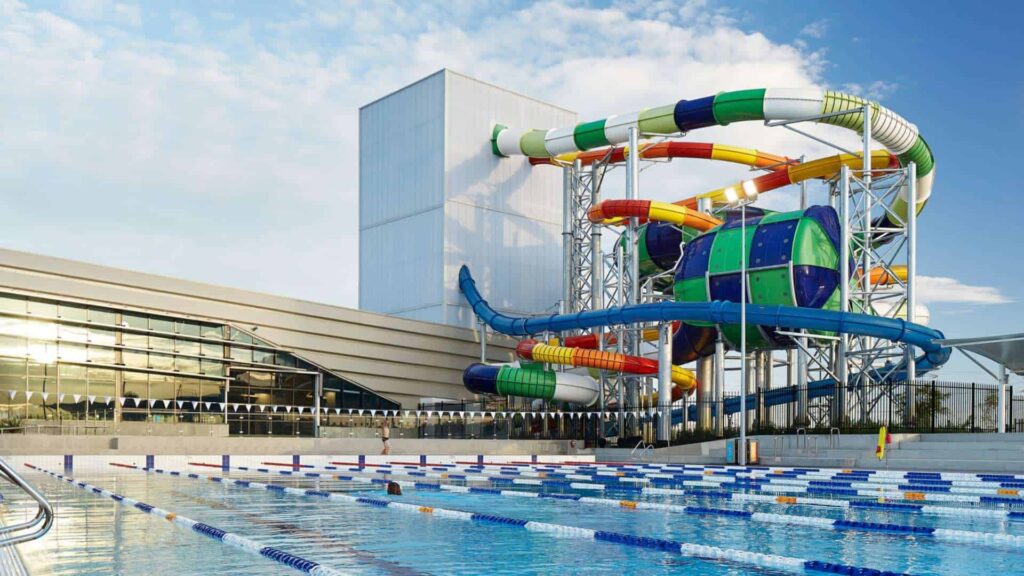 Website: https://www.cockburnarc.com.au/
Address: 31 Veterans Parade, Cockburn Central WA 6164, Australia
Contact Details: +61 8 9411 3344, info@cockburnarc.com.au
Opening Hours: Monday – Friday: 5:30 AM – 8:30 PM, Saturday – Sunday: 7:00 AM – 6:00 PM
Unlike anything else in Perth, the Cockburn ARC is the city's cutting-edge recreation and aquatic centre.
For us, this location seems pretty well-rounded with a bunch of available amenities. They offer 9 pool areas, 3 waterslides, a stadium with 6 courts, 3 studios for group exercise, and a big health club area.
When it gets cold, we recommend trying out their indoor and outdoor heated pools. You can also extend your relaxing experience with their spa, sauna, and steam room.
We like that the facility's average temperature would be warm enough even if you visited in the dead of winter. They are, in our opinion, an excellent all-year choice for swimming and water sliding.
Plus, they also offer a centrally located cafe, so many guests would be able to access it.
The facility is actually sustainable, too. They have Australia's largest rooftop solar installation and implement several other eco-friendly efforts.
Overall, we believe the Cockburn ARC is a great choice for people who care about the environment and want to relax.
Buy a Gift from the Cockburn Gateway Shopping City
Website: http://www.cockburngateway.com.au/
Address: 816 Beeliar Dr, Success, WA 6164, Australia
Contact Details: +61 8 9498 5574, infodesk@cockburngateway.com.au
Opening Hours: Monday – Wednesday, Friday: 9:00 AM – 5:30 PM, Thursday: 9:00 AM – 9:00 PM, Saturday: 9:00 AM – 5:00 PM, Sunday: 11:00 AM – 5:00 PM
Shopping enthusiasts can add Cockburn Gateway Shopping City to their list of nearby lifestyle hotspots!
This site is conveniently close to Cockburn Central. It's also open 7 days a week, so you'll have a lot of time to visit.
There are more than 170 stores here, like Big W, Kmart, Coles, Woolworths, and Aldi. More than enough items are present for you to go through at your leisure. 
We recommend staying for 2 to 3 hours to get the most out of all the options. Though if you feel like you'd prefer to browse for a longer amount of time, we suggest looking at their online stores first.
At Cockburn Gateway, both adults and children may enjoy the new eating piazza or public square and the outdoor children's play area. 
For us, the shopping centre is just an all-around spot to catch up with friends for coffee, lunch, or dinner. But if you prefer to hang out at bars and drink beer, there's also The Gate Bar and Bistro nearby.
But even if there's plenty of available parking, we advise being aware of the parking limit hours to avoid paying a fine.
Explore the Omeo Shipwreck at the Coogee Maritime Trail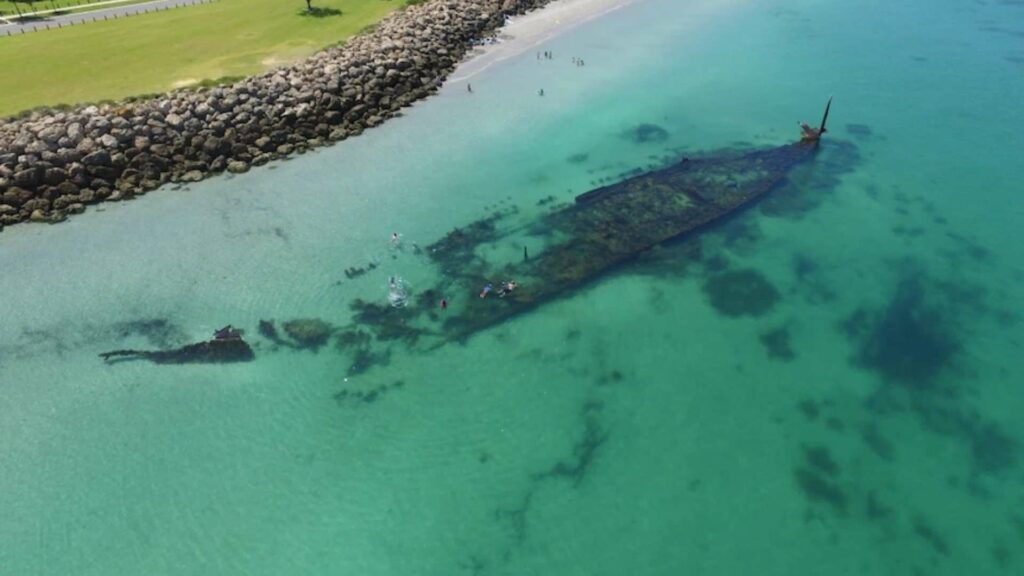 Website: https://www.cockburn.wa.gov.au/Recreation-and-Attractions/Trails-Tracks-and-Lookouts/Coogee-Maritime-Trail
Address: Socrates Parade, Western Australia, Australia
Contact Details: 08 9411 3444, customer@cockburn.wa.gov.au
Opening Hours: Open 24 hours
Do you want to have a unique kind of adventure? The Omeo Shipwreck is the most famous part of the Coogee Maritime Route – the first of its kind in Western Australia.
The route has both a land-based trail and an underwater dive and snorkel trail, so we feel many water sports enthusiasts can have a lot of fun.
Both the dive and snorkel routes start at the Omeo shipwreck, which is barely 25 metres from the shore. If you like art galleries, we advise checking out their underwater art show to maximise your stay.
The underwater road starts in shallow water and deepens to a maximum of 7 metres at its westernmost point. Since the majority of the route is only between 2.5 and 5 metres deep, we think both snorkelers and first-time divers can go for it.
In addition to providing access to stunning marine life paths, the site offers a chance to raise awareness about our important maritime history and archaeology.
The plaques sunk in the water give information about the Omeo shipwreck and the aquatic life there, so it's best not to miss any as much as possible.
Just remember to explore with your eyes instead of your hands. It's best to be considerate and refrain from climbing, standing, or resting on the wreck or from leaving trash behind.
Take the Manning Stairs at Hamilton Hill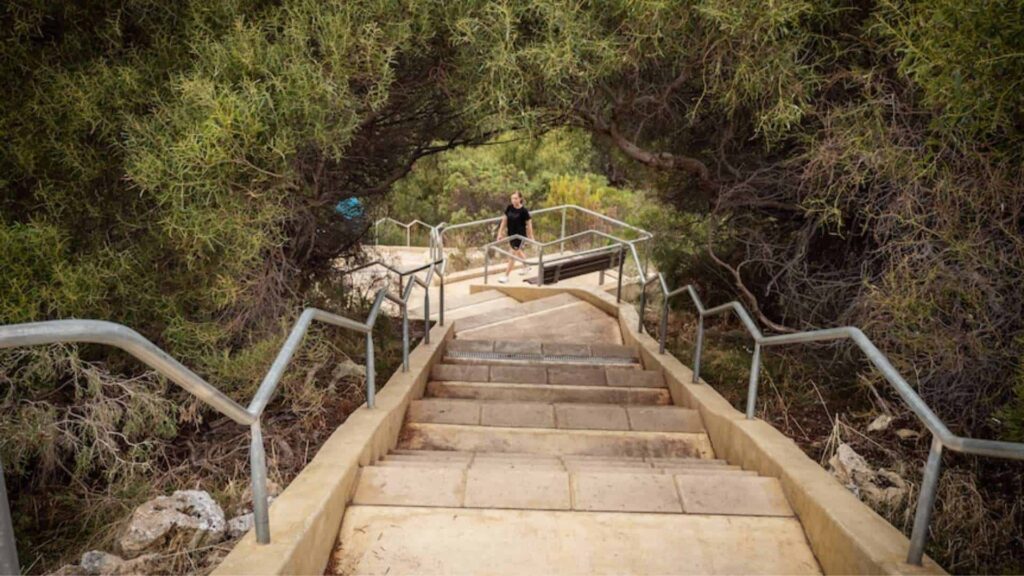 Website: https://www.cockburn.wa.gov.au/Recreation-and-Attractions/Attractions-Art-and-Culture/Trails-and-Lookouts/Manning-Stairs-and-Lookouts
Address: 97 Davilak Ave, Hamilton Hill WA 6163, Australia
Contact Details: 08 9411 3444, customer@cockburn.wa.gov.au
Opening Hours: Open 24 hours
If you want to get some exercise, taking the Manning Stairs at Hamilton Hill would be a lovely choice. This actually became a crowd favourite among fitness fans.
The stunning Manning Park Reserve also houses a lovely lake, a BBQ space, and picnic areas, too. In our opinion, many people can still enjoy the site even if they're not usually active.
You might think that climbing the stairs under the sun would be too tough. You can, however, take a break along the stairs from time to time because there are 4 benches for your convenience.
There's also a fantastic view from the lookout at the top, so we think it's worthwhile to go all the way. See breathtaking views of Darling Scarp, Cockburn Sound, and Jervoise Bay, so take as many pictures as you can.
Fun fact: there are 192 steps to take here! When you get thirsty, note that the fountain for water refilling is at the base of the limestone and cement stairs.
The Manning Stairs is open 24 hours a day, so there's no pressure to include it in your schedule.
---
And there you go! We hope you find the best things to do in Cockburn, Perth, for an exciting and memorable day ahead!