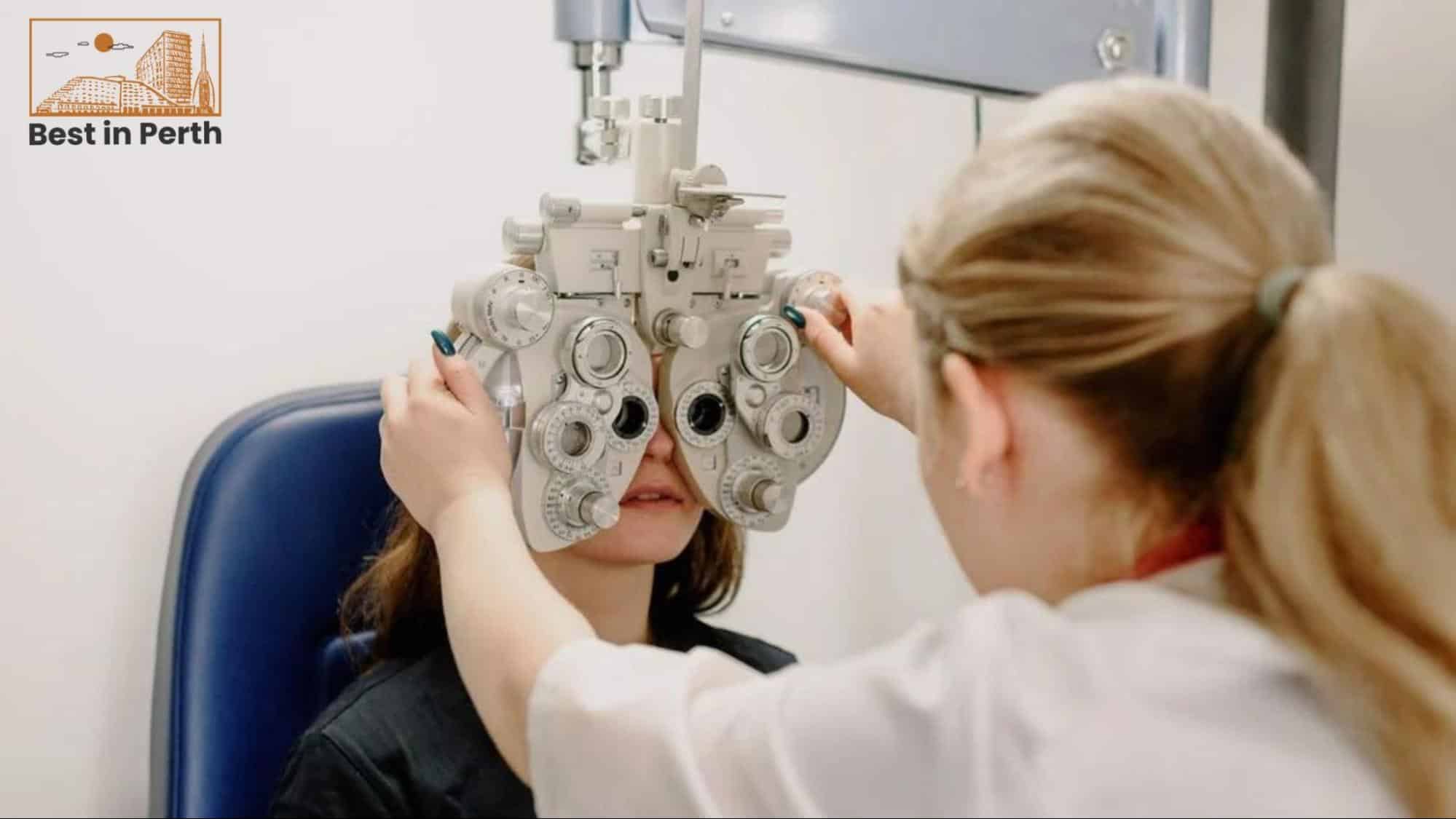 Top 5 Ophthalmologists in Perth
How We Picked the Best Ophthalmologists in Perth
Services
We made sure each ophthalmologist featured here is skilled and offers different services related to your eye health. With multiple specialties, you minimize hopping around to get everything you need.
Availability
Any good medical professional should be easy to reach out to. So, we made sure each ophthalmologist featured has multiple clinic days and responds to appointments.
Environment
The doctors mentioned here all conduct their business in practices that have the proper facilities to check you properly. We also made sure the environment feels clean and comfortable. 
1. Dr Tom Cunneen
Website: https://www.tomcunneen.com.au/
Address: 10 Churchill Ave, Subiaco WA 6008
Specialties: eyelid surgery, PRK, SMILE, and LASIK laser eye surgery, cataracts and intraocular lenses, pterygium, corneal surgery, watery eye, ocular emergencies
Contact Information: 8 9381 5955
Clinic Hours: Monday – Thursday: 9:00 AM – 4:00 PM; Friday: 9:00 AM – 3:00 PM
| | |
| --- | --- |
| Google reviews score | 5 / 5 |
| Total reviews | 4 / 5 |
| Score consistency | 5 / 5 |
| | |
| --- | --- |
| Demeanour | 5 / 5 |
| Responsiveness | 5 / 5 |
| Environment | 5 / 5 |
| Services | 5 / 5 |
| Availability | 4 / 5 |
Very skilled in surgery but won't push for surgical solutions
Offers consultations for vision improvement
Fewer clinic hours than other options
No online booking platform (aside from email)
We noticed that Dr Cunneen is most popular for his laser eye surgery, but we can confidently vouch for his other services as well. He has a solid history of efficient procedures and proves his skill time and again.
With his research being published in oculoplastic surgery journals, we like how knowledgeable he is within the field. Despite his respected stature, he doesn't come off intimidating or boastful.
His approach is thorough and he explains every detail from start to finish. We find that this can be very comforting as he immediately addresses concerns and takes action.
When we asked questions about the next steps, he was happy to oblige with clear answers. The procedures themselves don't take too long to finish, either.
The actual practice also contributes to the welcoming feel, and we personally found it to be quite a relaxing space. This can be a real help when you're feeling nervous about a consultation or surgery.
There is a parking space in the back that's pretty roomy. Although they also have street parking that is free for two hours, we find that it can get a little cramped if other cars are already parked.
Although his main expertise is surgery, we really appreciate how he doesn't push purely surgical solutions. When speaking to him, he laid out a variety of options and made sure that a mutual decision would be reached.
Even the non-surgical solutions he offers are very safe, and he explains every implication so you know what goes into your choices.
He also practices in other hospitals, but we recommend reaching out directly to his private practice. This is largely due to his reception staff here, who we found to be very efficient, helpful, and friendly.
You can book consultations for general eye improvement procedures like LASIK, but certain cases and surgical needs will require a referral. Overall, they are very responsive and friendly so we can happily recommend Dr Cunneen's if you need an ophthalmologist in Perth.
2. Dr Robert Paul (WA Laser Eye Centre)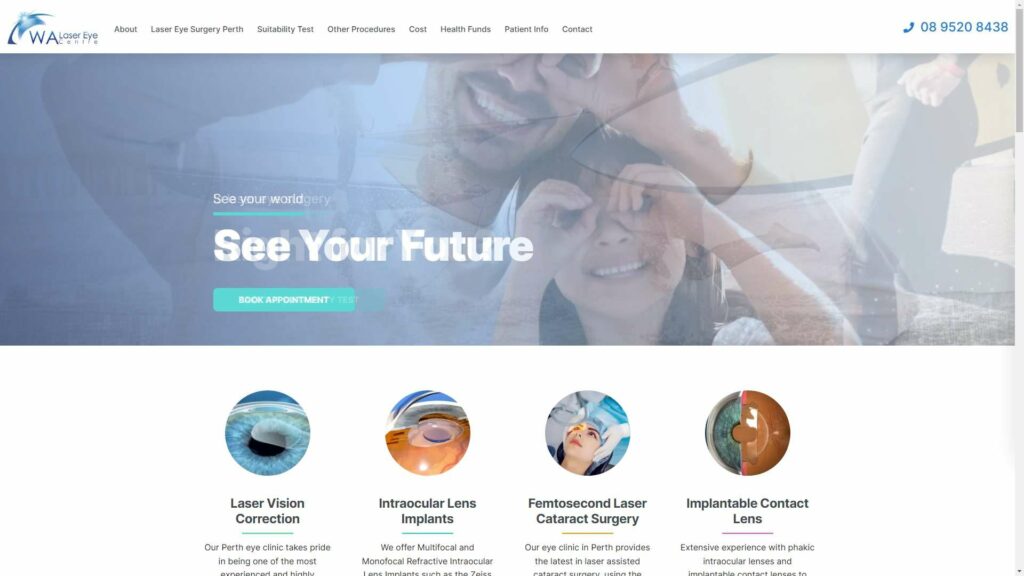 Website: https://www.walasereye.com.au/
Address: Suite 1, 533 Canning Highway, Melville WA 6154
Specialties: LASIK, SMILE laser eye surgery, implantable contact lens, femtosecond laser cataract surgery, intraocular lens implants,
Contact Information: 8 9330 8463 / 8 9520 8438
Clinic Hours: Monday – Friday: 8:30 AM – 5:00 PM
| | |
| --- | --- |
| Google reviews score | 5 / 5 |
| Total reviews | 5 / 5 |
| Score consistency | 5 / 5 |
| | |
| --- | --- |
| Demeanour | 5 / 5 |
| Responsiveness | 5 / 5 |
| Environment | 5 / 5 |
| Services | 5 / 5 |
| Availability | 4 / 5 |
Consultations are very personal, thorough, and compassionate
Modern and high-end equipment 
Near a busy car dealer
Closed on weekends
Dr Paul has three decades of experience under his belt, and we have to commend him for continuing to display his skill to this day. On proven skill alone, we highly recommend visiting him if you need an ophthalmologist in Perth.
On top of that, he also takes his time with procedures and consultations. The process is very thorough, so we felt confident that nothing was slipping through the cracks.
Dr Paul leads the practice, but there are other specialists on call, too. The entire staff is very friendly, welcoming, and helpful.
Even their reception staff takes great efforts to make you feel at ease, greeting you as you enter the door and directing you to the waiting area. The waiting area itself is very comfortable and clean by our standards.
Their Melville location is the one we really recommend because it is much more consistent in terms of bookings. We noticed their appointments are handled smoothly here and you don't have as much waiting time.
One more thing we really like is their impressive array of diagnostic systems. Their Schwind Amaris and Wavelight equipment are top-of-the-line, so there's no outdated feel.
Certain procedures like cataract surgery require a referral, so make sure you check with the reception staff to ensure you don't waste your time. If you're coming in for laser eye surgery, you'll need to accomplish their suitability test on their website first.
Finally, we appreciate how Dr Paul and his team are compassionate and responsive. We really felt heard and prioritized, so anyone that wants a doctor that doesn't just shuffle you along will likely notice this.
Their prices are also among the more competitive ones in the bunch, so Dr Paul and WA Laser Eye Centre are definitely standouts.
3. Dr Frederick Nagle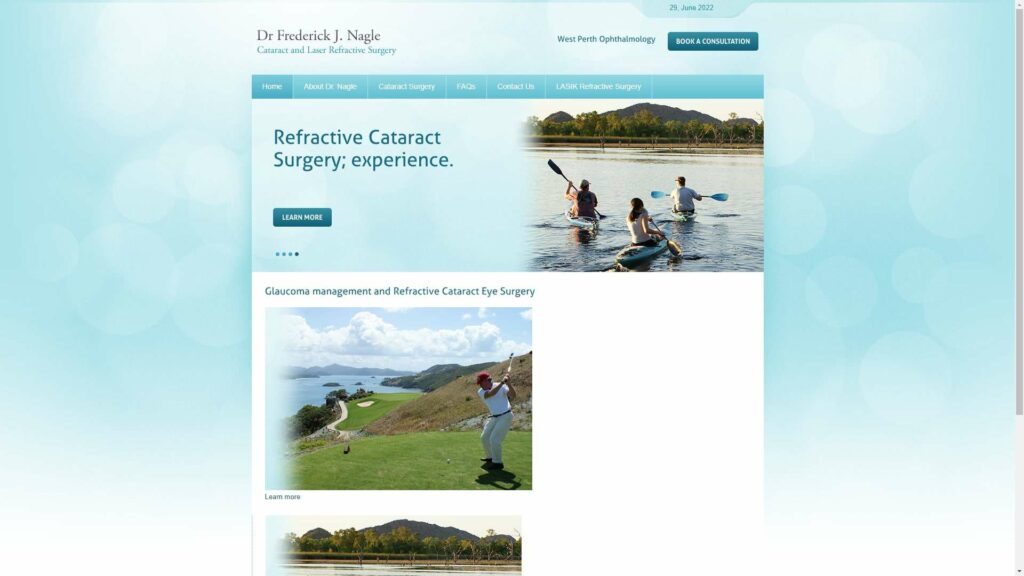 Website: https://www.drnaglelasereyesurgery.com.au/
Address: 12 Clive Street, West Perth WA 6005
Specialties: Cataract surgery, LASIK refractive surgery, general ophthalmic examination
Contact Information: 8 9481 8626
Clinic Hours: by appointment only
| | |
| --- | --- |
| Google reviews score | 5 / 5 |
| Total reviews | 1 / 5 |
| Score consistency | 5 / 5 |
| | |
| --- | --- |
| Demeanour | 5 / 5 |
| Responsiveness | 4 / 5 |
| Environment | 5 / 5 |
| Services | 4 / 5 |
| Availability | 4 / 5 |
Highly experienced and successful ophthalmologist
Appointments consistently on-timeHighly experienced and successful ophthalmologist
Appointments consistently on-time
Less active online
No business hours, only by appointment
Dr Nagle is, off the bat, very caring and knowledgeable. We like how understanding he is and how he can easily explain medical matters in layman's terms.
One reason we rank him very high is his impressive accreditation. Aside from being part of the Royal Australian and New Zealand College of Ophthalmologists, he was also part of the first team to use small incision cataract surgery in the UK.
Aside from his calm and understanding demeanour, we also appreciate how precise he is with his appointments. Bookings are followed stringently, and they consistently run on time.
He will also let you know how long things will take, so we like that he keeps patients in the loop.
The area of his clinic is pretty quiet, so we think it's a plus for anyone that wants a more peaceful environment on their way to a consultation.
His website has a form for consultations, but we recommend calling if you have urgent concerns as that line is more responsive. We should also note that he only accepts bookings by appointment, so you will need to call or use the form and set your preferred date and time.
Dr Nagle also requires a referral letter, so it's best to get one from your GP or optometrist that is less than six months old.
4. Dr Tim Isaacs (Perth Retina)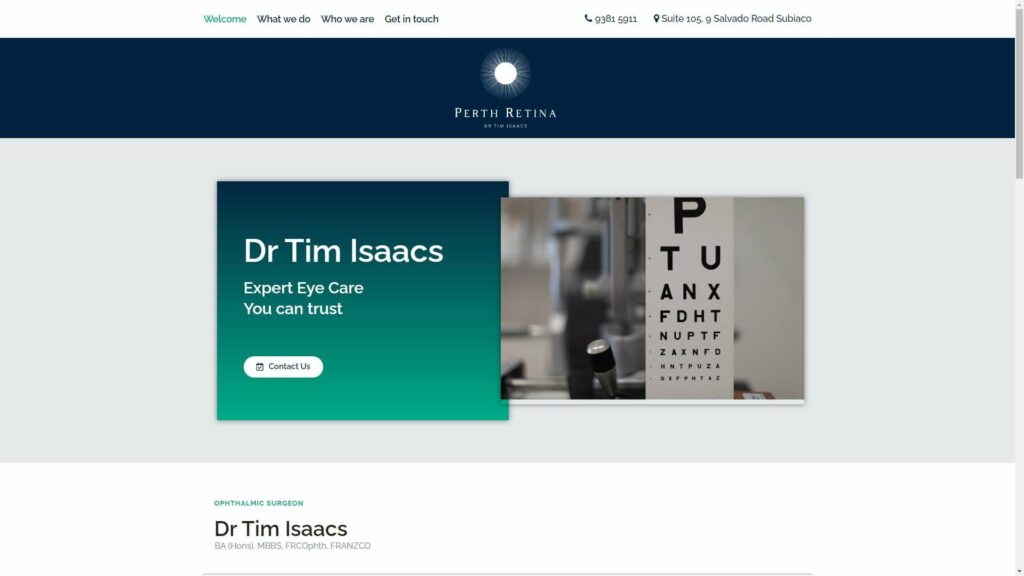 Website: https://perthretina.com.au/
Address: Suite 105, 9 Salvado Road, Subiaco WA 6008
Specialties: Cataracts, diabetic retinopathy, macular degeneration, macular hole, retinal vein occlusion, uveal melanoma, epiretinal membrane, flashes and floaters, retinal detachment, retinal tear, vitreomacular traction, vitreous haemorrhage
Contact Information: 8 9381 5911
Clinic Hours: Monday – Friday: 8:00 AM – 4:30 PM
| | |
| --- | --- |
| Google reviews score | 4.8 / 5 |
| Total reviews | 2 / 5 |
| Score consistency | 4 / 5 |
| | |
| --- | --- |
| Demeanour | 5 / 5 |
| Responsiveness | 5 / 5 |
| Environment | 5 / 5 |
| Services | 5 / 5 |
| Availability | 4 / 5 |
Entire team is friendly, professional, and efficient
Very caring and well-rounded diagnostics
Does not offer laser eye surgery
Closed on weekends
Dr Isaacs is very friendly and professional, and what we appreciate most about him is that he is willing to let you know if you don't actually need surgical care yet. To us, this just really shows that he cares about the best option and not what will net the most profit.
He answers questions with ease and listens to concerns, whether they be about fees or actual procedures. His team is also just as understanding and kind, with the reception staff being a standout for their helpfulness and polite demeanour.
The clinic itself is spacious. The interiors are very clean and minimal without feeling drab, so it's a good environment to be in.
Dr Isaacs also does operations at Perth Eye Hospital and St John of God Subiaco Hospital but we recommend reaching out to his personal practice for a consistent experience.
His practice has great diagnostic imaging and, in our experience, every member of the staff is personable. Reach out to reception if you need help with the process, as they are very helpful in this regard.
His most popular procedure tends to be the removal of floaters, but we believe his extensive awards and memberships make him a trustworthy pick even for other surgical procedures.
We should note that this is not a refractive surgical practice. So, if you want laser corrective surgery, they can't accommodate you.
5. Dr Dru Daniels
Website: https://drudaniels.com.au/
Address: 172a Cambridge Street, West Leederville WA 6007
Specialties: general ophthalmology, cataract and glaucoma surgery
Contact Information: 8 9381 3136
Clinic Hours: Monday – Friday: 8:00 AM – 4:00 PM
| | |
| --- | --- |
| Google reviews score | 4.1 / 5 |
| Total reviews | 3 / 5 |
| Score consistency | 4 / 5 |
| | |
| --- | --- |
| Demeanour | 4 / 5 |
| Responsiveness | 5 / 5 |
| Environment | 4 / 5 |
| Services | 4 / 5 |
| Availability | 4 / 5 |
Lots of experience with glaucoma and cataracts
Very careful and thorough process
Can be costlier than expected
Will sometimes feel rushed during busier days
Dr Daniels is one of our recommendations because of his history and success with glaucoma and cataract cases. Although he does also work on refractive lens exchange, the earlier mentioned services are really where he shines.
When speaking to him, we found him to be very knowledgeable and careful. It's quite comforting if you're worried about any risks coming in.
Even the way he conducts surgery is careful and efficient from what we've seen. He's quite communicative, so you can ask questions if you have any.
We did notice, though, that he can be quite swift with initial consultations if it's a particularly busy day. It's best to actively prepare your questions beforehand so they don't get swept away in the moment.
His reception staff is also very helpful for the most part, but also has a tendency to be less accommodating on busier days. We found this to be slightly off-putting, but ultimately understandable considering the number of bookings.
The clinic is simple and clean. What stands out most about the space is its proximity to St John of God Hospital Subiaco.
The proximity is good for extra surgical needs and resources, but can also be a bit of a detriment when you're contending with other patients for parking and navigating traffic.
The clinic has four parking bays dedicated to it. If there's no more space, though, you'll have to try for street parking.
We recommend asking about fees right away so you don't get a surprise in the bill after your consultation. They also offer bulk billing if you bring your Medicare card.
FAQs About Ophthalmologists