Categories >
Guides and Tips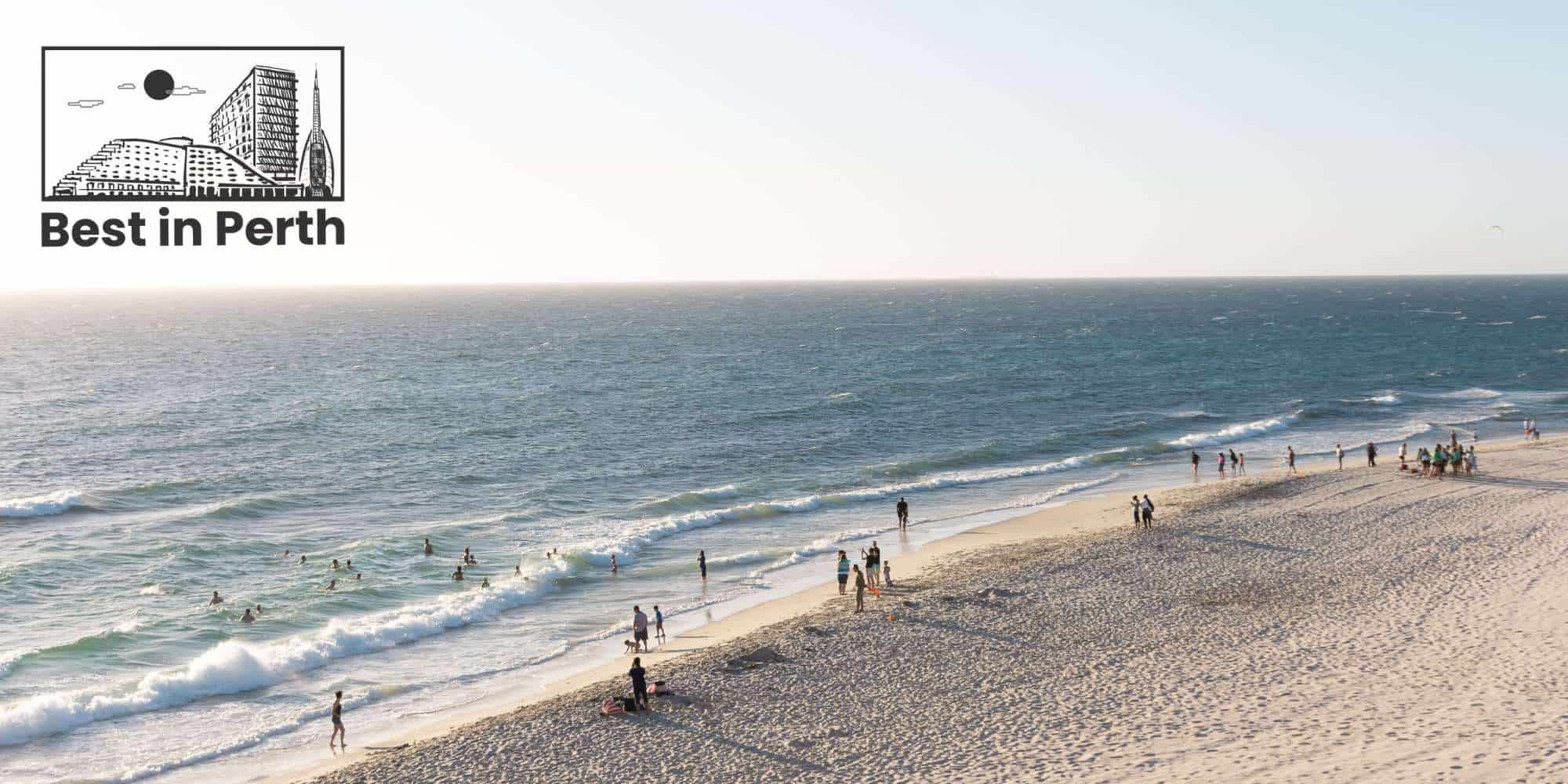 Best Things to Do in Perth in Summer
Want to bask under the golden Aussie sun and enjoy the summer in Perth? If so, we have some of the best places and activities to explore here for you!
Follow our guide below – we'll show you where and how to enjoy Perth's sun-kissed city like a local!
What are the top things to do in Perth this summer?
Hang Out at Perth Zoo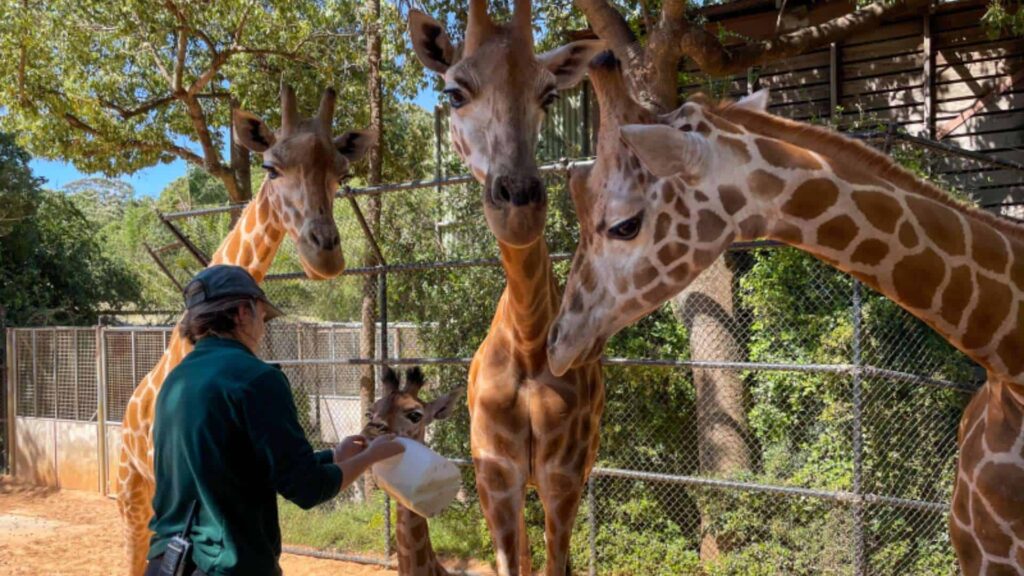 Website: https://perthzoo.wa.gov.au/
Address: 20 Labouchere Rd, South Perth, WA 6151, Australia
Contact details: +61 8 9474 0444
Operating hours: Monday to Friday – 9 AM to 5 PM
Fees:
Day Entry Tickets

Child under 4 years old – Free
Carers – Free
Child (4 to 15 years old) – $17.30
Senior – $27.50
Concession – $27.50
Adult – $34.60

Zoo Friends Membership

Individual adult – $104 per person
Individual child (4 to 15 years old) – $59 per person
Family adult – $92 per person
Family child (4 to 15 years old) – $57
Best time to visit: November to April
Perth Zoo is a fantastic summer destination in Perth, offering a blend of wildlife excitement and shaded relaxation. Visitors can see exotic animals, embark on immersive animal experiences, and unwind in the lush surroundings.
First things first, let's talk about the zoo's alluring charm. In our opinion, this place isn't your ordinary stroll-through-the-park kind of zoo.
With over 1,200 animals from around the world, we think the zoo is a big playground for both nature enthusiasts and curious wanderers alike.
The best part? For us, summer is when the zoo truly comes to life. We like that the animals are at their playful best, and the lush greenery makes the entire place feel like an exotic getaway.
During the summer, that's when the weather is just right and the animals are most active. Plus, who wouldn't want to swap their winter coats for some flip-flops and sunscreen?
From the enchanting Asian Rainforest, where you might spot a swinging, happy orangutan, to the African Savannah, where majestic lions and towering giraffes rule the land, we believe each corner of the zoo is like a ticket to a different part of the world.
Oh, and let's not forget the Australian Bushwalk! You'll likely see some hopping kangaroos, sleepy koalas, and fluffy quokkas around here.
We suggest exploring the nocturnal house as well, where you can meet creatures of the night such as owls, bats, and possums.
Pro tip:
We recommend arriving right when the zoo opens to avoid the crowds and have the animals all to yourself. Plus, you'll have more time to hang out with those quokkas and perfect your selfie game!
Explore the Scitech Museum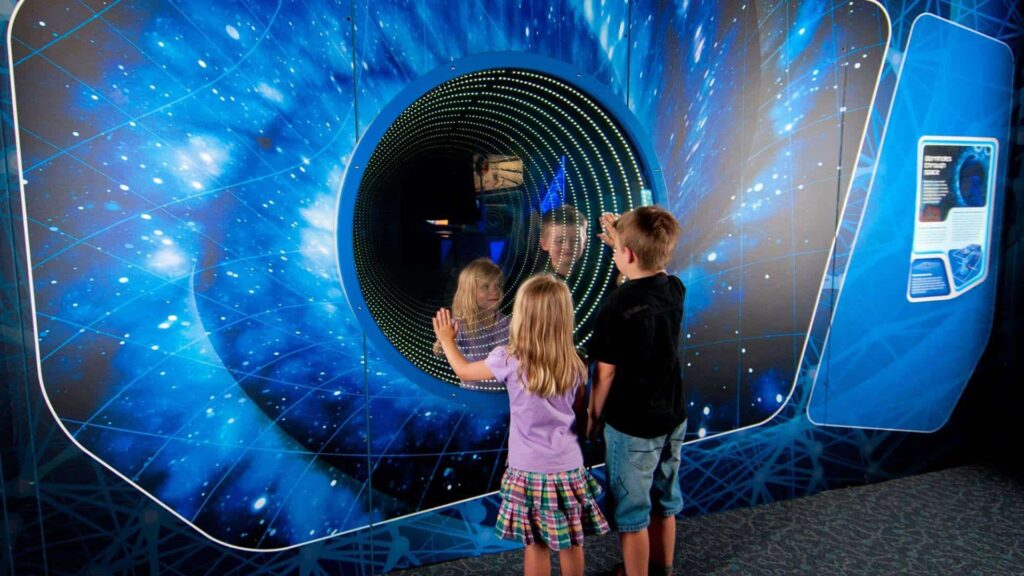 Website: https://www.scitech.org.au/
Address: City West Centre, Corner Railway Street and Sutherland St, West Perth, WA 6005, Australia
Contact details: +61 8 9215 0700, info@scitech.org.au
Operating hours: Monday to Sunday – 9:30 AM to 4 PM
Fees:
Toddler – Free
Child – $15
Adult – $24
Adult Concession (ID Required) – $16
Mini Group (2 Adults + 2 Children or 1 Adult + 3 Children) – $63
Mini Group (2 Adults + 3 Children or 1 Adult + 4 Children) – $72
Parking – $5 for 5 hours
Best time to visit: Early in the day; avoid school holidays
The Scitech Museum is a captivating summer spot in Perth, perfect for curious minds of all ages. Here, guests explore hands-on interactive exhibits, engage in science experiments, and enjoy thrilling planetarium shows to escape from the heat.
Let's be real – summer in Perth can be very hot. No worries, though! We believe Scitech's indoor adventures are here to save the day! 
In our opinion, this place is where learning is a wild ride of hands-on exhibits, interactive displays, and mind-boggling experiments. From exploring the cosmos to delving into the world of robotics, the fun for us seems limitless!
But hold on to your lab coats, because we reckon there's more to see at Scitech. Ever wanted to touch a real meteorite? Check! Curious about how virtual reality works? They've got you covered as well!
We suggest starting your journey in the Planetarium, where you can travel through galaxies and gaze at stars without leaving your seat.
Next up, you may head over to the Puppet Theatre – and no, it's not about puppets, but about the magic of optics!
No matter your age, you can play with the lasers, mirrors, and colours to create mind-blowing illusions that might leave you scratching your head (in the best way possible, of course!).
Pro tip:
We know that exploring the wonders of science can work up an appetite. While you can't have a picnic inside the museum, we recommend refuelling in various ways.
First, snack and beverage vending machines are located in Scitech's 'City Views' section. Plus, Water Town is only a 5-minute walk from City West, and there's a cafe on the ground level as well!
Alternatively, Harold Boas Gardens, which is located across the railroad tracks on Wellington Street, is only a 2-minute walk away. This is ideal if you want to take your break or lunch somewhere else.
Visit the Art Gallery of Western Australia
Website: https://artgallery.wa.gov.au/
Address: Perth Cultural Centre, Perth, WA 6000, Australia
Contact details: +61 8 9492 6600, admin@artgallery.wa.gov.au
Operating hours: Monday, Wednesday – Sunday – 10 AM to 5 PM
Fees: Free entry
Best time to visit: Any day except Tuesday
The Art Gallery of Western Australia is a culturally enriching summer destination in Perth, offering a refreshing and peaceful escape while immersing visitors in a diverse collection of artworks.
Here, we believe you can explore captivating exhibitions and discover local and international masterpieces. Moreover, you can soak up the artistic ambiance while strolling through the air-conditioned galleries – what a cool treat!
From stunning indigenous artworks that tell stories as old as time to contemporary pieces that challenge your perception, we think that this gallery is a feast for the eyes and a playground for the mind.
As you stroll through the art galleries, we love that you'll find yourself transported to different eras and cultures worth reflecting on. More specifically, you can marvel at intricate sculptures and ponder over thought-provoking installations.
Next, continue your artful escapade by diving into the Indigenous Art collection. Here, you'll find artworks that whisper tales of ancient traditions and the profound connection between people and the land.
Then, we recommend venturing into the Modern and Contemporary Art section, where you'll encounter pieces that challenge conventions and redefine art. For us, this is a great way to beat the heat while expanding your artistic horizons.
Just note that there are always free art exhibitions here to check out. Some of them don't even need a reservation, and the wait times aren't too long.
Pro tip:
Before you leave, it's best to swing by the museum shop for unique souvenirs that go beyond the typical postcards.
From art-inspired trinkets to prints of your favourite pieces, we feel that you can take a slice of the gallery magic home with you!
Reflect at Saint Mary's Cathedral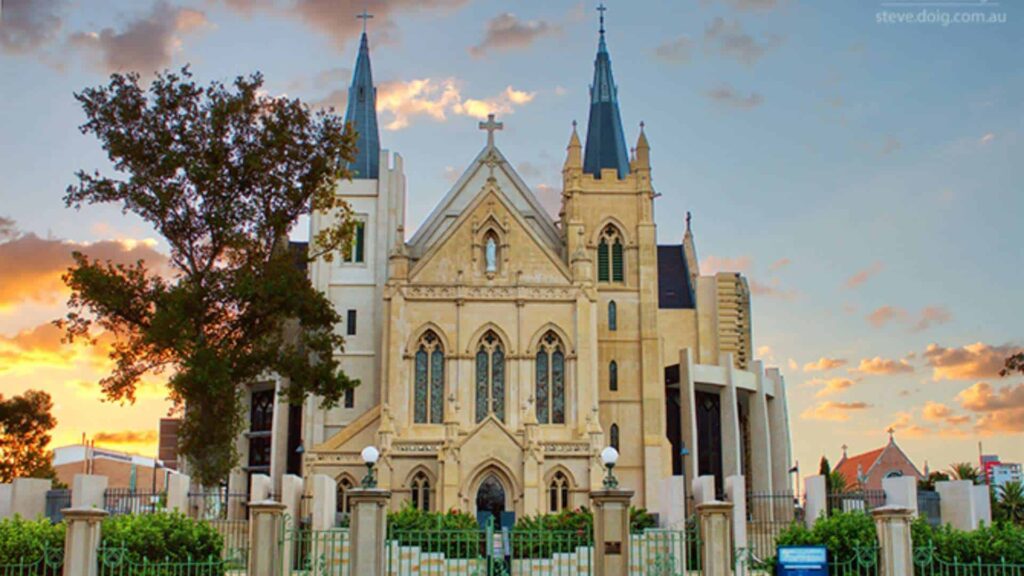 Website: https://stmaryscathedralperth.com.au/
Address: 41 Victoria Square, Perth, WA 6000, Australia
Contact details: +61 8 9223 1350, cathedral@perthcatholic.org.au
Operating hours: Monday to Sunday – 7 AM to 6 PM
Public Tour Fees:
Adults – $10
Concession – $8
Child (below 18 year-old) – $6
Best time to visit: Tuesdays for the tours
Saint Mary's Cathedral is a serene and spiritually uplifting summer destination in Perth, providing respite from the heat while allowing visitors to marvel at its stunning architecture and find moments of reflection.
Here, you can see the intricacies of the cathedral's design, attend a calming prayer service, and enjoy the peaceful ambiance that provides solace amid the bustling city.
Although, this architectural masterpiece is not just a place of worship. For those who aren't particularly religious, we think it can also be a sanctuary of serenity and a testament to human creativity and devotion.
At the cathedral, we feel that the soft glow of stained glass windows and the intricate architecture will have you wondering if you've stumbled upon a secret garden of calmness.
You may begin your spiritual exploration by taking a leisurely stroll through the aisles, where the air is filled with a sense of reverence and history.
Additionally, you can try lighting a candle and offering up a prayer or even just a wish. For us, this can be a moment of connection that might leave you with a sense of inner peace.
Pro tip:
While summer might have you reaching for those comfy flip-flops and tank tops, it's smart to note that Saint Mary's Cathedral is still a place of reverence.
For this reason, we advise you to dress modestly and respectfully. Not only will you blend in with the serene ambiance, but we believe you'll also be showing your appreciation for the spiritual significance of the place.
Go on a Trail at Mundy Regional Park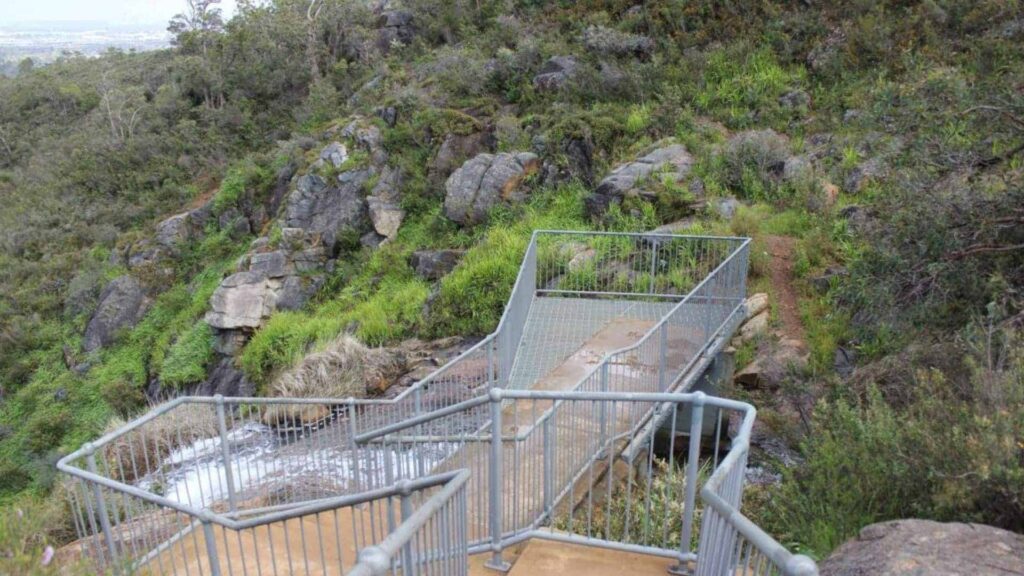 Website: https://exploreparks.dbca.wa.gov.au/park/mundy
Address: Kalamunda Rd, Forrestfield, WA 6058, Australia
Contact details: +61 8 9442 0300
Operating hours: Open 24 hours
Fees: Free entry
Best time to visit: Summer, Late Winter, and Spring
Mundy Regional Park is a natural oasis of summer in Perth, inviting outdoor enthusiasts to escape the heat by embarking on refreshing hikes, picnicking in shaded groves, and immersing themselves in its lush greenery and native wildlife.
For us, this is an ideal summer place for walks and trails. This is where towering trees sway in the breeze, crystal-clear streams gurgle, and animals frolic in their natural habitat.
Whether you're a seasoned hiker or a newbie nature lover, we believe this park has something for everyone. This goes from peaceful picnics to heart-pounding hikes.
So, we recommend lacing up your best hiking boots and venturing onto the many trails that crisscross the park. Make sure you dress comfortably so you don't end up needing a podiatrist or pain specialist later on.
But no worries! From the easygoing Bankside Trail to the challenging Eagle View Trail, we think every level of adventurer can have fun.
We believe the Bankside Trail provides a gentle and serene experience, allowing visitors to appreciate the flora, fauna, and birdlife that call the park home. The trail might also offer opportunities for picnicking, birdwatching, and photography.
On the other end of the spectrum, the Eagle View Trail seems to offer a more challenging adventure for seasoned hikers wanting an invigorating experience. This trail presents hikers with elevation changes, rocky terrain, and brilliant panoramic views.
And as you wander through the park, we recommend keeping your eyes peeled for adorable surprises. You may spot kangaroos grazing in the meadows and listen to the cheerful songs of native birds.
If you're lucky, you might even catch a glimpse of a sleepy echidna (a medium-sized mammal with spines like a porcupine, a beak like a bird, and a pouch like a kangaroo) taking a leisurely stroll!
Pro tip:
Perth's summer sun can be a real scorcher, so we encourage you to stay hydrated.
It's best to pack a refillable water bottle and sip your way through the trails. We believe your body will thank you for keeping it fueled and refreshed all day.
Tour Around the WA Maritime Museum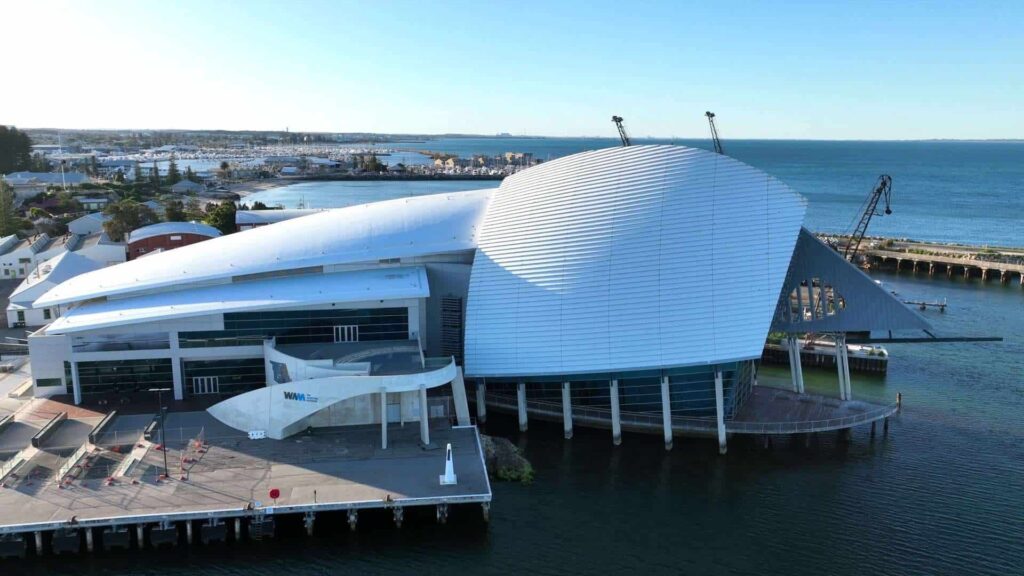 Website: http://museum.wa.gov.au/museums/maritime
Address: Victoria Quay Road, Fremantle, WA 6160, Australia
Contact details: +61 1300 134 081, reception@museum.wa.gov.au
Operating hours: Monday to Sunday – 9:30 AM to 5 PM
Fees:
Standard – $15
Concession (ID required) – $10
Junior (15 years and under) – Free
Carer (must present a valid WA Companion card) – Free
Best time to visit: Anytime, although advanced online booking is recommended
The WA Maritime Museum is a captivating and educational summer destination in Perth, where visitors can dive into maritime history, explore fascinating exhibits, and even step aboard historic vessels.
We like that this is a great place to learn about seafaring adventures that have shaped the region's rich maritime heritage. Whether you're a history buff, a ship enthusiast, or just someone who loves the sea breeze, we reckon this museum has it all.
Here, you'll find key historic items and vessels that showcase the sports, voyaging, and adventurous traditions of Western Australia. This involves the America's Cup-winning yacht Australia II and Jon Sanders' Parry Endeavour.
You and your friends could wander through the vast museum halls, where you'll get up close and personal with impressive ship models, fascinating artefacts, and interactive exhibits that bring the ocean's mysteries to life.
Just keep in mind that special exhibits and events may charge extra fees. If you prefer, we suggest considering a WA Museum membership.
This way, you can pay for the price of a single admission and get 1 year of unlimited entry. Of course, we think this is only worth it if you'll be coming back to the museum a lot in the foreseeable future.
Pro tip:
While we know it's fun to discover everything on your own, we feel it might be good to consider joining one of the museum's guided tours or workshops.
This way, you can delve even deeper into the maritime world, learn intriguing details, and gain insights from knowledgeable guides. Make the most of your stay and uncover some hidden stories about maritime history and technology.
Swim with Whales at Ningaloo Marine Park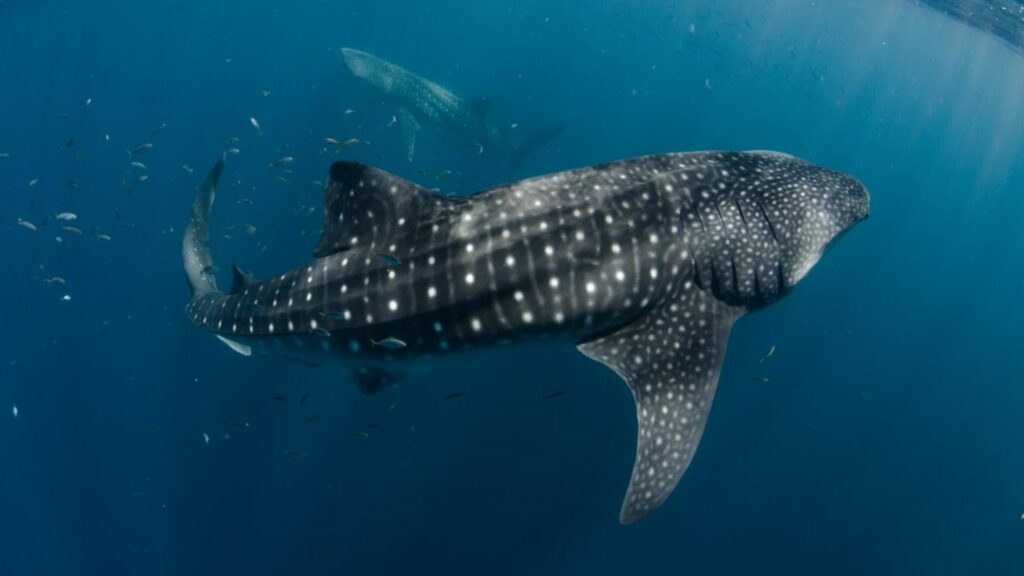 Website: http://exploreparks.dbca.wa.gov.au/park/ningaloo-marine-park
Address: North West Cape, Exmouth, Western Australia, 6707
Contact details: +61 (0)8 99492808
Fees: Free entry
Best time to visit: Mid-March to late July for the whale sharks
Ningaloo Marine Park is a pristine summer paradise near Perth, offering crystal-clear waters, vibrant coral reefs, and incredible marine life encounters that make it a top spot for various water sports.
Here, you can go snorkelling, diving, and swimming alongside majestic creatures like whale sharks and manta rays.
We like that there are tonnes of activities to try. This seems true whether you're a water baby, a snorkelling newbie, or just someone who loves the sea breeze.
You can start your journey by slipping on your water gear and gliding into the crystalline waters.
For us, it's best to use snorkel equipment you've already worn before to ensure it fits well – you probably don't want to feel uneasy later when you're already underwater.
And as you swim among vibrant coral formations, you'll be surrounded by a kaleidoscope of marine life – from clownfish hiding in anemones to colourful tropical fish soaring through the deep blue.
For daredevils and adrenaline junkies, why not try your hand at diving with whale sharks? These gentle giants visit Ningaloo Marine Park from April to July, offering you the chance to swim beside the world's largest fish.
Overall, we think visiting Ningaloo Marine Park is a bucket-list experience that will have you feeling like a true marine explorer!
Pro tip:
We advise you to be a responsible traveller and follow the park's guidelines for marine conservation.
It's best to avoid touching or disturbing marine life and opt for reef-safe sunscreen to protect the delicate ecosystems. Together, we can keep this paradise pristine for generations to come!
Shop at Fremantle Markets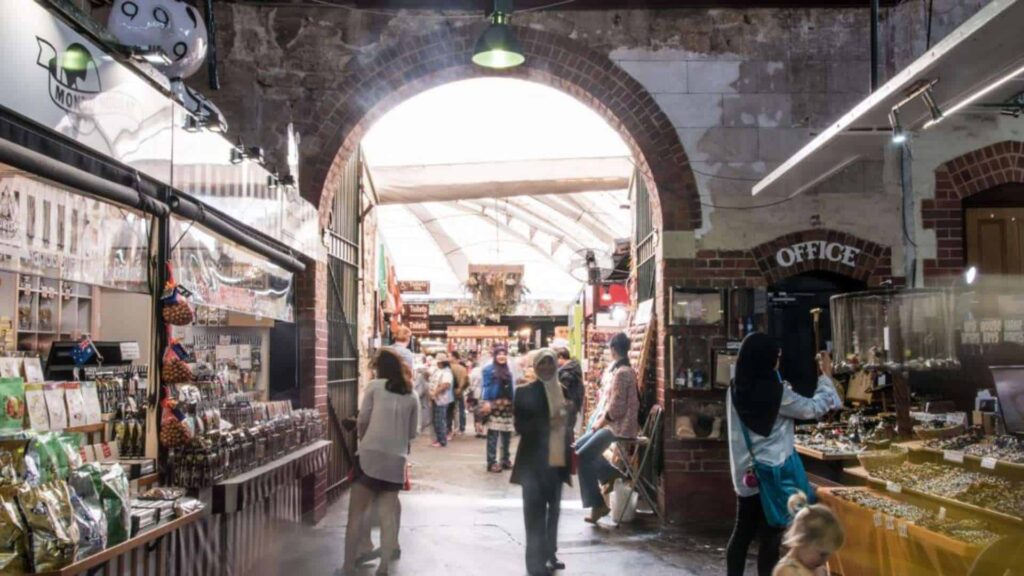 Website: http://www.fremantlemarkets.com.au/
Address: South Terrace & Henderson St, Fremantle, WA 6160, Australia
Contact details: +61 8 9335 2515, info@fremantlemarkets.com.au
Operating hours: Friday to Sunday – 9 AM to 6 PM
Best time to visit: Between 11 am and 2 pm on weekends for the live music
Fremantle Markets are a vibrant and bustling summer destination in Perth, where visitors can explore a diverse array of stalls, indulge in delicious street food, shop for unique crafts, and soak up the lively atmosphere that captures the spirit of the city.
In our opinion, Fremantle Markets is a hub of energy and excitement that's perfect for both serious shoppers and casual browsers. Whether you're on the hunt for vintage treasures, handmade crafts, or just a tasty treat, we believe this market has it all.
We feel it's easy to be dazzled as Fremantle Markets unveil their myriad wonders. We suggest going through the colourful stalls, where you'll find everything from bohemian fashion to artisanal cheeses.
But the magic doesn't stop with shopping! Soon, we believe you'll feast your eyes on the mouthwatering array of street food that tempts you at every turn.
From sizzling kebabs to gourmet cupcakes that look almost too good to eat, we think your taste buds are in for a summer adventure of their own.
Oh, and did we mention the live music that often fills the air? For us, it's like shopping to your own personal soundtrack!
Pro tip:
While many stalls accept cards, we believe having some cash on hand is handy for those smaller purchases or if you stumble upon a cash-only gem. Make sure to stop by an ATM beforehand for an uninterrupted shopping spree.
Also, we think it's best to bring a reusable tote bag with you. Not only is it eco-friendly, but we feel it's also an efficient way to carry all your newfound treasures in one place without straining your arms.
Hop on a Boat Tour at Hillarys Boat Harbour
Website: https://hillarysboatharbour.com.au/
Address: 86 Southside Dr, Hillarys, WA 6025, Australia
Contact details: contact@hillarysboatharbour.com.au
Operating hours: Open 24 hours
Fees: Rottnest Island Round Trip Fast Ferry from Hillarys Boat Harbour – from $63.41
Best time to visit: December to February
Hillarys Boat Harbour is a vibrant summer hotspot in Perth. It has a picturesque waterfront setting where visitors can indulge in a variety of water activities, from jet skiing and paddleboarding to enjoying delicious seafood while taking in the views.
For us, the Hillarys Boat Harbour is a site of maritime marvels and coastal charm that's perfect for everyone. Whether you're looking to ride the waves, savour seafood delights, or simply bask in the sun, we think this harbour can delight you.
You can begin your maritime journey by hopping aboard one of the harbour's many water activities. From jet skiing to paddleboarding, there's a thrilling adventure for every water lover out there.
Yet for those who prefer a more leisurely pace, we suggest taking a stroll along the boardwalk. This is where you can shop for nautical treasures, indulge in scrumptious seafood, and take in the stunning views of the harbour.
Just keep an eye out for the playful dolphins that often make appearances. We think it's like a marine show that you shouldn't miss with your loved ones!
Pro tip:
Perth's sun can be quite strong, especially in the summer. So, we highly recommend slathering on sunscreen liberally, reapplying it every 2 hours, and wearing a wide-brimmed hat to protect yourself from powerful UV rays.
See The Perth Mint Tour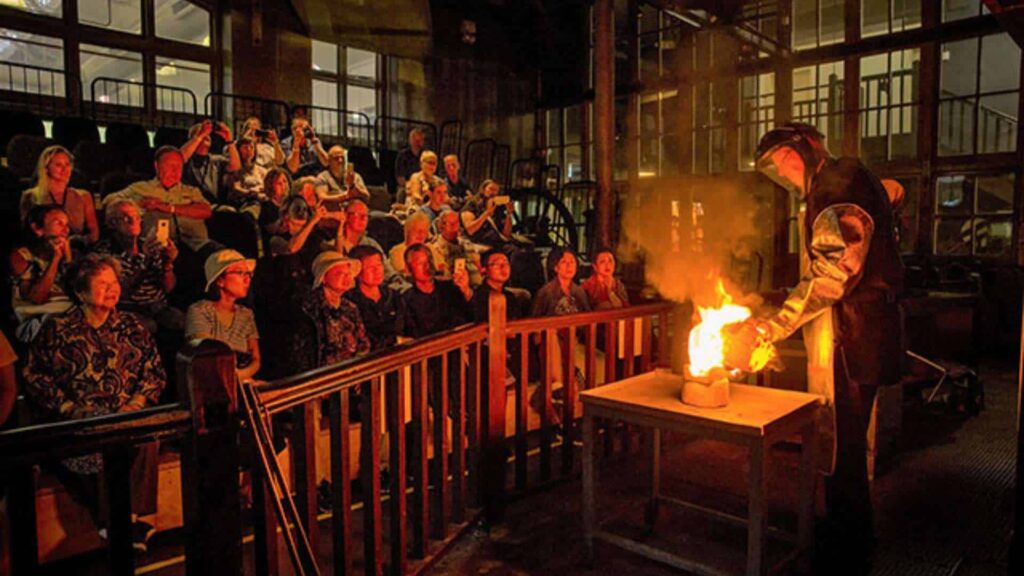 Website: https://www.perthmint.com/
Address: 310 Hay St, East Perth, WA 6004, Australia
Contact details: +61 8 9421 7222 , info@perthmint.com
Operating hours: Monday to Sunday – 9 AM to 5 PM
The Perth Mint Gold Tour Fees:
Adults – $22
Concession – $20
Children (5 to 15 years) – $12
Children (0 to 4 years) – Free
Family Pass (2 Adults and 2 Children) – $59
Best time to visit: Depends on the guided tour schedule
The Perth Mint is a captivating summer destination in Perth where visitors can see the world of precious metals, explore historical exhibits, and even witness molten gold being transformed into coins, creating an educational experience that also beats the heat.
We love that this is where ancient coins whisper tales of bygone eras and you can get up close and personal with some of the world's most valuable treasures.
For us, it would be handy to join a guided tour that takes you through the mint's fascinating history, from its humble beginnings to its modern-day operations.
Here, you can watch in awe as molten gold is transformed into gleaming coins right before your eyes – it's like witnessing alchemy in action!
For curious minds, you may also delve into the mint's awe-inspiring collection of rare coins and precious gems.
Many visitors like looking at intricate designs, learning about the world's largest gold coin, and immersing themselves in the artistry that goes into creating these glittering masterpieces.
Pro tip:
In our opinion, the mint's gift shop is a treasure trove of unique souvenirs! Don't forget to pick up a little something to remember your visit – whether it's a gold nugget or a beautiful coin, it's like taking home a piece of history.
We also suggest keeping an eye out for special events and exhibitions that may be happening during your visit. From coin launches to interactive displays, you might just stumble upon an extra dose of minty fun!